While at Computex 2023, we found ourselves at the XPG booth and found this monstrosity. Who would want to run four RTX 4090s at 100% load? Well, this is just to show how robust their flagship PSU is; XPG decided it was time to max out its Fusion 1600w ATX 3.0 PSU fully.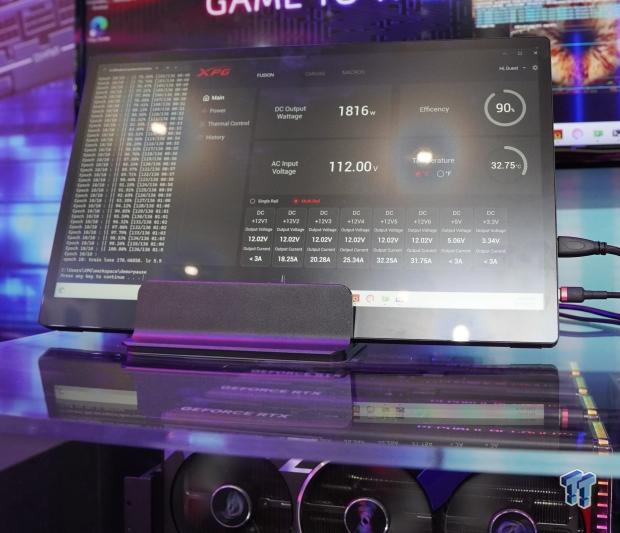 In the picture above, you can see via XPG's Prime software showing the DC Output wattage, which has surpassed 1800 watts and actually hitting up to 2000 watts at times for brief periods in the millisecond range.
Also, the efficiency of this load, which is generated with a ChatGPT application on the left-hand side, as well as running four instances of Furmark, is at 90% while maintaining about a 33C temperature, which is equally impressive in its own right.
There is something to be said about a PSU being this solid. While it's just insanity thinking, why the hell would anyone want to run four RTX 4090s in a single system? Well, I can tell you that this is not the normal system by any means of the imagination.
My best guess is that this could simulate a workload by a workstation in the enterprise or content creation spaces. A typical gamer for whom the Fusion PSU is marketed will only have a complete system power draw of 500 to 800 watts, putting the Fusion 1600w PSU at peak efficiency.
You can check out TweakTown's review of the XPG Fusion 1600w ATX 3.0 PSU here and see why we gave it the TweakTown Best Performance Award.