TweakTown's Rating: 91%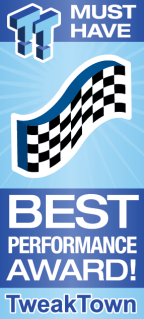 The Bottom Line
Is the Fusion 1600 Titanium from XPG a good ATX 3.0 PSU? Absolutely. Every stress test I threw at this PSU was rock solid and stable. Offering not one but two 600w 12VHPWR connectors and a plethora of traditional PCIe 6+2 pin connectors and other connections make for a well-rounded power solution.
Pros
+

Titanium rated in both 80 Plus and Cybenetics

+

100% Japanese capacitors

+

Twelve year warranty

+

Six 50A 12V rails and two 600w 12VHPWR connections

+

XPG Prime for digital control
Cons
-

Very large footprint

-

Cabling only sleeved on 12VHPWR and 24-pin connections

-

Expensive
Should you buy it?
Avoid
Consider
Shortlist
Buy
Introduction, Specifications, and Pricing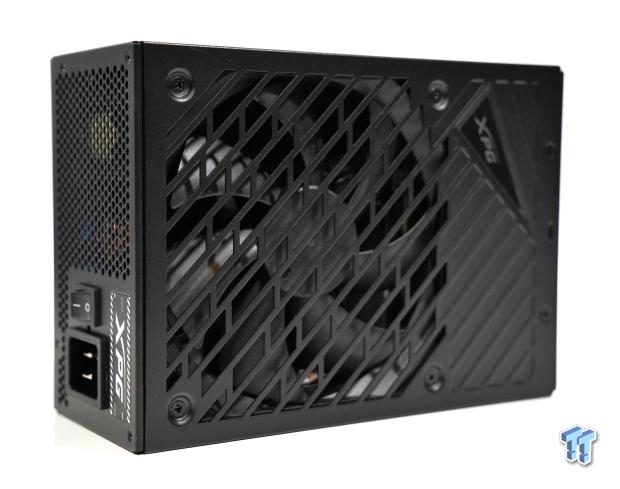 XPG, a sub-brand of ADATA, has just launched its Fusion line of PSUs, which are Titanium rated in both 80 Plus and the newcomer, Cybernetics. The Fusion 1600 Titanium we have here today is specced out for ATX 3.0 and has two 600w 12VHPWR connections.
The Fusion 1600 Titanium, the first PSU in the Fusion series, will be available at the end of April 2023 for $699.99.
Packaging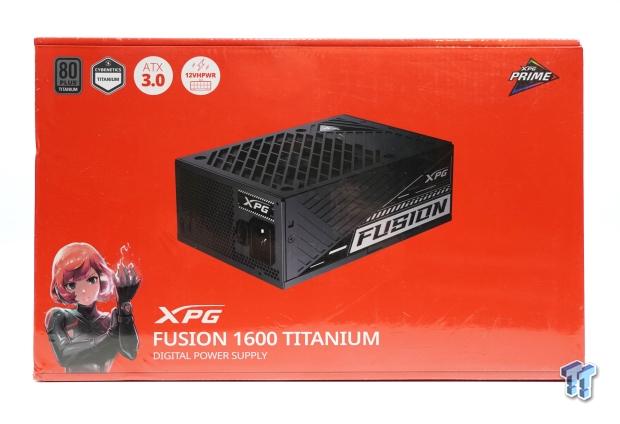 XPG has taken the route most traveled when it comes to PSU packaging, a picture of the PSU with an anime girl on the front, then having the deets on the back.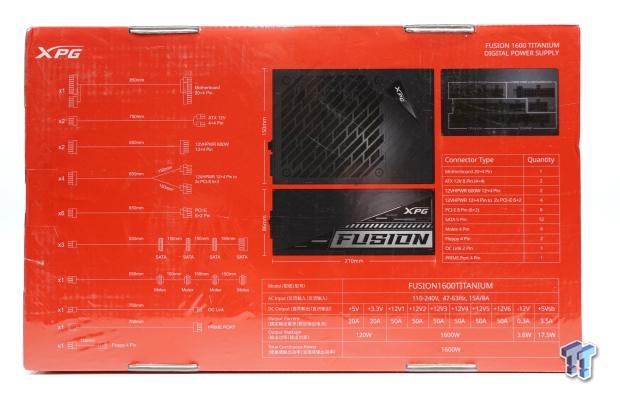 The backside of the Fusion 1600 Titanium box has the specifications with cables, connections, and power ratings.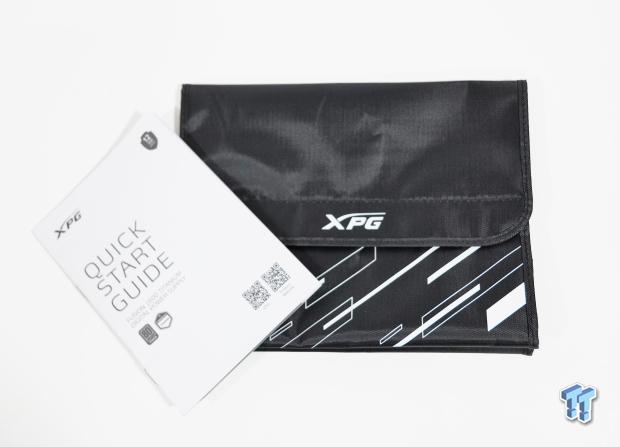 Opening the box, you are greeted with a quick start guide and a pouch for the extra cabling.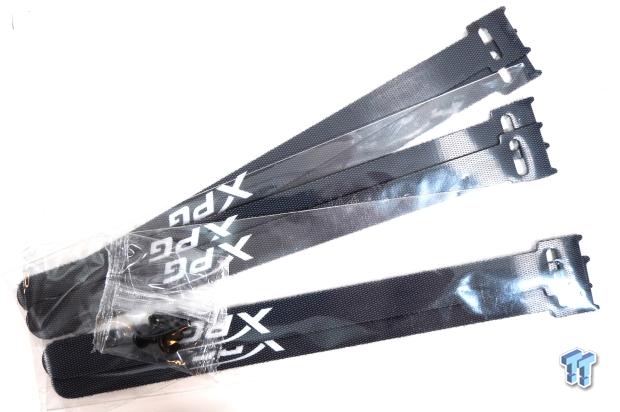 XPG has included six cable straps as well as four black installation screws.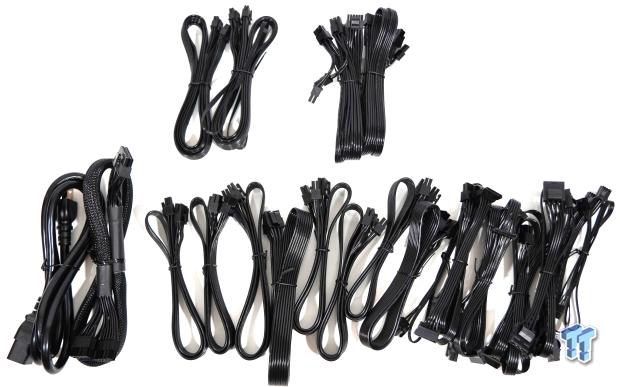 XPG has included several cables, starting with a sleeved motherboard 20+4 pin cable, two 4+4 pin CPU EPS cables,10 PCIe 6+2 pin cables, twelve SATA connections, four MOLEX 4 pin connections, a single 4-pin floppy connection, and two 12+4 PCIe 5.0 12VHPWR cables. Only the 20+4 pin motherboard and 12VHPWR cables are sleeved.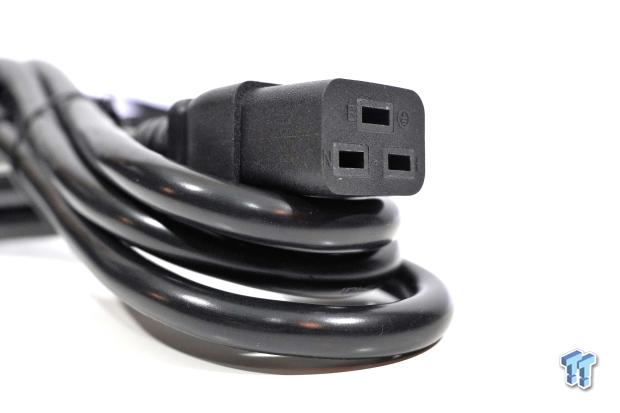 The power cable included with the Fusion 1600 Titanium is a thick bio that carries the NEMA 5-15P to IEC 60320 C19 connections.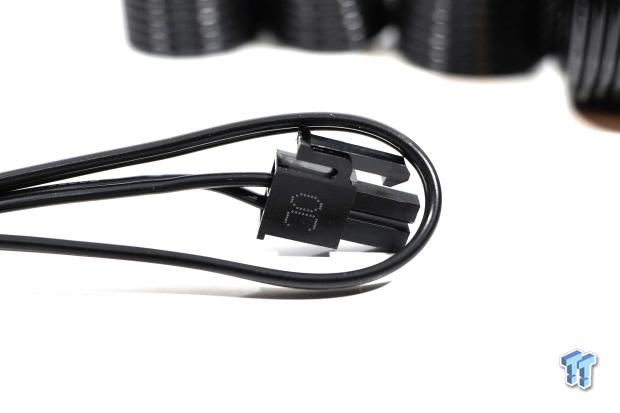 The OC Link cable allows for two PSUs to be linked together, negating the need to jump the secondary PSU. This is used mainly in power-hungry overclocking, where dual PSUs are sometimes needed.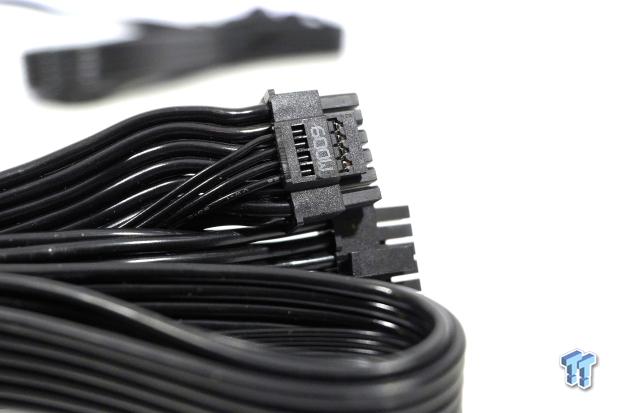 A closer shot of the dual-sided 12+6 pin connectors on the 12VHPWR cables.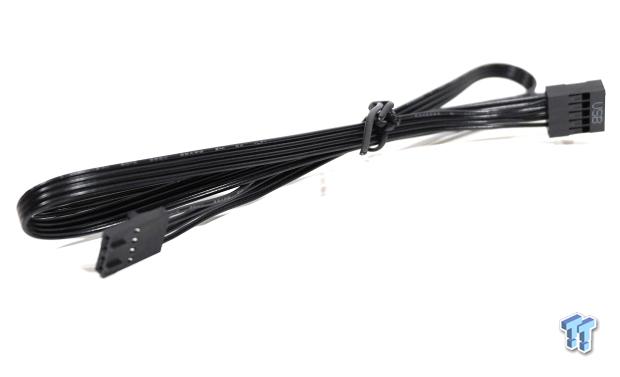 Rounding out cables, the Prime connector, which terminates to a USB 2.0 connection, allows for the Fusion 1600 Titanium to be controlled via its Prime software from within Windows; more on that later.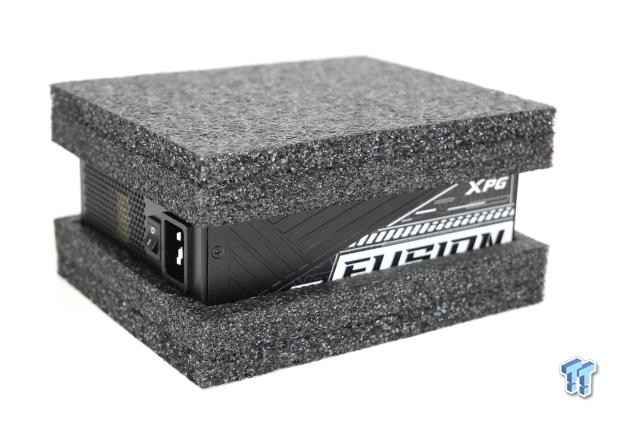 The Fusion 1600 Titanium is protected with two pieces of high-density soft foam.
Outside the XPG Fusion 1600 Titanium ATX 3.0 PSU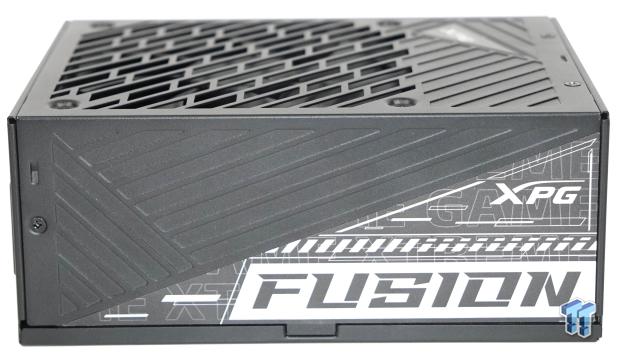 The side of Fusion 1600 Titanium has an angular style on the left side with a sticker on the right; both sides are the same design.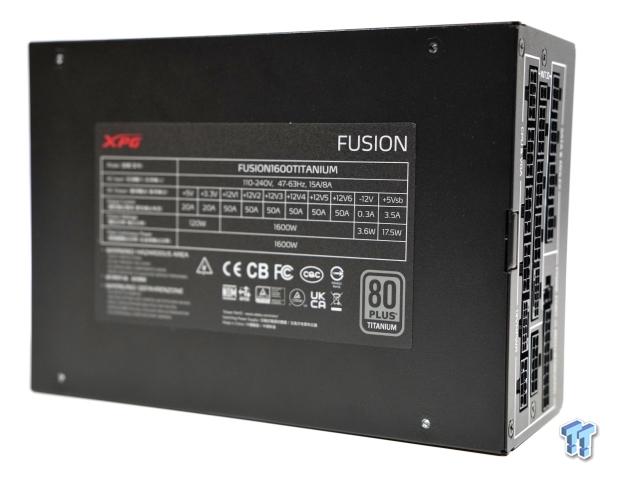 The top side of the Fusion 1600 Titanium shows the power distribution chart. Having six 12V rails with 50A apiece is quite impressive.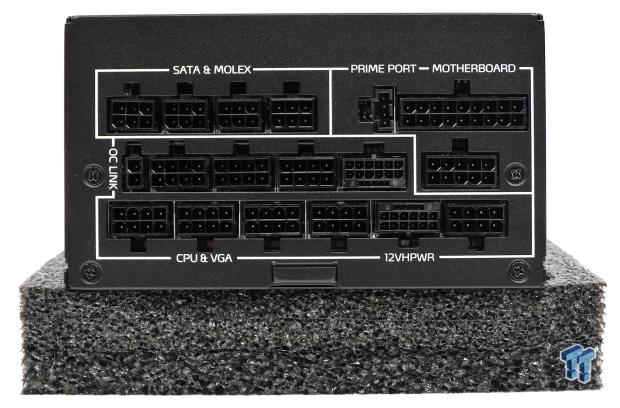 The connection side of the Fusion 1600 Titanium includes four six-pin SATA or MOLEX connections on the top left. Moving over to the right is a four-pin Prime Port and the two 14-pin and 10-pin motherboard connections.
In the middle, starting with the 2-pin OC Link connection, then in the third and fourth rows, are eight 8-pin CPU or VGA connections, along with the two aforementioned 12VHPWR 16-pin connections.
Inside the XPG Fusion 1600w Titanium ATX 3.0 PSU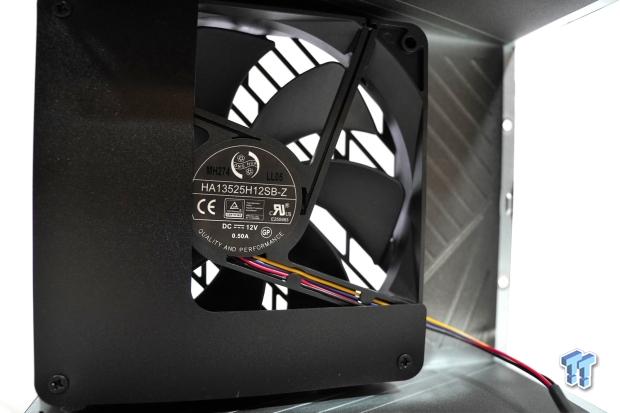 Opening up the Fusion 1600 Titanium, XPG has chosen a 135mm fan from Ong Hua, which has a model number labeled HA13525H12SB-Z, a fluid dynamic bearing fan running at 12V DC with 0.5A. Running at 1400 RPM, this 135 fan is also rated at 27 dBa. The 135mm fan can be controlled via the XPG Prime software.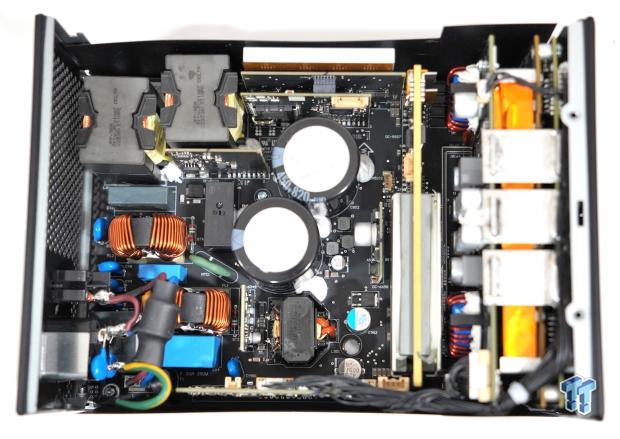 The XPG Fusion 1600 Titanium's internal components are packed very neatly. Overall, a very clean layout.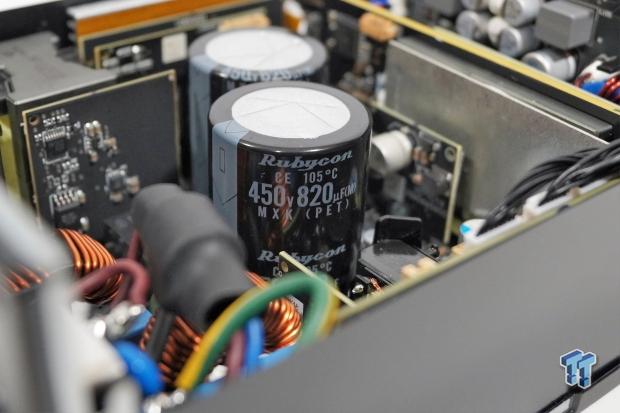 One of two Rubycon capacitors rated at 450v 820µF.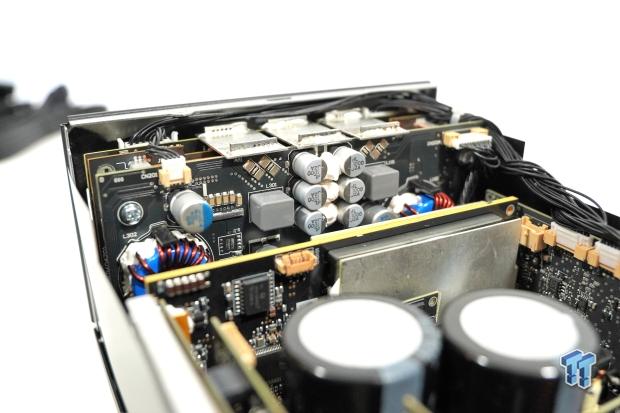 The daughterboard pictured here is very neat and thought out well.
Test System
Tesing and Final Thoughts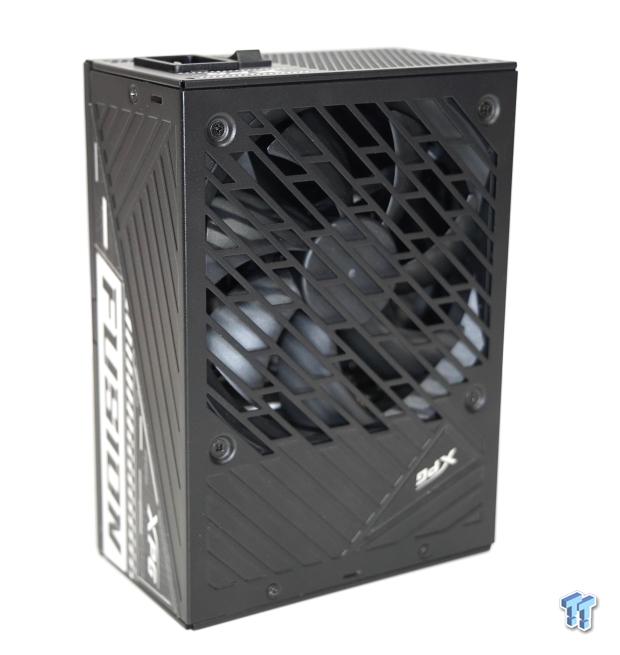 The Fusion 1600 Titanium from XPG is an ATX 3.0 PSU that tries to check all the boxes in terms of performance and efficiency. Being rated with a Titanium rating in both 80 Plus and Cybenetics means that the Fusion 1600 Titanium is at least 90% efficient under load under various voltage and load tests. A titanium rating is also the best rating for a PSU certification.

According to XPG, the Fusion 1600 Titanium scored a minimum of 94% in their three tests.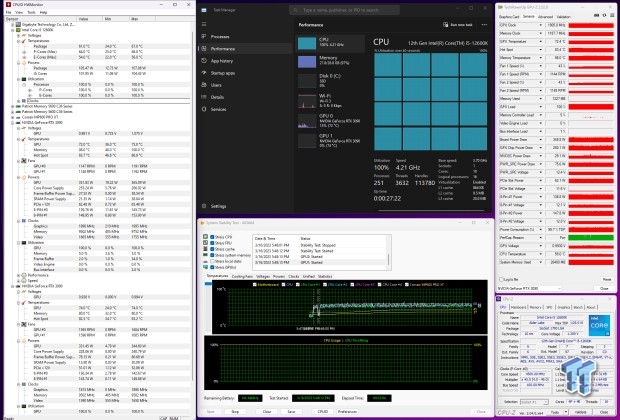 Testing the Fusion 1600 Titanium, using an Intel Core i5 12600K for the CPU and two RTX 3090s, one NVIDIA FE, and one AIB Zotac model, I loaded up Aida64 Engineer's System Stress Test, and the full system pulled over 850w from the wall without a hitch. Rock solid.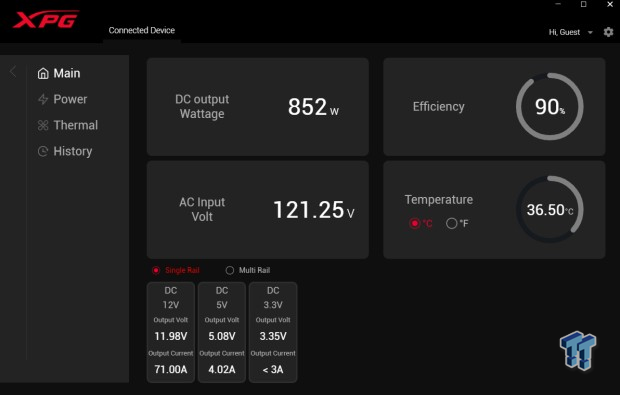 XPG's Prime software, which is what the Prime Port on the Fusion 1600 Titanium controls, allows the end-user to monitor DC output Wattage, AC Input Voltage, Efficiency, and Temperature. The main screen lets the end-user monitor the 12V, 5V, and 3.3V rails in either a Single Rail or a Multi-Rail configuration.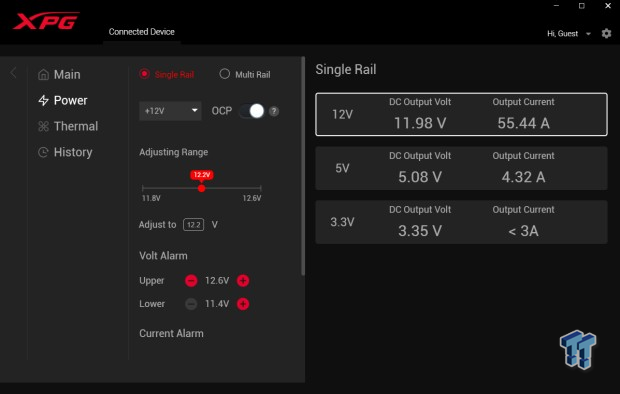 The Power tab on the XPG Prime software allows for control of 12V, 5V, and 3.3V rails.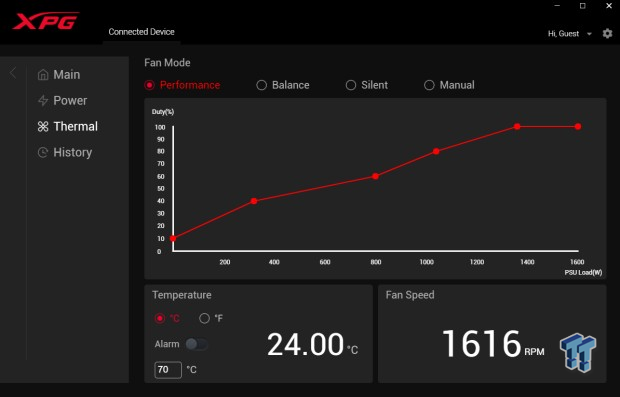 The Thermal tab in the XPG Prime software lets the end-user create a fan profile or use a preset for the 135mm fluid dynamic bearing fan on the Fusion 1600 Titanium.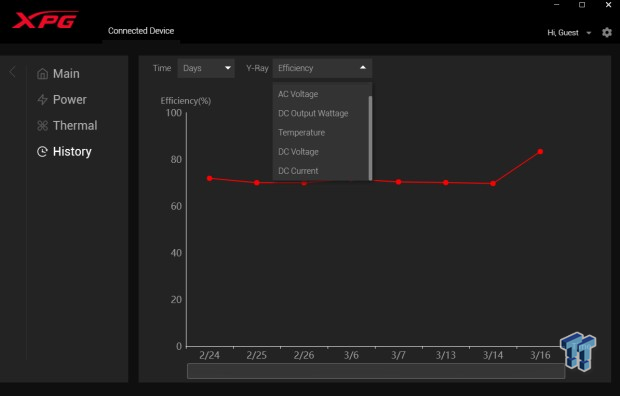 The last tab, History, allows the user to see a charted graph for everything from Efficiency to AC Voltage, DC Output Wattage, Temperature, DC Voltage, and DC Current. All of which can be seen in days, hours, or even minutes.
The only two things I could find wrong with the Fusion 1600 Titanium would be cable sleeving and pricing. $700 is a lot to ask for a PSU, especially one without the complete cable-sleeving treatment. While not having a lot of competitors in this space, I suspect pricing might decrease dramatically once this area of the market begins to fill up.
Having two 12VHPWR 600w connections increases the cost a bit, but there are other cost-effective ways to save a few bucks and get the same result. One is buying an older ATX standard PSU with PCIe 8-pin connections and buying the dual or triple 8-pin to 12VHPWR 600w adapters to achieve the same results.
So, why the need for a 1600w PSU? That got me thinking, and I am sure many of you felt the same. SLI or multi-GPUs are dead in gaming. But in multi-GPU workstations, having a large 1600w PSU with multiple 12VHPWR 600w connectors can come in handy when running multiple GPUs and power-hungry high-core count CPUs.
In the world of NVIDIA GeForce RTX 4090 GPUs being out in the wild, which "only" consume under 500w at a full load, while the Intel CPUs like the Core i9-13900KS can pull around 300w as well, all for a system total of 750w to 850w, makes the 1600 watts seem like a bit overkill.
Maybe this PSU is better for those XOC guys running those RTX 4090s with two 600w 12VHPWR connectors and big overclocks. Then I see the need to have such a higher-powered PSU.