Intel's 45nm quad-core chips appearing
Q9300 at Tiger Direct in USA.

Published Fri, Mar 14 2008 2:07 AM CDT
|
Updated Tue, Nov 3 2020 12:38 PM CST
Intel's latest 45nm based quad-core are of hot discussion at the moment. They offer tremendous performance at a great price point but the only issue is that they cannot be found anywhere due to supply issues.
While the QX9770 Core 2 Extreme is out and about, it is too expensive for most users to even consider. What users are really waiting for is the Q9300 up to Q9650 (2.5GHz 6MB up to 3GHz 12MB with locked multiplier). Intel has been struggling with chip demand since late last year and hasn't really caught up fully still but users will be wrapped to know that one of these hotly anticipated chips is finally for sale on shop shelves.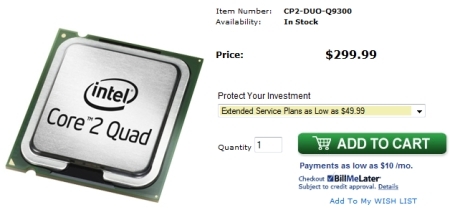 Tiger Direct in the USA is listing the Q9300 45nm chip for $299.99 USD and it is in stock at the moment. This chip is part of the Yorkfield core family and its four cores are clocked at 2.5GHz (333MHz FSB x 7.5) with 6MB shared L2 cache. It uses 95 watts of power but does not come with a CPU cooler, so it is an OEM package.
Get yours
here
while they are hot!