Hopewell Township, New Jersey, Police are reporting that a resident reported a metallic object, possibly a meteorite, plummeting through their roof on Monday.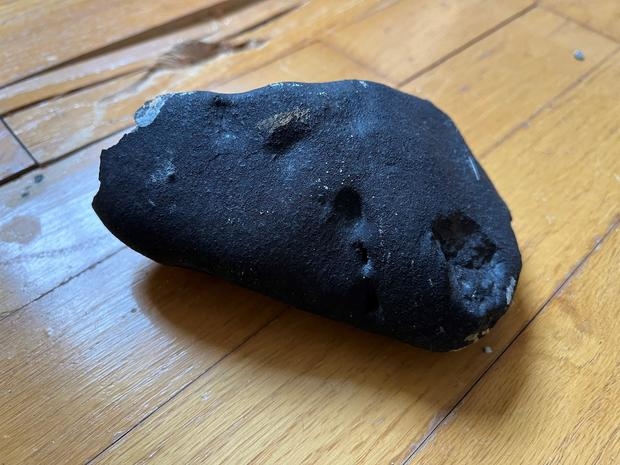 The family lives on Old Washington Crossing Pennington Road and reported just after 1 pm, a metallic object crashed right through their roof. The object measures 4 inches by 6 inches and has an oblong shape, according to local authorities. According to the report, the family called the non-emergency line and attempted to convey their story to the authorities, which would have seemed bizarre.
The family reported no injuries and said that they initially believed that someone threw a rock onto their roof, but after they saw the object, they realized it could be a meteorite. Suzie Kop, the daughter of the homeowner, said she discovered the hole in her father's bedroom and noticed that the floor beneath the hole was also damaged. Additionally, Kopf directs CBS news reporters to another hole in the ceiling, saying, "It ricocheted up to this part of the ceiling and then finally rested on the floor there".
Judging by the damage to the room, it can be assumed that whatever the object is, it entered at high speeds as it was able to damage the floor beneath the hole that was created and seemingly bounced with enough force to damage another part of the ceiling. Luckily, no one was home at the time of the incident, and when she discovered the object, she immediately picked it up, thinking it "was a random rock," said Kop. Furthermore, Kop reported that the rock was warm when she first touched it.
As for getting the object officially classified, analysis still needs to be conducted, but Derrick Pitts, the chief astronomer at the Franklin Institute, said the object is likely a meteorite that was once an asteroid that has been roaming around space for billions of years. Pitts says that the rock Kop held in her hand could possibly be four to five billion years old, a leftover remnant from a young solar system.
Notably, Kop said that the authorities were worried that the object was "radioactive" or harbored some kind of "residue," so she had to undergo multiple scans, which all came back clear. There is a chance that the meteorite could have been part of the current meteor shower called the Eta Aquariids, said local police.
In other news, NASA has confirmed an object that is 10 million times brighter than our Sun, defying the laws of physics by shining 100 times more than what was thought to be the limit of brightness. A new study has detailed the event that was captured by telescopes, and researchers are currently scratching their heads. If you are interested in reading more about that story, check out the below link.