A group of researchers may be on the cusp of a major breakthrough in exoplanet science, which by extension, assists the search for life outside of Earth.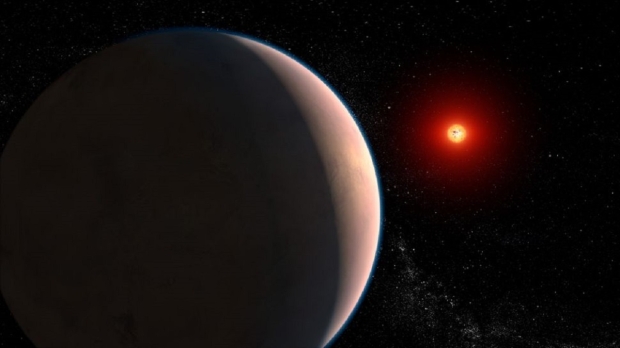 Astronomers have pointed NASA's James Webb Space Telescope's highly advanced instruments at the distant exoplanet called GJ 486 b, which orbits a red dwarf star in the Virgo Constellation 26 light-years away from Earth. This exoplanet has the mass of three times Earth, but is less than a third of our planet's size and orbits its host red dwarf star in less than 1.5 Earth days. Notably, GJ 486 b is likely tidally locked to its host star, which means that it will forever show one face of the planet to its host star, similar to how we can only see one side of the Moon.
So, why has GJ 486 b become of such interest to astronomers? Astronomers have observed GJ 486 b and discovered water vapor around the exoplanet, which could indicate the presence of an atmosphere on the planet. If this is proven to be true, it would be a massive discovery for exoplanet science as it would change how astronomers approach searching for habitable worlds in the universe, and, thus, the search for life outside of Earth. However, astronomers say that GJ 486 b's host star may be the culprit behind the water vapor and not the exoplanet's possible atmosphere.
"We see a signal and it's almost certainly due to water. But we can't tell yet if that water is part of the planet's atmosphere, meaning the planet has an atmosphere, or if we're just seeing a water signature coming from the star," said Sarah Moran, research lead author and University of Arizona astronomer
It should be noted that red dwarf stars are the most common form of stars in the galaxy, which means that rocky exoplanets are likely discovered orbiting these types of stars. However, for a rocky exoplanet to host water, it must orbit very close to the star, as red dwarfs are relatively cool compared to other types of stellar objects. Unfortunately, red dwarfs are also chaotic and violent, spewing blasts of X-ray radiation in every direction. These blasts strip away the atmosphere of any object that is close enough, potentially making them inhospitable.
"Water vapor in an atmosphere on a hot rocky planet would represent a major breakthrough for exoplanet science," said Kevin Stevenson, principal investigator and Johns Hopkins University Applied Physics Laboratory researcher
With all that in mind, we can see why finding an exoplanet orbiting a red dwarf star with an atmosphere would be an impressive discovery. Webb's results indicated the surface temperature of the planet was 800 degrees Fahrenheit (430 degrees Celsius), which is far too hot for the presence of liquid water. However, water vapor traces were detected.
The team will be conducting follow-up observations of GJ 486 b to determine if the water vapor source is from its host star or the exoplanet itself.
"It's joining multiple instruments together that will really pin down whether or not this planet has an atmosphere," said Stevenson