An AI-generated song that attracted millions of plays has been removed after the Universal Music Group (UMG) discovered its popularity and the artists that were on track.
The song called 'Heart On My Sleeve' was released by an anonymous TikTok user called Ghostwriter977, and it featured vocals from Aubrey "Drake" Graham and Abel Makkonen "The Weeknd" Tesfaye. But these vocals didn't come from the artists themselves, they were created using artificial intelligence-powered tools that were fed voice samples of the artists to create imitated voices that are uncannily similar. At the moment, it remains unclear if the entire song was created with AI tools or just the voices of the artists.
Regardless of the intricacies of how the song was made, it generated more than 1,000,000 streams on Spotify, and Ghostwriter977's TikTok video of the song was viewed more than 15 million times. Additionally, a YouTube video of the song gained more than 275,000 views, and its creator commented on it, saying, "this is just the beginning". Overall the response to the song was very positive, with some people saying it was the best Drake song that has been released this year. Others recognized the quality of the song and immediately commented on how good AI is getting at sampling an artist's vocals.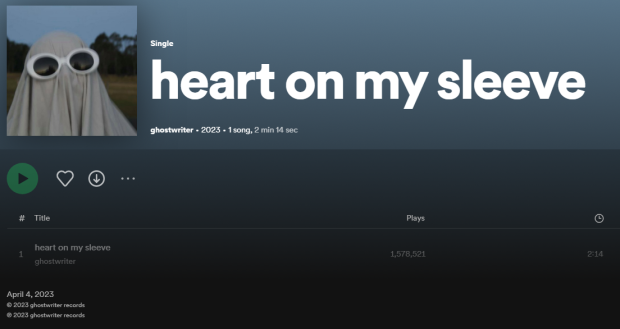 Universal Music Group (UMG) issued a statement on Monday, April 17, that condemned "content created with generative AI", which was shortly followed by Spotify, Apple Music, Deezer, TIDAL, and YouTube all pulling down their own respective versions of the song. Notably, YouTube said it removed the song after receiving a takedown notice. Presumably, the other platforms received the same or similar takedown notice.
While the song can still be listened to with a simple search, the response from the music label raises questions regarding digital copyright laws and the emergence of AI-generated songs. The Recording Industry Association of America (RIAA) has warned that using a label's songs to train machine learning algorithms is an infringement on copyright laws. UMG places the responsibility on streaming platforms such as Spotify and Apple Music to prevent music that infringes on copyright laws from harming artists.
"The training of generative AI using our artists' music (which represents both a breach of our agreements and a violation of copyright law) as well as the availability of infringing content created with generative AI on DSPs, begs the question as to which side of history all stakeholders in the music ecosystem want to be on: the side of artists, fans and human creative expression, or on the side of deep fakes, fraud and denying artists their due compensation. We're encouraged by the engagement of our platform partners on these issues - as they recognize they need to be part of the solution," a UMG spokesman said in a statement.
Despite the current copyright laws, AI-generated music is on the steady rise, with TikTok being the main form of sharing songs created with machine learning. For example, there are numerous tracks of Kanye West singing songs such as 'Just The Two of Us', 'Viva La Vida', and even 'Hey There Delilah'. This is just one artist as well.
While creators may not be able to legally make money from selling/streaming AI-generated music, they are now able to feature any artist they like by simply requesting an AI to sing the lyrics to their song in the voice of Kanye West or Drake or Beyonce, or Frank Ocean. So on and so fourth. The music industry has and will be changed forever, but in what way and how drastic remains to be seen.