NVIDIA was prepping a fifth and final option for the GeForce RTX 3060 with an RTX 3060 SUPER that would have shipped with a fully unlocked GA106 GPU. This would put its CUDA Core count at 3840 versus the existing 8GB and 12GB variants' 3584 CUDA Cores - a modest increase of 7.1%.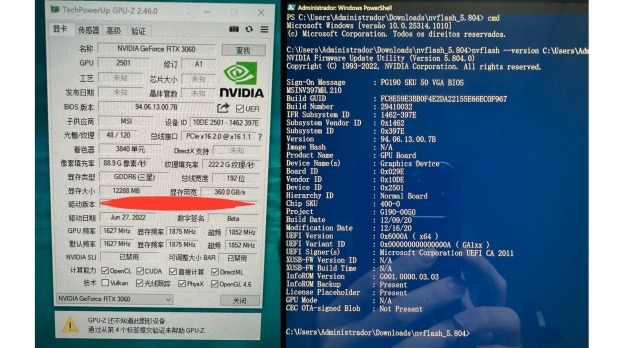 Of course, an increase in cores doesn't quite equate to the same increase in performance when it comes to playing games, but the GeForce RTX 3060 SUPER (alongside its 12GB of GDDR6 memory) would have made it the most powerful version of the RTX 3060. The BIOS on the leaked specs from @inatural_log on Twitter confirms that it's from 2020, so it's not a new card.
And when it comes to the RTX 3060, NVIDIA did release a few different variants - with the most notable difference being models with 8GB of VRAM and models with 12GB of VRAM. The GeForce RTX 3060 SUPER's 12GB would have featured the same 192-bit bus and 360GB/s bandwidth as the non-SUPER 12GB model, so the only difference looks to be the fully unlocked CUDA cores for the GA106 GPU and an increased boost clock speed of 1875 MHz compared to the 1777 MHz we ended up with.
NVIDIA is known for playing around with different SKUs before landing on final models, from a 20GB RTX 3080 Ti to a 16GB RTX 3070 Ti. In fact, we wouldn't be surprised if NVIDIA relaunches a few of the GeForce RTX 40 Series models, like the RTX 4070 Ti and RTX 4070, with more VRAM.
What makes this interesting is the addition of the SUPER branding, which hasn't been confirmed as what this card could have been. It makes sense, though, as the GeForce RTX 3060 Ti was more like a cut-down RTX 3070 with enough of a performance gap to warrant something like a SUPER sitting in the middle. It's unclear if NVIDIA will resurrect the SUPER branding, as it was mostly a thing for the RTX 20 Series.