Capcom's shares have skyrocketed to record highs following the announcement of a major new mobile game.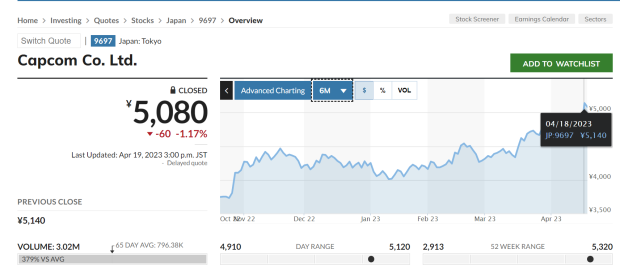 Capcom recently announced that it would team up with Pokemon Go's Niantic to develop a brand new Monster Hunter game. The project is called Monster Hunter Now, and is a mobile game for iOS and Android that promises an "approachable hunting experience that can be enjoyed as part of everyday life."
As Monster Hunter is Capcom's cash crop, the news has resonated strongly with investors. Capcom's shares on the Tokyo Stock Exchange reached a new all-time high of 5,140 yen on the day the game was announced. Details on the game are slim, but Capcom plans to hold a limited beta test soon with a global rollout for Monster Hunter Now in September 2023.
Monster Hunter Now is a big deal for Capcom, a company who traditionally does not make very much money from gaming's largest market. Capcom's mobile game releases have been sparse, and the company pulls in anywhere from $38 million to $59 million a year from its limited mobile presence, as compared to the hundreds of millions of dollars that Capcom generates from mainline dedicated game sales like Resident Evil and the Monster Hunter series.
Other Japanese video games companies are also investing big into mobile. SEGA has just offered $771 million to purchase Angry Birds developer Rovio, a move that will bolster SEGA's competitiveness in the burgeoning mobile market.
Check below for more details on Monster Hunter Now:
Monster Hunter Now is a new mobile game in the Monster Hunter series that offers players an approachable hunting experience that can be enjoyed as part of everyday life and is being developed and distributed by Niantic, a company that boasts expertise in cutting-edge fields such as location-based technology and augmented reality. In the game, players take on the role of hunters and embark on an adventure during which they hunt vividly lifelike monsters that appear in the real-world.

The game aims to deliver a new experience that blends the appeal of the Monster Hunter series with Niantic's development technology, with features that allow players to team up with others for hunts, or to hunt monsters that were encountered while the app was closed later in their spare time.

Monster Hunter Now is currently under development and looks to provide the fun of Monster Hunter to an even broader audience around the world.