Prompted by the FTC's new console market definition and accusations made at a recent U.S. trade hearing, Republican North Dakotan senator Kevin Cramer accuses Sony's PlayStation division of anti-competitive practices and asks the company to provide sensitive business documents.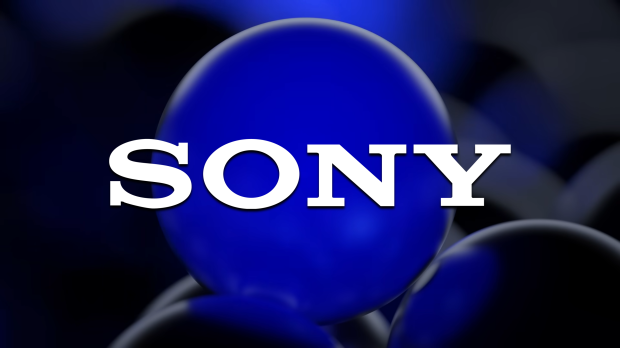 U.S. Senators are starting to take a greater interest in the video games industry, especially in regards to Sony's so-called anti-competitive business practices. Senators like Kevin Cramer (R-ND) have formally issued a public request to Sony's currently acting CEO, Kenichiro Yoshida, that asks Sony to deliver unredacted copies of sensitive business documents. The public gambit seems to be that if Sony has nothing to hide, then it will willingly provide the documentation.
Sen. Cramer is asking Sony to fulfill four separate requests for information, including all exclusivity agreements that Sony has signed with third-party independent publishers. Sony is unlikely to comply with this request alone if not for a court order. Based on Sony's responses to the FTC, we know that Sony's filing system is not well-suited for this kind of mass documentation gathering, and Sony legal counsel says that this is a big reason why the company has taken such a long time to respond to Microsoft's document requests in the FTC administrative hearing discovery process. However, Sony has been ordered by the FTC to comply with all document requests, including third-party exclusivity deals, from 2019 onwards. Now politicians want to see this information as well.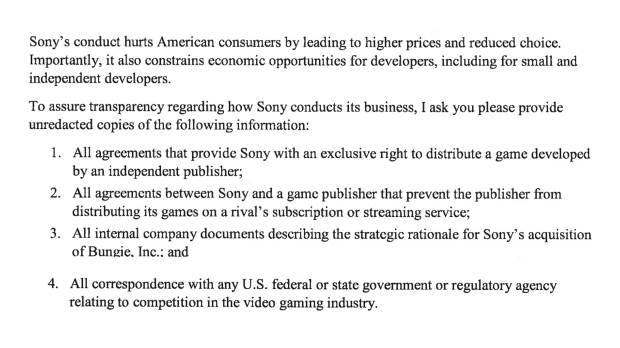 A portion of these accusations are based in part on a shaky foundation that skews the reality of the video games industry. Sen. Cramer, as well as many other politicians, have been inadvertently misled by the Federal Trade Commission.
In a bid to narrow the console gaming market for convenience and to better support their case against the Microsoft-Activision merger, the FTC created an entirely new console market definition that removes Nintendo from the industry altogether. It's worth noting that Sony may have been the first company to suggest this kind of fragmented market definition to Brazilian regulator CADE, however CADE was unconvinced and did not isolate the market UK regulators at the Competition and Markets Authority also believe Sony and Microsoft compete closer to one another than either one competes against Nintendo, however they have not created a High-Performance Console Market designation.
The FTC's so-called High-Performance Console Market excludes Nintendo and reduces the video games console market to just two competitors, Microsoft and Sony. We've talked about why this is a mistake in the past--you can't just ignore the Nintendo Switch, which has now sold more units than the PS4 and has generated nearly $67 billion for Nintendo since releasing in 2017.
What's more is that Microsoft ran with the FTC's market definition and created compelling infographs based on the narrowed Xbox vs PlayStation market.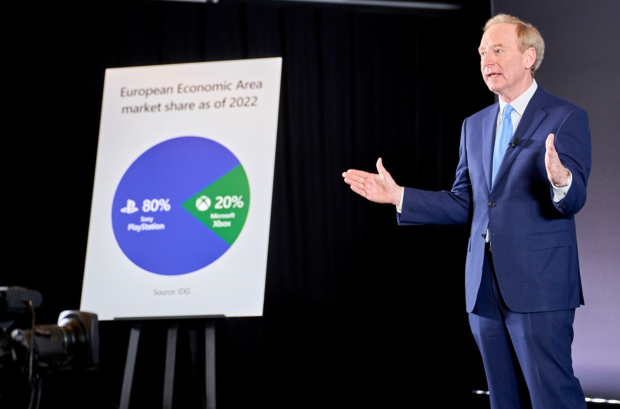 At a press conference in Brussels, Microsoft President Brad Smith took the stage and revealed a stark infograph from analyst firm IDC that boldly proclaimed that PlayStation made up 80% of the European Economic Area console sales, whereas Xbox made up 20%.
Microsoft's Brad Smith even went so far to say that Sony is beating Microsoft at a rate of 96 to 4 in Japan. This is, of course, based on the FTC's market definition that removes Nintendo, a company that is absolutely massive in its domestic home country.
Smith said:
"Think about the market in Europe. Think about the market that the Federal Trade Commission defined and what it would mean here in Europe. It is a market in which Sony has an 80% share, Xbox has 20% share. Globally, it's about 70/30. In Japan, it's 96 to 4."
Our own market share data, which is based on publicly available information from Sony, Microsoft, and Nintendo, shows that this is not true. The data presented by Microsoft is skewed, of course, because it does not include Nintendo. Microsoft has essentially found a way to use the FTC's own market definition against the agency.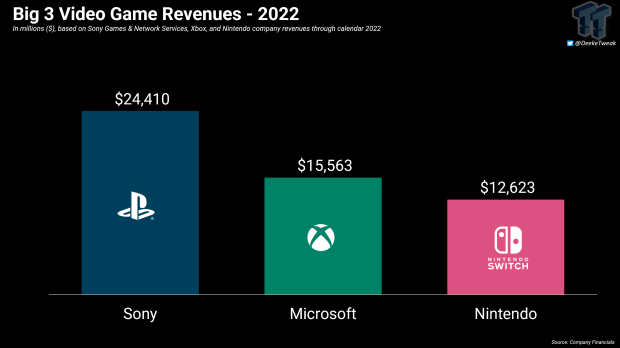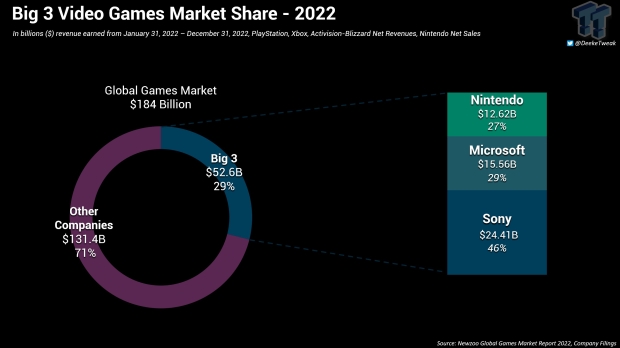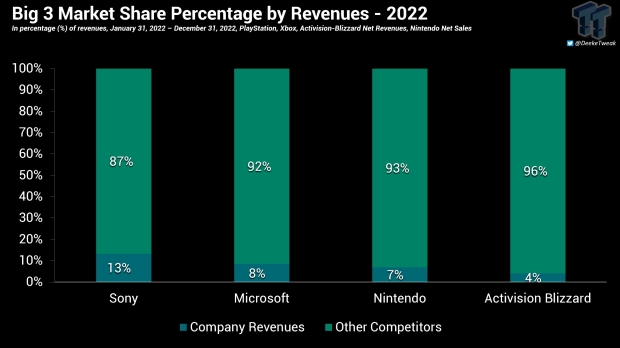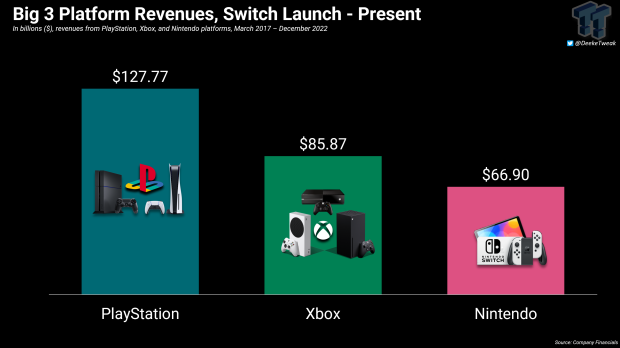 Now senators and other politicians are getting involved and putting pressure on Sony to reveal its "anti-competitive" business practices, a claim that carries weight considering all of the closed-door deals that Sony has made to keep specific games on PlayStation and off competing platforms.
Sen. Cramer claims that Sony's practices "hurt American consumers by leading to higher prices and reduced choice," and that these exclusivity deals "constrains economic opportunities for developers, including small and independent developers."
It's worth remembering that Sony was indeed among the first to push the new $69.99 price of next-gen games with the release of the PS5 in 2020, with other publishers like Take-Two Interactive launching games at the new price. Now practically all publishers are adopting the new $69.99 price point except for companies like Capcom and SEGA.
"According to published reports, Sony controls over 68% of the global market for gaming consoles and a shocking 98% of the Japanese market. Increasingly, it appears Sony's dominance is attributable to exclusionary practices, including paying game publishers not to distribute their games on rival platforms," Cramer alleges.
Sen. Cramer goes on to accuse Sony of aggressively lobbying the FTC in an attempt to influence the agency to block the Microsoft-Activision merger, shortly after Sony purchased Bungie for $3.7 billion.
Whether or not these deals are anti-competitive remains to be seen, however Microsoft has exposed a few deals that Sony has made to keep games like Final Fantasy VII Remake off of Xbox.
There's also the "blocking rights" issue. Capcom had signed a deal with Sony that prohibited Resident Evil Village from releasing on competing subscription services like Xbox Game Pass for a specific contract term. Capcom did however release Resident Evil Village on Xbox consoles at launch.
"During the term, Publisher shall not authorize, assist or encourage any third party to include the game in any Competitive Platform subscription service, including but not limited to Google Stadia Pro subscriptions, Microsoft's Xbox Live Gold, Project xCloud or Game Pass subscription service or similar Competitive Platform subscription service," the leaked contract allegedly reads.
Sony also wants a "first-look" opportunity for any deals that contractually-bound companies could make with competing services. For example, the leaked contract indicates that if publishers want to release a game on Xbox Game Pass, they must first come to Sony and allow Sony to make an offer.
Based on the terminology in the contract, it's possible this is a boilerplate agreement that multiple publishers must sign in order to get marketing deals with Sony.
The latest example would be Square Enix's Final Fantasy 16, which is exclusive to the PlayStation 5 platform for at least 6 months. This deal goes deeper than Capcom's because Square Enix received access to Sony PlayStation engineers to develop Final Fantasy 16 on PS5, and it's possible the game will never come to Xbox due to the deal itself.