The Nintendo Switch platform of hardware, software, and services has generated nearly $67 billion in lifetime revenue, Nintendo's latest Q3 financial report indicates.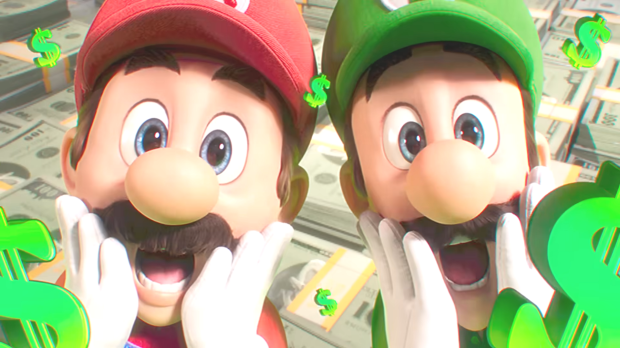 Over the holidays, Nintendo generated $4.68 billion from the Switch ecosystem of products, content, and services. These earnings were down nearly 20% year-over-year, driven by proportionally lower game sales and Switch hardware shipments. Nintendo's Q3 performance was far from bad but it was notably lower than last year's holiday earnings.
We've seen Nintendo reveal full Switch shipments and software sales, but how much has the handheld-console hybrid platform generated since it released in March 2017? We went back to chart historical Switch platform revenues and converted from yen to USD based on Nintendo's provided foreign exchange rates. The results have revealed some of the most interesting bits of data from Nintendo's figures.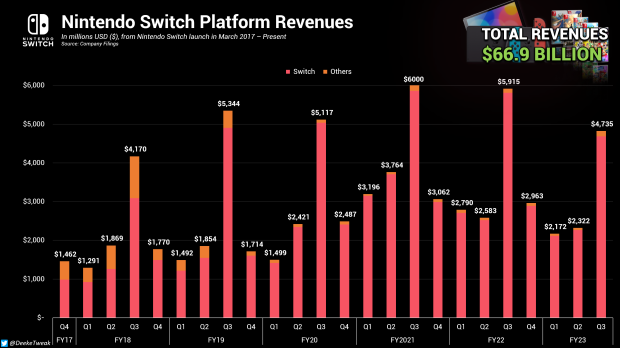 According to our findings, the Nintendo Switch has made $66.948 billion from launch to date. These revenues include the entirety of the Switch platform, from hardware sales across the three-system family (Switch, Switch Lite, Switch OLED) as well as digital and physical software sales, microtransactions from free-to-play titles, and the dual-tiered Switch Online subscription service.
We can take this a bit further. Nintendo's records show the company has made $73.193 billion in net sales revenues from the Switch's launch to present. This indicates that the Switch platform has made up 91% of Nintendo's sales earnings from 2017 - Holiday 2022. Smartphone games, royalties, and sales of other products like playing cards make up the other 9% of revenues.