RTX Remix is a groundbreaking modding tool developed by NVIDIA that allows budding developers and modders to remaster DirectX 8 and 9 games with path tracing, DLSS, new assets, and even the ability to use AI to enhance existing textures.
The technology was used to develop the incredible Portal with RTX that brought path tracing and new visuals to Valve's classic game. Today NVIDIA is releasing the RTX Remix runtime as open source on GitHub, with an RTX Remix creator toolkit expected to hit Early Access soon.
"Our main goal is to expand game compatibility and extend the features of Remix in collaboration with the community," writes NVIDIA. "In keeping with that aim, NVIDIA will accept pull requests on Github for code submissions from the community, provide feedback, and help advance code until it is mature enough to be merged into the official RTX Remix runtime."
Going open source is the right move, leading to more classic PC games getting the RTX treatment. NVIDIA notes that with access to the source code, modders can do things like render realistic fluid and volumetric smoke effects, add animated lights, replace character meshes, incorporate VR support, and more.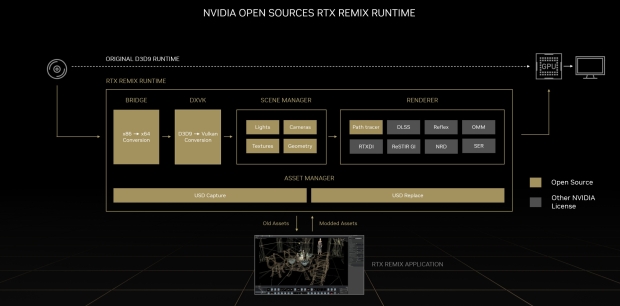 Taking a look at some of the most popular DirectX 8 games, and we can't wait to see what's possible. Games like Deus Ex, Far Cry, and Thief.
And NVIDIA engineers have joined the RTX Remix Showcase Discord server to answer development questions about RTX Remix. There are also starter guides and documentation for modders to check out.
"Modding is all about community, and providing an open-source RTX Remix runtime will help empower mod developers to expand Remix compatibility to even more classic PC games," adds NVIDIA. "We look forward to seeing how creators usher in this new era of modding with RTX Remix."