Some planets and moons within the cosmos only show one side to their host star, meaning one side of the object is permanently a day side, and the other is permanently a night side.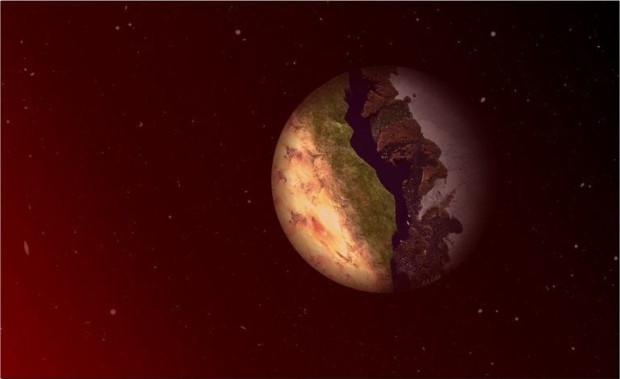 Suppose that Earth was like this. It would mean one side of the planet is forever the day side, and the other is dark. While this may sound like an apocalyptic scenario, if Earth suddenly shifted into this state, for other planets in the universe where life may exist, this would be normal. According to a new study that explores the possibility of life on these planets, planets that have become tidally locked to their star could have the right ingredients for life to exist at their "terminator zones".
The researchers explain that these terminator zones are the dividing line between the day and night sides of the planet. It should be noted that planets that are tidally locked to their stars usually vary drastically in temperature, with the day side of the planet reaching hundreds or even thousands of degrees in temperature, while the night side is the exact opposite, with temperatures falling into the low minuses. However, researchers suggest that the dividing line between the hot and cold sides of the planet may be the perfect balance of temperature for life, as humans know it, to exist.
The team explains that astrobiologists typically like to analyze planets that are mostly ocean. This is due to water being such a vital ingredient for life to exist. However, the team behind the new study wanted to bring attention to planets that are water-limited, meaning they don't have widespread oceans but can still have water in forms such as lakes, rivers, or other smaller bodies.
The thinking behind the researchers is that a rocky planet that is tidally locked to its star may have scorching temperatures on its day side and freezing temperatures on its night side, but right in the terminator zone may be the right conditions for water to exist, and therefore the chance of life. According to a press release, this is believed to be the first time astronomers have been able to show that planets could have habitable climates confined to terminator regions, which increases the overall possibilities for viable planets.
In other space news, the weird cosmic explosion called "the Cow" stunned astronomers in 2018 when it was detected, and now new research about it has been published, revealing it was pancake-shaped rather than spherical.