NASA's Double Asteroid Redirection Test (DART) was a success, and according to the space agency, the entire mission was a "great success".
DART was the world's first planetary defense mission, as the objective was to see if it was possible to change the orbit of a binary asteroid system. The target of the mission was the smaller of the two asteroids, Dimorphos, which is orbiting its larger companion asteroid, Didymos. NASA selected this system as it's very well documented by astronomers, with orbits, velocities, and other variables already verified. The goal was to see if a vending machine-sized spacecraft traveling at extremely high speeds was capable of altering the orbit of Dimorphos.
The mission was a smashing success as DART collided with the surface of the 530-foot-wide asteroid Dimorphos on September 26, 2022, and was watched by many space and ground-based telescopes on Earth. In the weeks following the collision, DART researchers began analyzing the data and only recently presented the agreed-upon results at the 8th Planetary Defense Conference in Vienna, Austria, on Monday, April 3.
The team explained that the DART spacecraft collided with the surface of Dimorphos only 82 feet from its original target, which was the geometric center of the moonlet. This discrepancy can be attributed to the difficulty of navigating the high-speed spacecraft, which was traveling at 14,000 miles per hour. Notably, the spacecraft was traveling for 10 months to its destination and only began moving toward Dimorphos in the last 50 minutes before impact.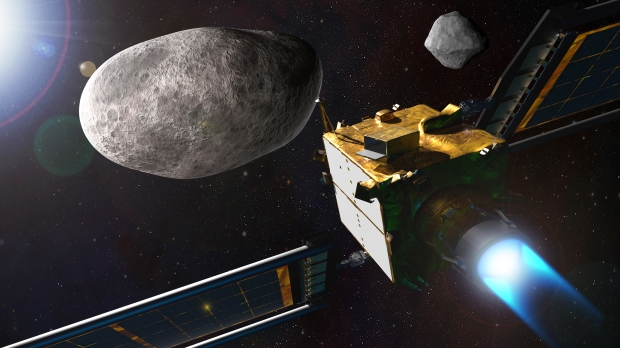 DART changed the orbit of Dimorphos around Didymos by 33 minutes. Before DART's impact, Dimorphos took 11 hours and 55 minutes to complete one full rotation around Didymos, and after, it took 11 hours and 22 minutes. Additionally, the shape of the moonlet's orbit was changed, which was determined by comparing observations taken prior to the mission. According to reports, the Dimorphos' orbit changed from a perfect circle to more elliptical, with an estimated 2% in overall orbital change that can be attributed to it now moving 2.7 millimeters per second more slowly than prior to the impact.
While these changes may seem rather small, they have proved Earth can alter the orbit of a distant asteroid. With these techniques now under NASA's belt, if an asteroid is discovered that potentially endangers Earth years in the future, the space agency will be able to adjust its orbit ever so slightly to knock it off course, especially if the asteroid's impact is expected to occur hundreds of years in the future.