Residents across Florida were shocked to witness a group of fireballs streaking across the night sky on Thursday, March 23, 2023.
The event stunned onlookers as they witnessed what began with a single fireball breaking up into multiple fireballs that burned through the night sky until they went out. Immediately a slew of videos and images made their rounds on social media, joined by rampant speculation about what the fireballs could be. The American Meteor Society (AMS) confirmed the existence of the fireballs and corrected the definition, writing the object "was not a fireball", which is a space rock falling to Earth, but a rocket that was re-entering Earth's atmosphere.
The AMS stated on its website that the object was most likely the KZ-1A rocket 4th stage that launched from China on March 22, 2023. This rocket was designed to launch and deploy satellites in Earth's orbit, but only a day before the fiery sightings it made a post-deployment burn that led it to an uncontrolled reentry over Florida just 24 hours later, according to Jonathan McDowell, an astrophysicist at Harvard-Smithsonian Center for Astrophysics.
To put things more plainly. McDowell is saying that China's rocket failed to reach the appropriate altitude despite its burns, which resulted in the rocket being pulled back down into Earth's atmosphere and a fiery show displayed over Florida night skies. This isn't the first time China has failed at a rocket launch or the first time Chinese rocket parts have been spotted making a reentry over different countries. Both the European Space Agency (ESA) and NASA have criticized China in the past for its reckless, uncontrolled reentry of space debris and advised them to reduce the total number of rocket stages in their designs.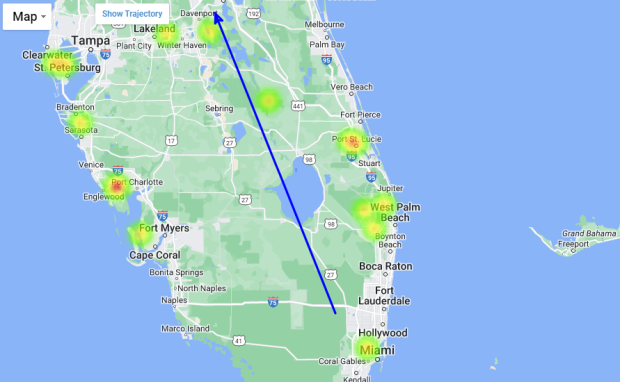 Having fewer stages in the rocket means less discarded space debris that could potentially endanger residents if they managed to reach Earth's surface. However, the likelihood of rocket debris, or any other space debris, reaching the surface of Earth is very low due to the density of the atmosphere. As for the KZ-1A rocket, it's more than likely the entirety of it burned up before any could reach the ground.
In other space news, NASA and the European Space Agency's (ESA) Hubble Space Telescope has snapped a new image that has shocked eyes around the world. The new image focuses on the globular cluster known as Messier 55 and showcases just a portion of the globular that's estimated to be located 20,000 light years away from Earth. If you are interested in reading more about that story, check out the link below.