Microsoft has added another string to the bow of its Bing AI, allowing people to ask the chatbot to produce a piece of art, or indeed to provide inspiration for interior design, and many other image-related possibilities.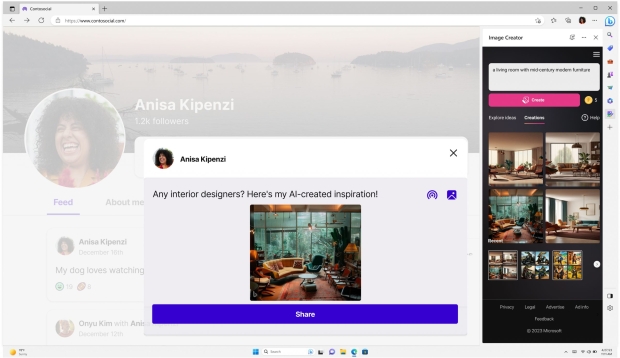 AI drawing art is nothing new, of course, and it was inevitable that at some stage, Microsoft would add this capability to the Bing chatbot.
It comes courtesy of the DALL∙E image generation tool from OpenAI (the developer of ChatGPT), with Microsoft noting that Bing is using an advanced version of this model.
The feature, dubbed Bing Image Creation, works just as you'd expect. Ask Bing to draw something and provide a description of the image you want to be created, and the AI will knock up some pictures. You can give Bing as much guidance as you like, getting more in-depth if you need something specific, such as the image being completed in a particular art style.
The ChatGPT-powered AI will also pop-up various suggestions to swiftly change elements of the created image to possible common alternatives (for example, switching a cat to be a dog).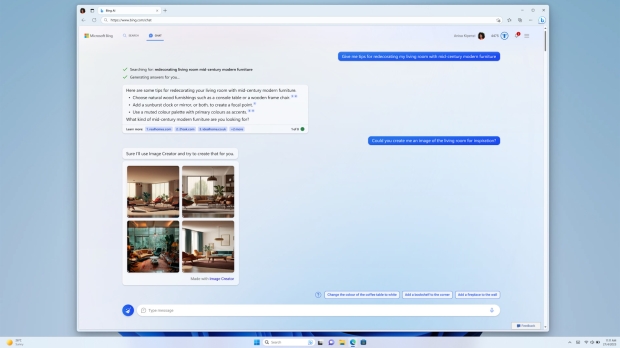 Bing Image Creator is available now to those who have signed up to test out the AI - and if you've not got on-board with the chatbot yet, then there's a way to do so (with folks no longer having to queue).
Note, however, that the new feature is only available in Creative mode, which makes sense.
The Bing chatbot has three personality settings, one of which is Creative (giving more free rein for the AI), and the other end of the spectrum is Precise (also known as 'boring' as it delivers a more straightforward search-like experience). The third Balanced personality provides a middle road between the two, but erring a bit towards Precise (and you don't get Bing Image Creator here - not yet, anyway).
Given the propensity for AI to go off the rails - as we've seen clearly in the past, with Bing and other AI entities, for that matter - you may worry that something inappropriate could appear in a created image.
Microsoft is being careful around that possibly, though, as you might imagine. The software giant informs us that controls are in place to "limit the generation of harmful or unsafe images," and when a user query is in danger of going in that direction, the chatbot blocks the request. In short, any dubious requests are going to be refused.