Have you been keen to get chatting with Microsoft's new Bing AI? From today, it seems anyone can get a piece of the chatbot action.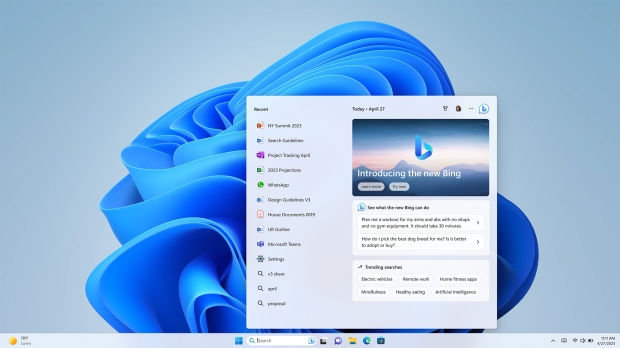 Previously, there was a queue for the Bing chatbot. You had to sign up for a waitlist and you'd then get notified when you were granted access to the AI. However, it appears that's all a thing of the past.
Windows Central reports that multiple people on their team could access the chatbot without waiting - they could simply sign up and instantly chat.
However, as TechRadar, which spotted this, points out, people who have already signed onto the waitlist may still have to wait for access, sadly. The best bet if you can't get straight into the chatbot, for this reason or any other, is to create a new Microsoft account - and that should let you in.
Things are still a bit wonky likely because Microsoft hasn't officially lifted the restrictions on the Bing AI. Given what's happened, though, we expect that the doors to the chatbot are about to be fully opened, and that we'll hear this from Microsoft soon enough.
Stay tuned, although we didn't catch any mention of this in the AI presentation Microsoft just delivered, which focused on work and productivity, introducing Microsoft 365 Copilot.
The discarding of the queue and invitation process to get on-board with the Bing AI suggests that Microsoft has successfully got the capacity of the chatbot sorted, and it's now behaving itself well enough to be introduced to a much larger audience.
Of course, there are still quite strict limits on chat sessions and their lengths, which were introduced when users were experimenting with massively long sessions (of several hours) just after launch. This was the cause of the chatbot going seriously awry in many cases, producing strange or even disturbing responses.
Microsoft recently confirmed that the Bing AI already uses the latest version of OpenAI's tech, ChatGPT4. This is a far more powerful version of ChatGPT that bolsters accuracy and brings a whole load of new features into the mix.
Features such as the ability to sketch some notes and a rough diagram of a website design on paper, take a photo of that and upload it to be processed by the AI, whereupon it can be turned into a working website. Very smart stuff indeed, and we can expect a lot more in the Bing chatbot's bag of tricks down the line, as Microsoft develops the AI further.