Only yesterday, we reported on a rumor that the upcoming releases of the more mainstream and affordable GeForce RTX 4070 and GeForce RTX 4060 GPUs could see a shift to the more traditional 8-pin power connectors. A shift away from the new 12VHPWR connectors is seen in the current GeForce RTX 40 Series GPUs line-up.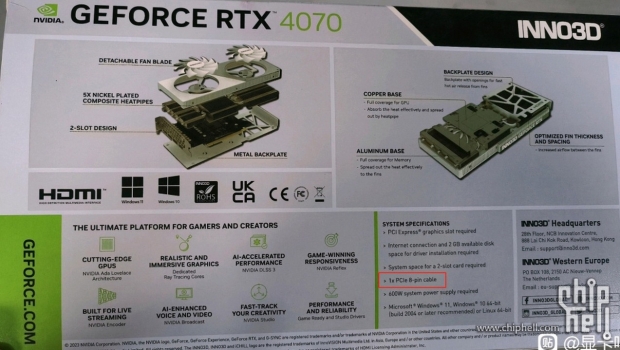 With the lower power requirements and rumors that some GeForce RTX 4070 models are rated at 200W, it's a move that makes sense. And also one that looks true with packaging for an Inno3D GeForce RTX 4070 leaking out that specifically mentions the use of a single 8-pin power connector.
The image appeared on Chinese social media, shared by @9550pro on Twitter, where we also learned that this specific AIB Inno3D GeForce RTX 4070 features a 2-slot design with two fans.
This backs up reports that the GeForce RTX 4070's AD104 GPU is much smaller than what we've seen to date, with specs in line with the previous generation's GeForce RTX 3070. That is a CUDA Core count of 5888 with 12GB GDDR6X of memory across a 192-bit interface.
OC models for the GeForce RTX 4070 are expected to feature a power rating of 225W, and these custom models will be sold at a higher price point. The rumored April 13 GeForce RTX 4070 launch is right around the corner, though the card probably won't be formally announced until then - and when reviews first appear.
Anyway, it's great to see that these new Ada Lovelace cards will feature models with the traditional 8-pin power connectors - as this will make them far more attractive options for those looking to make a simple GPU upgrade.