It's been a while since we've seen a proper shake-up regarding memory module sizes. We've been in the era of 8GB, 16GB, and 32GB for many years. With the arrival of faster DDR5 memory, we've seen the debut of 24GB and 48GB memory modules. Recently CORSAIR debuted 96GB and 48GB kits in RGB and non-RGB flavors, running at 5,600MT/s and 5,200MT/s. Read our report on that here.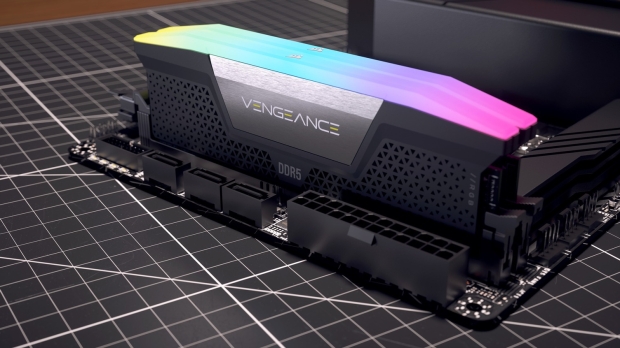 Now CORSAIR offers something for enthusiasts that want nothing but the best (i.e., the fastest) with high performance and capacity 7000MT/s 48GB (2x 24GB) VENGEANCE RGB DDR5 and VENGEANCE DDR5 memory kits. DDR5-7000 with 40-52-52-114 timings is fast, though it is limited to the 24GB modules. The RGB 48GB kit (2x 24GB) is priced at USD 284.99, while the non-RGB kit (2x 24GB) is priced at USD 274.99 - via CORSAIR.
Regarding compatibility, CORSAIR notes that the new high-speed 1.4V DDR5 memory modules support Intel XMP 3.0 for easy installation. It has worked closely with ASUS to ensure they work great across its entire range of new 700 series motherboards for 13th Gen Intel Core processors. Of course, CORSAIR notes that the memory kits are compatible with all Intel 700 series motherboards.
DDR5-7000 is the memory designed for demanding RAM-intensive tasks like video editing, 3D modeling, AI, and deep learning training. Plus, gaming too - for when 32GB is not enough as using two DIMM slots for 48GB of memory versus 32GB is undoubtedly enticing.
And if you're willing to sacrifice a little speed, CORSAIR has also launched 192GB kits of VENGEANCE RGB DDR5 (4x 48GB), and VENGEANCE DDR5 (4x 48GB) rated at 5200MT/s with 38-38-38-84 timings.