The Cocoa Press is a 3D printer with a distinct difference - it produces models made from chocolate so that you can sculpt all kinds of weird and wonderful edible forms of the stuff.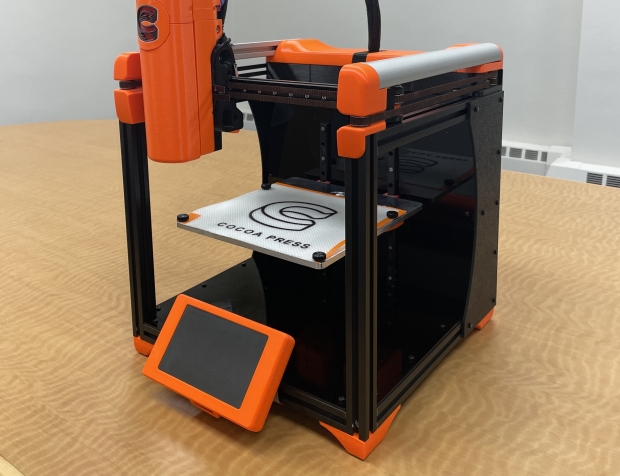 This 3D Printer was created by Ellie Weinstein and is readying for pre-orders next month (on April 17th).
The idea is you can fashion chocolates in all sorts of nifty shapes with different textures, the kind of chocs that you'd usually only get at high-end places (chocolatiers) and for a stupidly pricey outlay, probably.
You can work from existing templates provided by Cocoa Press (or elsewhere online), or design your own choc creations from scratch if you prefer.
Realizing that creation is a matter of loading a 70g chocolate cartridge into the 3D printer, which then preheats for 15 minutes. The Cocoa Press doesn't need to get up to anywhere near as hot as a traditional 3D printer, in fact, it heats to a touch under 27 degrees Celsius.
The printer then builds up the chocolate model layer by layer through the extruder - the company says to think of it as an 'automated piping bag' - and the chocolate solidifies at room temperature.
Depending on what you're making, a relatively simple choc can be printed in five minutes or so, but more complex designs could take a couple of hours. Or you could just eat the cartridges if you're really, really famished (ahem).
The maker of the printer clarifies that you don't need any specialist knowledge to work with 3D printing chocolate, and the machine is easy to set up and use. If you've never had any experience with 3D printing before, obviously there will be something of a learning curve, but not a steep one in this case, the firm assures us in its FAQ on the website.
You'll be able to buy the Cocoa Press in kit form, or as a fully constructed printer, with the device costing US$1,499 for the kit, and US$3,995 if you want it already built. Packs of 10 chocolate cartridges are going to be sold for $49.
It's also worth noting that the fully constructed version of the Cocoa Press also comes with a longer warranty.
With pre-orders opening on April 17th as mentioned, you'll have to stump up US$100 for a deposit there and then, paying the balance when the printer is due to ship.
Kits are predicted to start shipping in September 2023, whereas the finished devices won't be unleashed until early 2024, we're told (though as ever, launch schedules can slip).