PC Game Pass, the PC version of Xbox Game Pass, is expanding to 40 new countries across the globe.
Microsoft today announced that its popular value-oriented Xbox Game Pass subscription will soon considerably grow its global presence. The company says that PC Game Pass preview is now available in 40 new countries for the first time ever, bringing the service's total worldwide availability to 86 countries.
It's important to remember this expansion only relates to half of the Game Pass subscription. Xbox Game Pass is delivered on both Xbox consoles and Windows PCs, and this announcement is for the PC Game Pass version.
The news comes at an interesting time for Microsoft. Right now Microsoft is facing intense regulatory scrutiny for its proposed acquisition of Activision-Blizzard, and the Game Pass subscription has been cited as a possible antitrust concern. The worry is that Microsoft adding games like Call of Duty and Diablo IV to Game Pass could tip the scales in Microsoft's favor and harm competitors like Sony.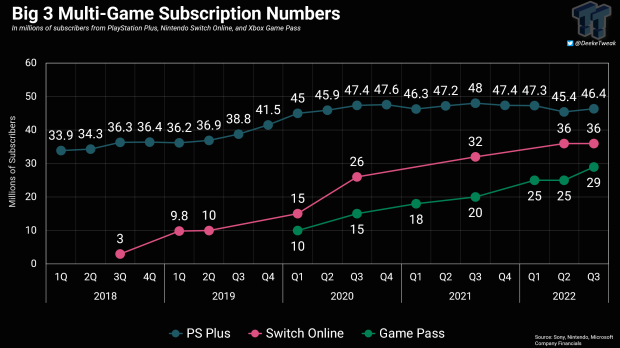 Sony has also said that Xbox Game Pass is beating its PlayStation Plus multi-game subscription by a longshot. Sony has told UK antitrust regulators at the CMA that Xbox Game Pass currently has 29 million subscribers. Sony is obviously only counting PS Plus Extra and PS Plus Premium subscribers and not the totality of its PlayStation Plus subscription tiers which adds up to 46.4 million subscribers.
"Game Pass leads PlayStation Plus significantly - Microsoft already has a substantial lead in multi-game subscription services. Game Pass has 29 million subscribers to Xbox Game Pass Console and Xbox Game Pass Ultimate, and is expected to grow substantially in the future. The multi-games subscription tiers of PlayStation Plus considerably lag, with fewer than [REDACTED] the number of subscribers."
Check the list of 40 new countries below, and gamers can currently try out the PC Game Pass Preview in the Xbox Insider Hub and get a special discounted rate for their first month.
Albania

Algeria

Bahrain

Bolivia

Bosnia and Herzegovina

Bulgaria

Costa Rica

Croatia

Cyprus

Ecuador

Egypt

El Salvador

Estonia

Georgia

Guatemala

Honduras

Iceland

Kuwait

Latvia

Libya

Liechtenstein

Lithuania

Luxembourg

Malta

Moldova

Montenegro

Morocco

Nicaragua

North Macedonia

Oman

Panama

Paraguay

Peru

Qatar

Romania

Serbia

Slovenia

Tunisia

Ukraine

Uruguay