With the arrival of the GeForce RTX 40 Series in the laptop space, we've already seen impressive performance and efficiency gains in the flagship entries like the GeForce RTX 4090 laptop GPU. Our review of the MSI Titan GT77 noted that the laptop RTX 4090 delivered impressive desktop-like gaming performance and could push the resolution to 4K even in games like Cyberpunk 2077.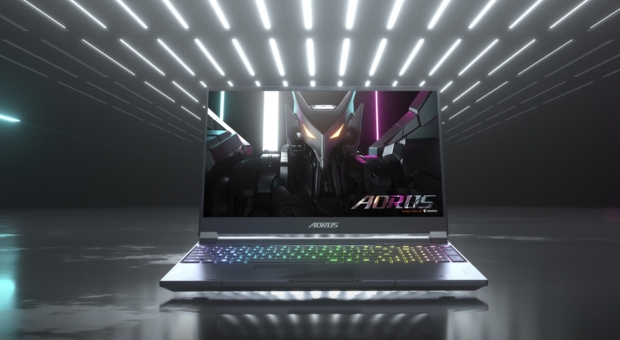 Things become more attractive in the mid-range as laptops with GPUs like the GeForce RTX 4070 and GeForce RTX 4060 end up in more systems than the high-end chips. And as we're still waiting for the desktop variant to be revealed, there are a couple of notable GeForce RTX 4070 laptop reviews that don't paint a very flattering picture of the RTX 4070 when it comes to in-game performance.
Tom's Hardware has a review of the new GeForce RTX 4070 powered GIGABYTE AORUS 15X gaming laptop, saying that the performance of the new laptop GPU is disappointing. The outlet was expecting a generational leap over the previous-gen GeForce RTX 3070 Ti laptop GPU, and with the same results in specific benchmarks, that wasn't the case.
Looking at Shadow of the Tomb Raider, the AORUS 15X matched the GeForce RTX 3070 Ti's 110 fps performance at 1080p. Compared to an ASUS ROG Strix Scar 18 with a GeForce RTX 4090 delivering 181 fps at 1080p, it's a massive gulf.
Comparing one laptop to another is never a like-for-like comparison, as other hardware can impact or improve performance. Still, it doesn't sound promising for the RTX 4070 when it's similar to an RTX 3070 Ti for gaming. That said, it's more efficient thanks to the new Ada architecture and benefits from technology like DLSS 3's Frame Generation, exclusive to the GeForce RTX 40 Series.
Well-known YouTube channel Jarrod's Tech, which primarily focuses on laptop gaming performance and reviews, had similar thoughts on the new GeForce RTX 4070 laptop GPU in its review of the XMG Neo 16. Results across 25 games showcase similar results, performance on par with the RTX 3070 Ti laptop GPU.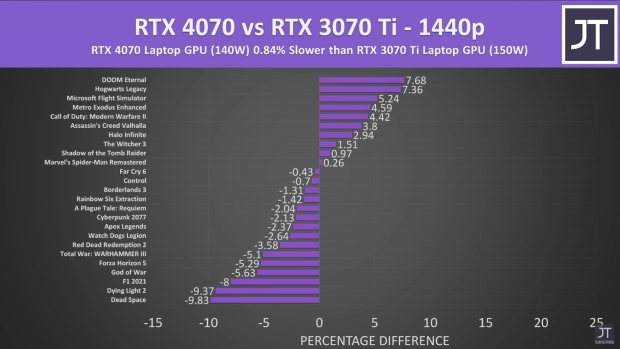 Also, performance is roughly 30% slower than the GeForce RTX 4080 laptop GPU - which points to plenty of room for an RTX 4070 Ti in this space. Jarrod's Tech notes that fewer CUDA Cores and a lower maximum power limit compared to the RTX 3070 Ti could be why performance isn't the generational leap we've come to expect.