TweakTown's Rating: 95%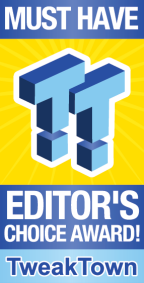 The Bottom Line
It's hard to convey just how powerful the MSI Titan GT77 HX is, but we are consistently seeing desktop-class gaming performance from the CPU and GPU in this incredible portable machine!
Pros
+

Cherry MX keyboard by SteelSeries

+

Awesome desktop-level gaming performance

+

Connectivity

+

Mini-LED panel

+

Newest and fastest Intel and NVIDIA parts
Cons
-

Fans very loud at full speed

-

Heavy

-

Expensive
Should you buy it?
Avoid
Consider
Shortlist
Buy
Introduction, Specifications, and Pricing
Intel unveiled its 13th Gen Mobile lineup at CES, and a month later, here we are with their top offering tucked away inside one hell of a gaming laptop, the MSI Titan GT77.
For many who don't have space in their home to deploy a desktop machine, platforms like the GT77 HX 13VI are godsends as they deliver desktop-class performance in a very space-efficient form factor. To that point, the GT77 HX 13VI that we are looking at combines the best Intel has to offer and the very best from NVIDIA as well, coupled with a massive amount of DDR5 memory and 4TB of NVMe storage, making for a potent combo that will likely shatter our charts, quite easily.
Specifications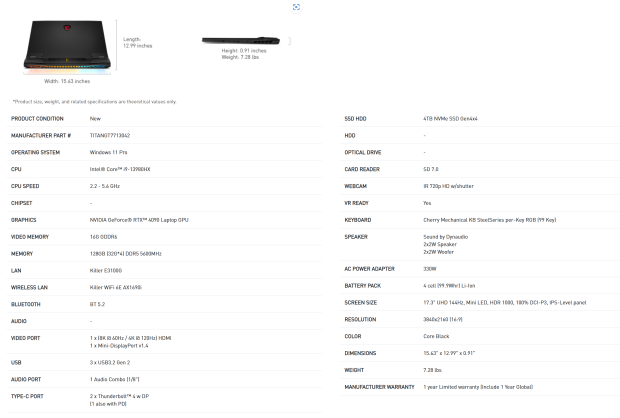 Diving right into the specifications of our review unit, the GT77 HX 13VI, I must first note a few differences between our actual unit and the two spec'd models MSI delivers to retail. The first is our CPU, which is a 13950HX and not the 13980HX MSI is offering. The difference between the two SKUs is 100MHz clock speed and possibly support for Intel vPro on the 13980HX. Second is our NVMe setup. Intel has our unit set up with 2x2TB NVMe in RAID 0, a setup we would never recommend on a gaming machine.
With that out of the way, we can get into the hardware, starting with the CPU mentioned above, the 13950HX. This CPU is a 24-core / 32-thread part with a performance core boost clock of 5.5GHz and efficient core boost of 4GHz. MSI has paired this with 64GB of DDR5 in our system, upgradeable up to 128GB, with speeds sitting at 5600MHz. Graphics are handled by NVIDIA's GeForce RTX 4090, which has its own dedicated 16GB of GDDR6 memory.
Networking is provided by the Killer Suite with an E3100G 2.5Gbe controller for wired LAN and AX1690i for WiFi6e. This Wi-Fi adapter supports Intel DCT for VR HMDs like the Quest 2 and Pro. As we briefly mentioned above, storage gives us 4TB; specifications do not specify if this is RAID or a single 4TB solution.
Last, we have the display, a 17.3" mini-LED panel that supports 4K resolution at 144Hz, 100% DCI-P3, and HDR 1000.
Pricing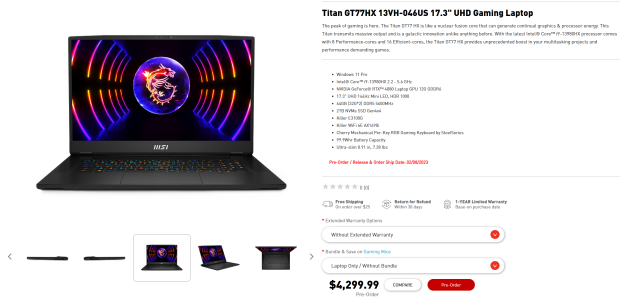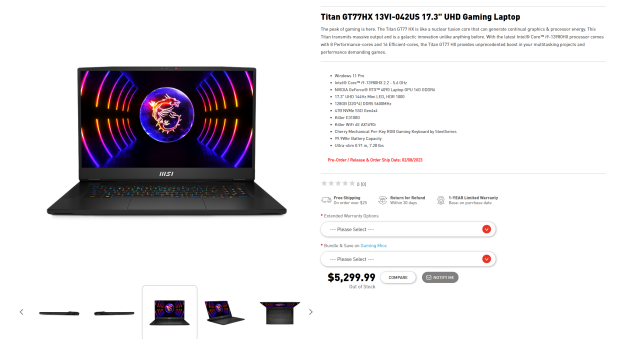 We have both available models of the Titan GT77 HX shown above. Both SKUs are identical physically, with the VH offering an RTX 4080, 64GB of DDR5, and a 2TB NVMe at $4299 MSRP, while the VI we have for testing gives us an RTX 4090, 128GB of DDR5, and a 4TB NVMe for its $5299 MSRP.
Notebook Overview
MSI Titan GT77HX Overview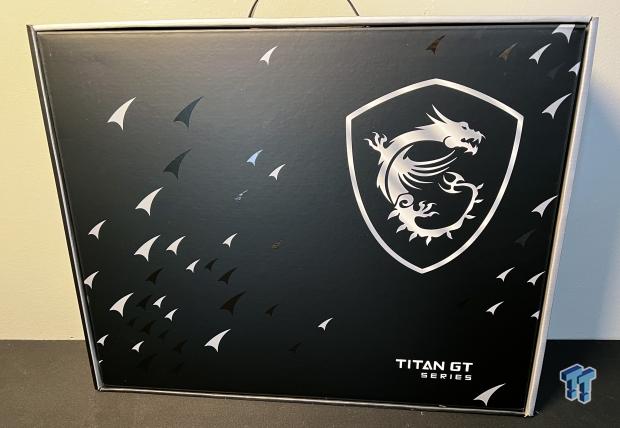 The Titan was delivered to us in its retail box, which includes MSI Gaming branding.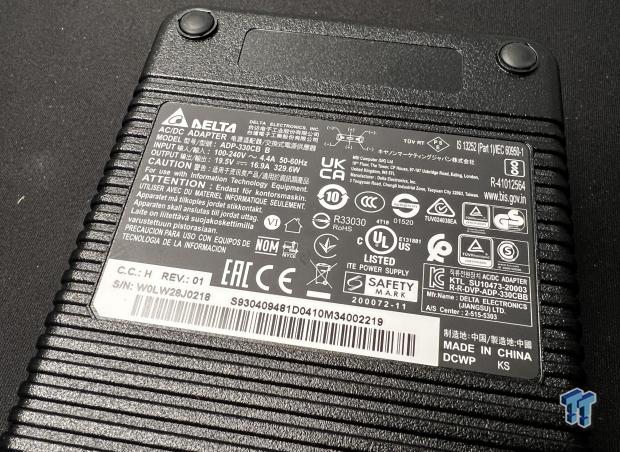 Unboxing the laptop, we first look at the power adapter, which is a Delta unit that offers 330W of power at 19.5V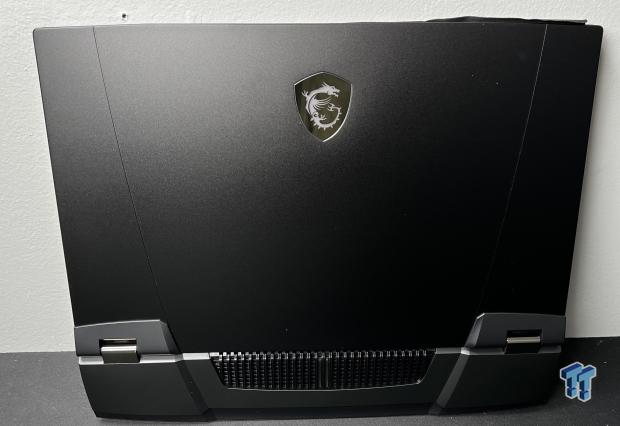 Getting to the laptop, we look first at the top, which includes a metal finish and MSI Gaming logo.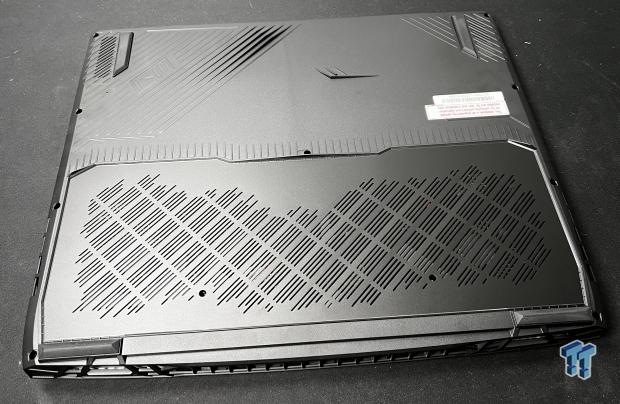 The bottom includes a large, vented area above the internal fan and heatsink array, and twelve screws hold the cover.

The laptop's right side includes one USB 3.2 Gen 2 Type-A, two Thunderbolt 4 ports in Type-C, DisplayPort, HDMI, and 2.5Gbe LAN.

On the left, we have the power input followed by two USB 3.2 Gen 2 and the SD 7.0 slot. Finishing this side is the 3.5mm audio output.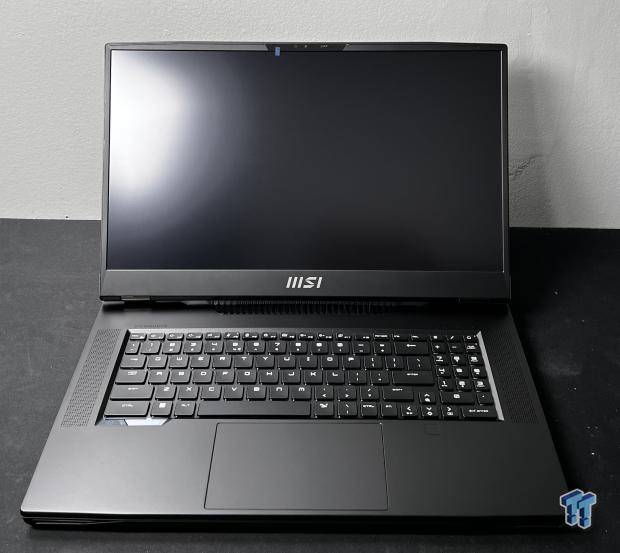 Opening up the laptop, we have a centered trackpad that sits just below a full-size cherry MX keyboard provided by SteelSeries, with the fingerprint reader sitting just underneath.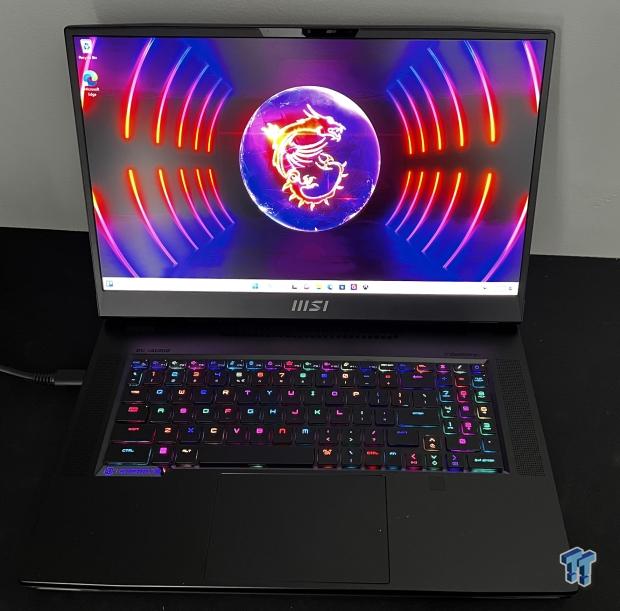 Firing up the machine, you can see the RGB backlighting of the keyboard.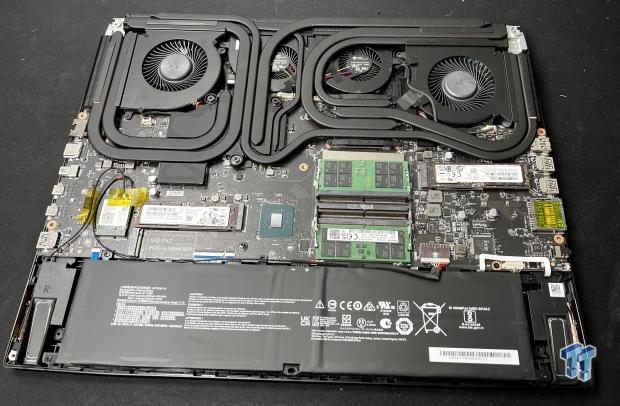 We opened the Titan to peak at the hardware layout and cooling. A large 99wH battery takes up the bottom of the chassis. Just above, we have Wi-Fi far left, followed by two m.2 slots, four DDR5 SO-DIMM slots, and one more m.2 far right. Up above, we have a large cooling solution that looks like the highways over Dallas, Texas, and includes four cooling fans, two pulling air into the chassis and two pushing it out.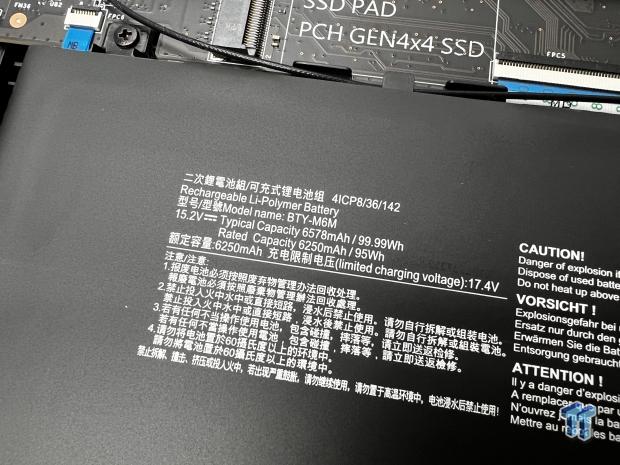 The battery is a 15.2v unit holding 99wH of capacity.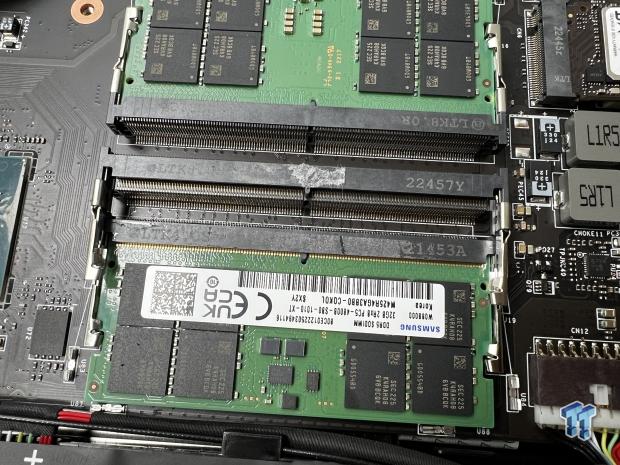 The memory is from Samsung, DDR5 4800.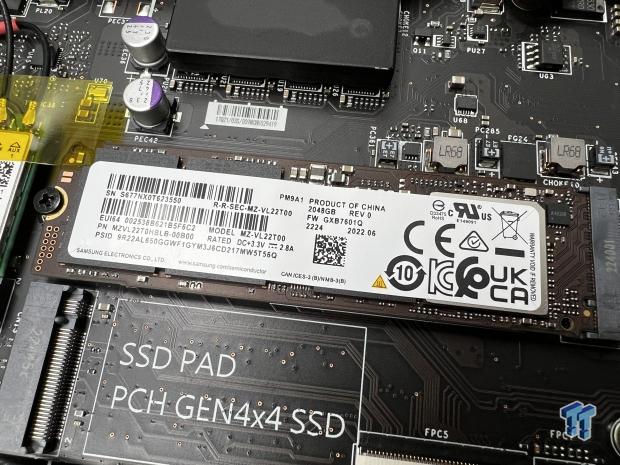 The NVMe solutions are too from Samsung, the PM9A1.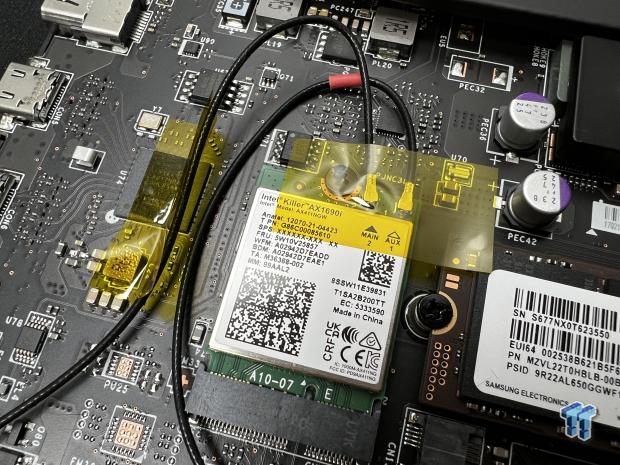 Wi-Fi is controlled by the AX1690i chipset.
BIOS/UEFI and Software
UEFI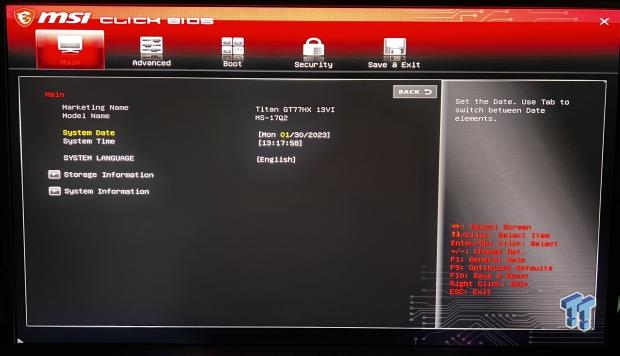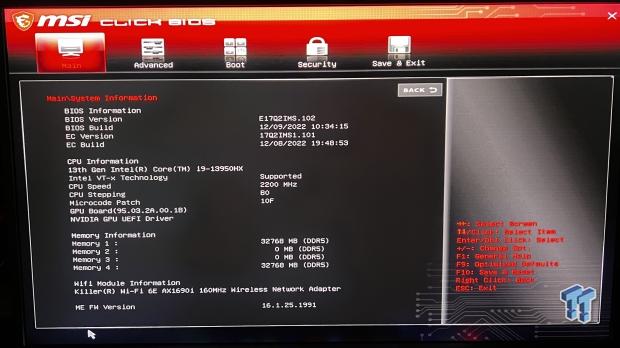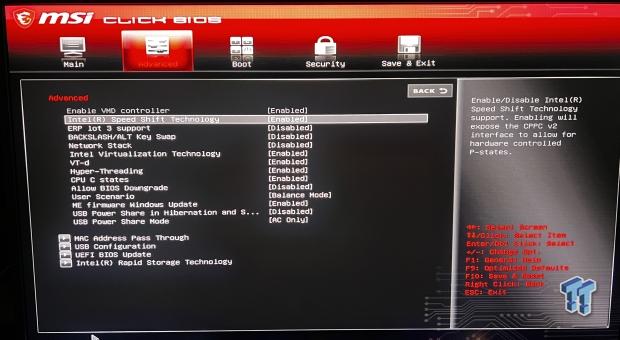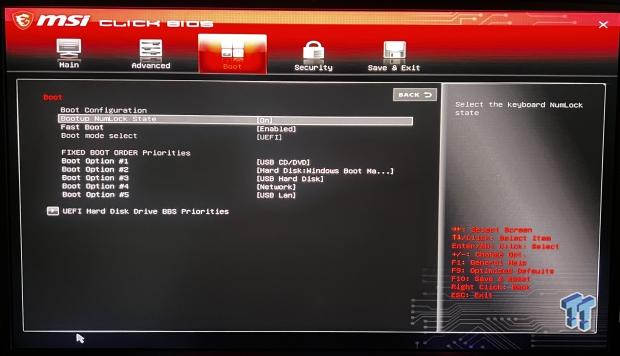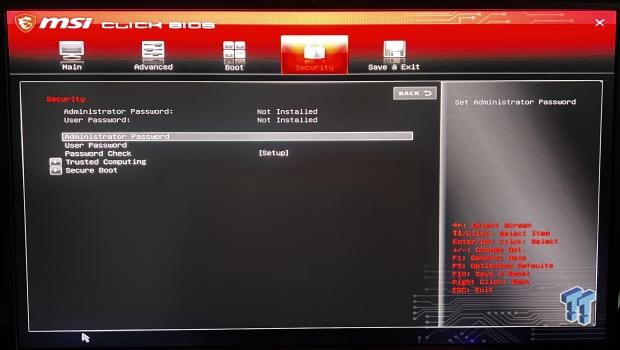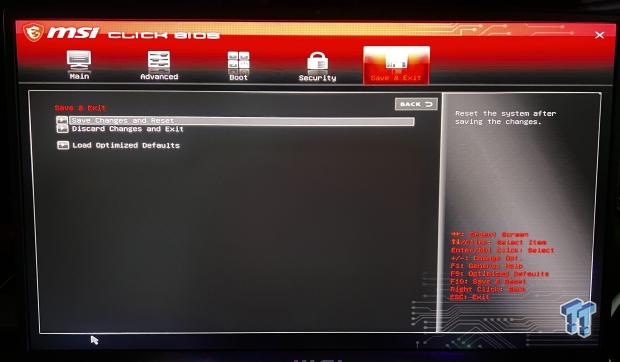 The MSI Click BIOS is very similar to what we see on motherboards. The main menu offers information on the storage and system components. The advanced menu allows for the configuration of the Intel VMD controller and CPU options like SpeedStep, Hyper-Threading, and C-States.
Software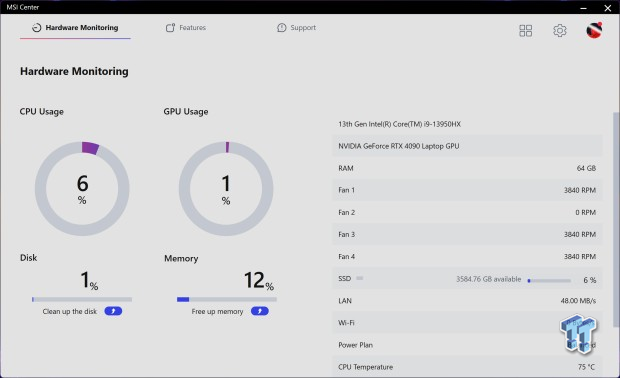 MSI Center controls the functionality of the GT77HX; this includes a hardware monitor for the CPU and GPU.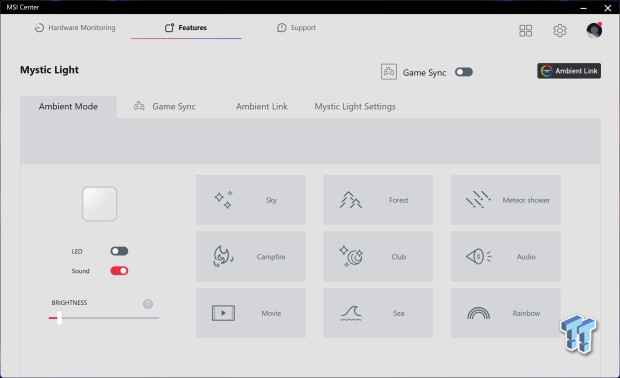 Mystic Light functionality can be controlled from here as well. This is the light bar that sits behind the display panel on the chassis.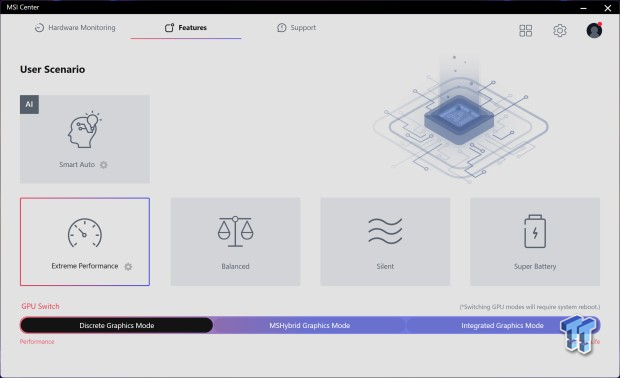 You can also switch performance modes in MSI Center and a Fn key shortcut on the keyboard. At the bottom, you can change the graphics mode between the discrete GeForce RTX 4090, hybrid, or the integrated Intel solution.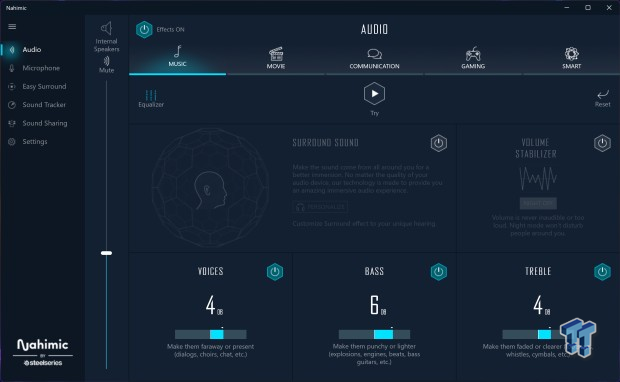 Nahimic Audio also has its own control panel, allowing you to configure it.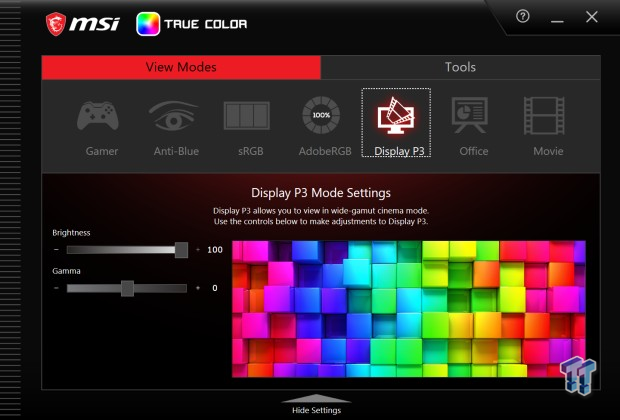 MSI True Color allows you to change the color mode of the display panel.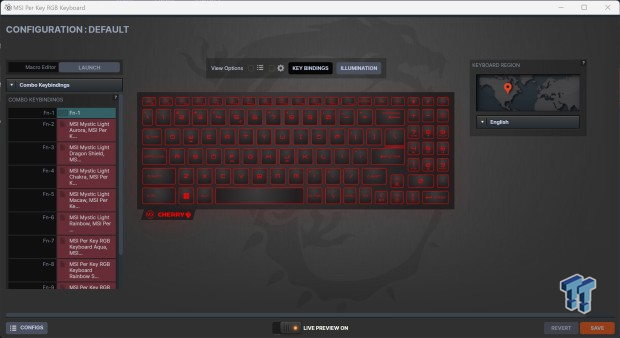 SteelSeries GG is where you will control the RGB of both the keyboard and front LED bar.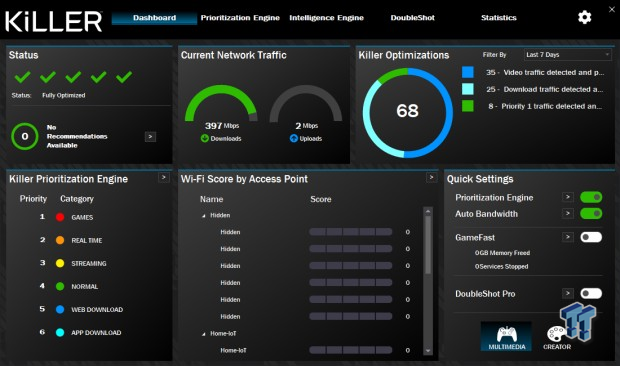 Killer has revamped their software in this latest release, making for a hectic design with all the info you need quickly.
System/CPU Benchmarks
Cinebench
Cinebench is a long-standing render benchmark that has been heavily relied upon by both Intel and AMD to showcase their newest platforms during unveils. The benchmark has two tests, a single-core workload that will utilize one thread or 1T. There is also a multi-threaded test that uses all threads or nT of a tested CPU.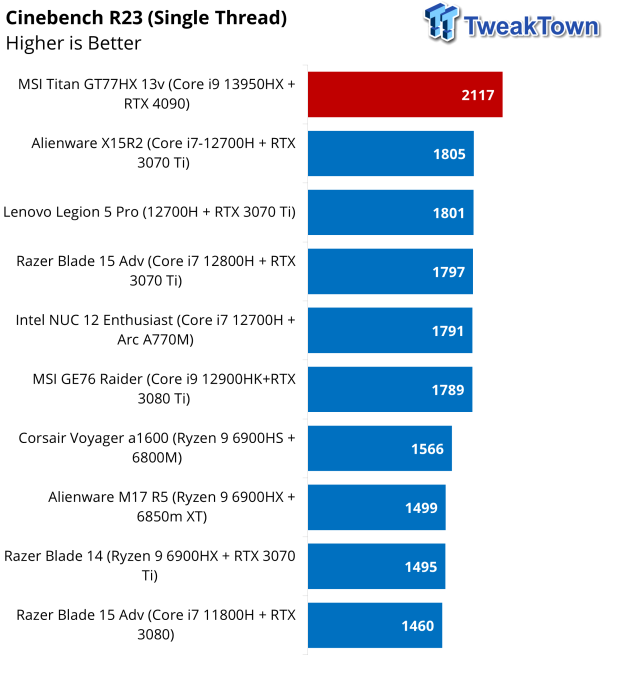 Single thread performance for the 13950HX offered us 2117 points, raising the bar on single-core performance.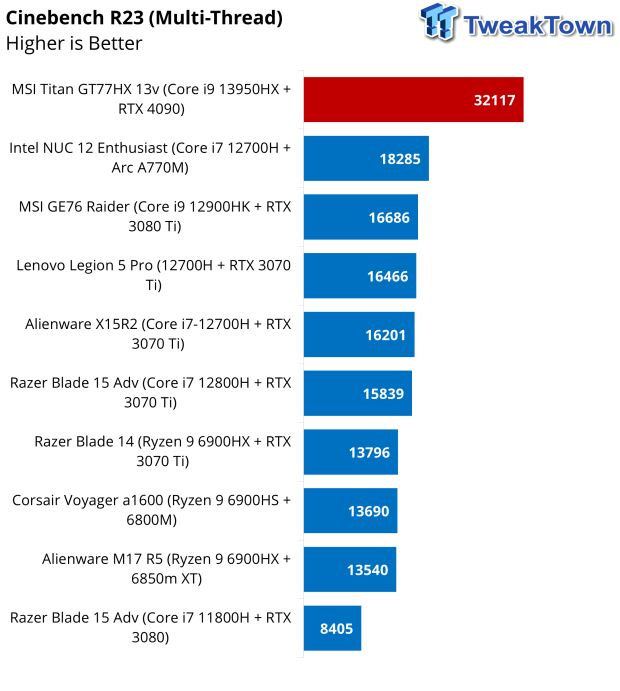 In multi-thread testing, we doubled the performance picked up last year with the 12900HK with an impressive 32117 score.
BAPCo CrossMark
CrossMark™ is an easy-to-run native cross-platform benchmark that measures the overall system performance and system responsiveness using models of real-world applications. CrossMark™ supports devices running Windows, iOS, and macOS platforms.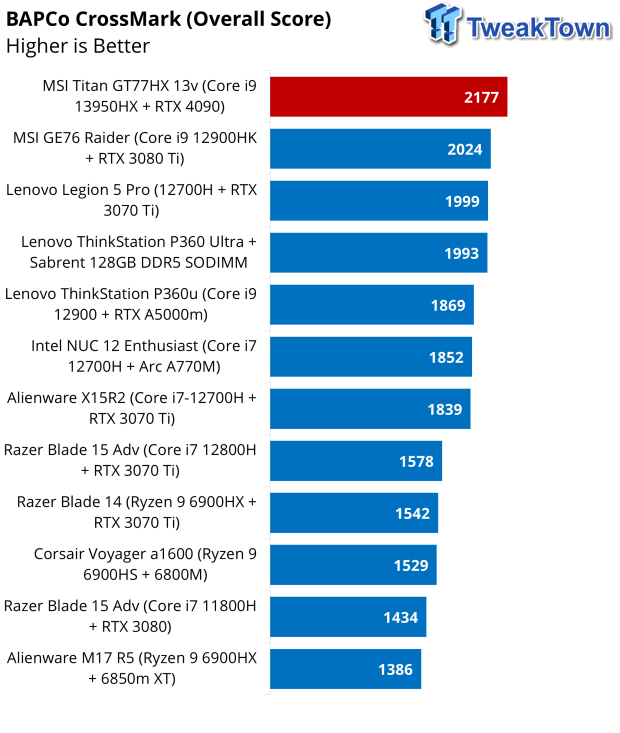 CrossMark offered up a slight boost with an overall score of 2177.
AIDA64 Memory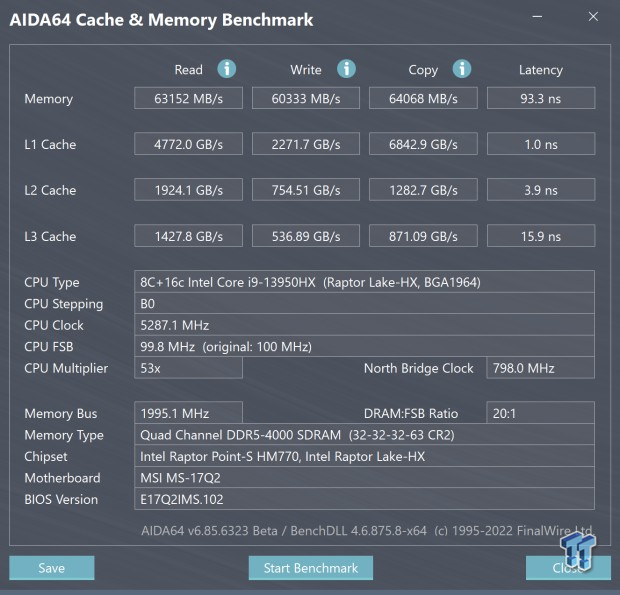 Memory bandwidth came in with at least 60K MB/s across the board, and latency was a bit high at 93.3ns.
3DMark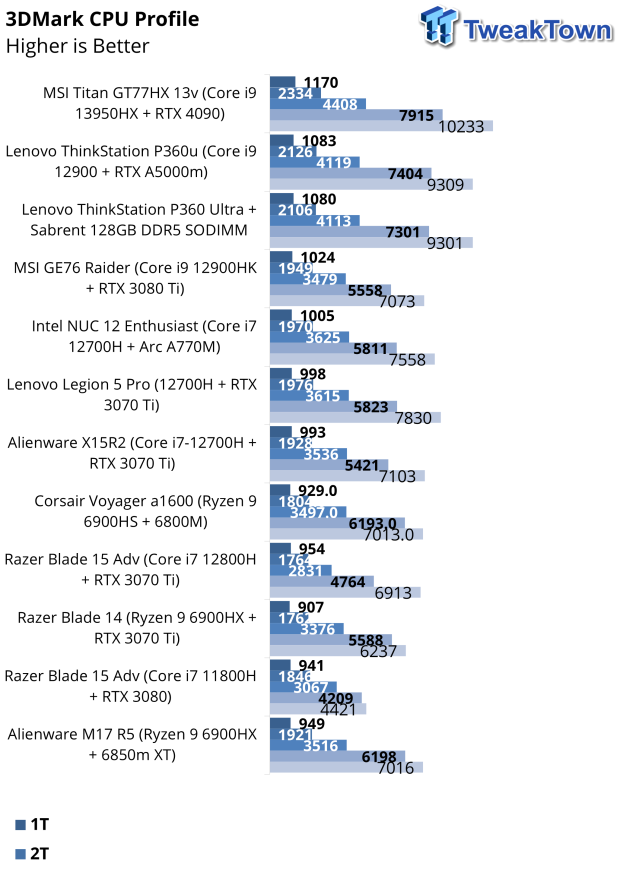 CPU Profile showed a decent boost to both single-thread and 16-thread performance. The former came in at 1170, a nearly 100-point gain over 12th Gen with 10223 for 16-thread, a jump of 900 points.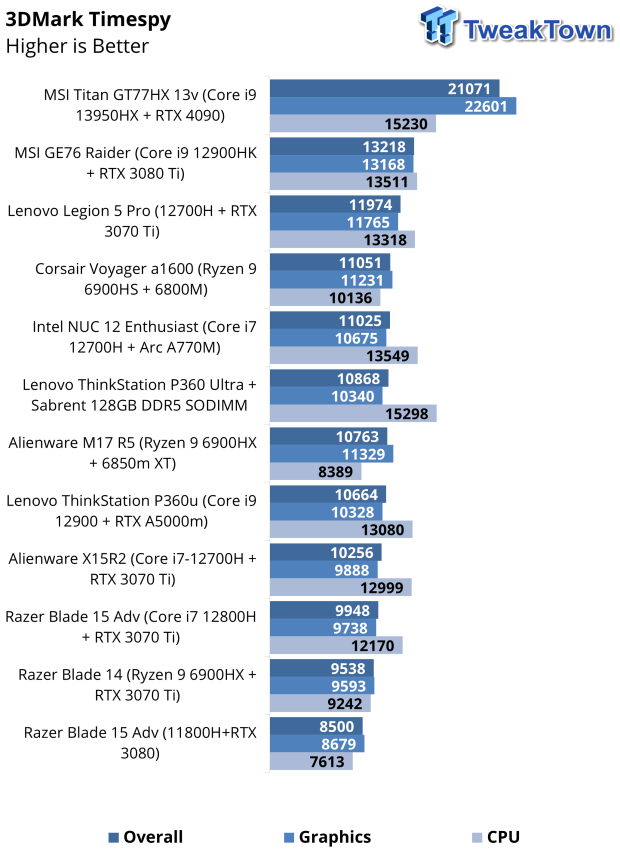 Timespy showed a huge jump thanks to the RTX 4090. We have now broken the 20K barrier on mobile with a score of 21071.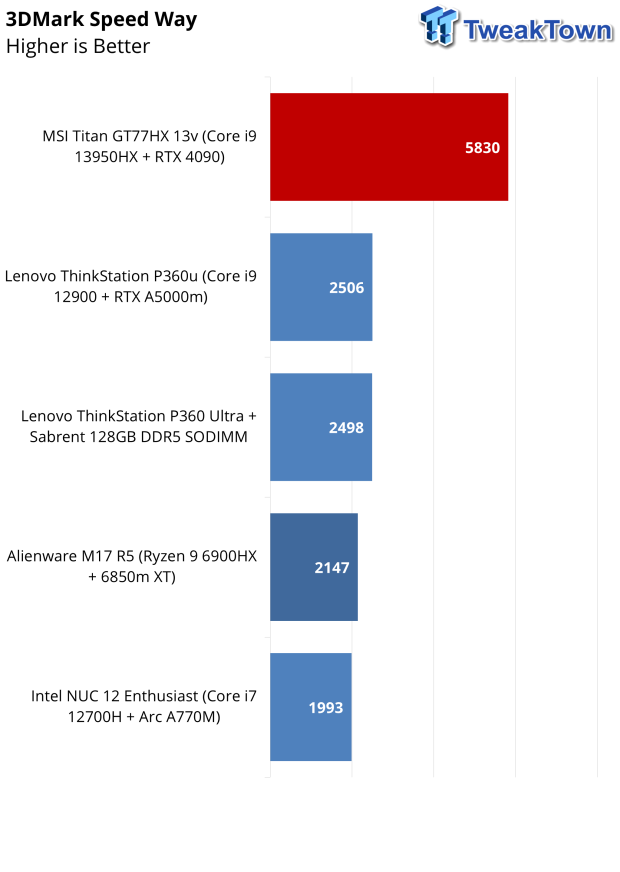 Speed Way guides us into our real-world gaming tests with a score of 5830, nearly three times higher than previous systems.
Storage, Battery, and Gaming
3DMark Storage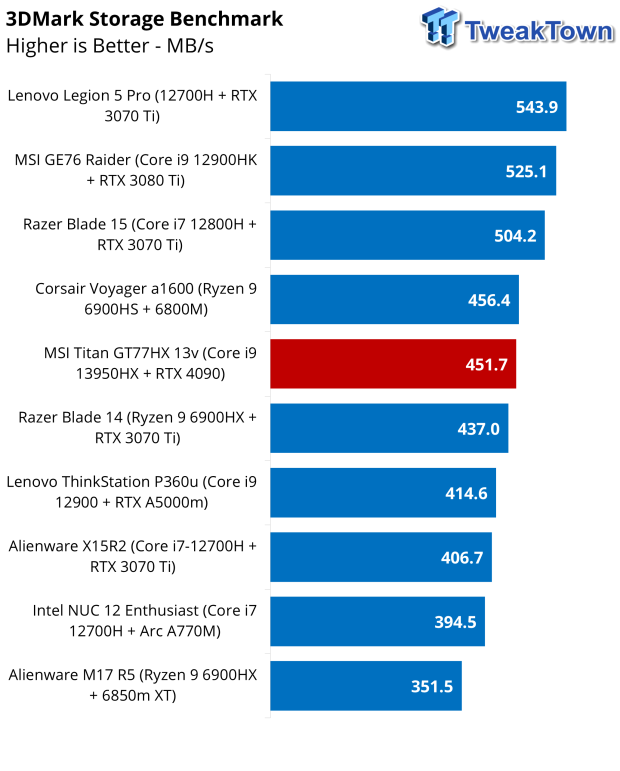 With its RAID 0 setup of the PM9A1 NVMe drives, our sample scored 451 MB/s bandwidth.
Graphics Performance
We ran through several titles to test the graphics performance of the Titan GT77 HX.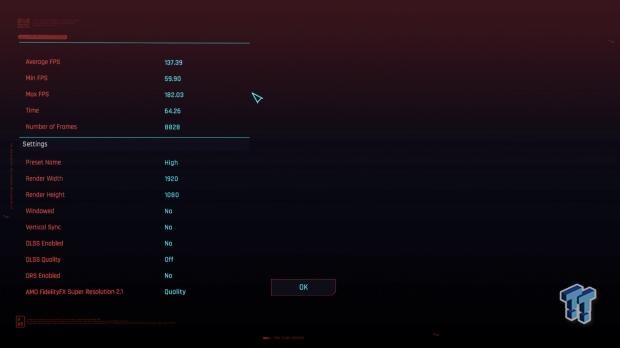 Our first setup was CyberPunk 2077, 1080p, giving us 137 FPS with the high preset.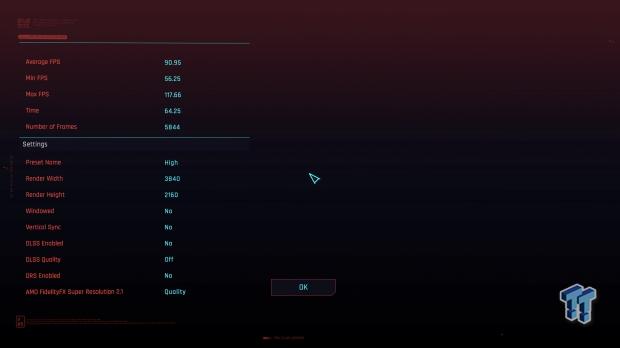 Testing 4K, we tap into 90 FPS again using the high preset.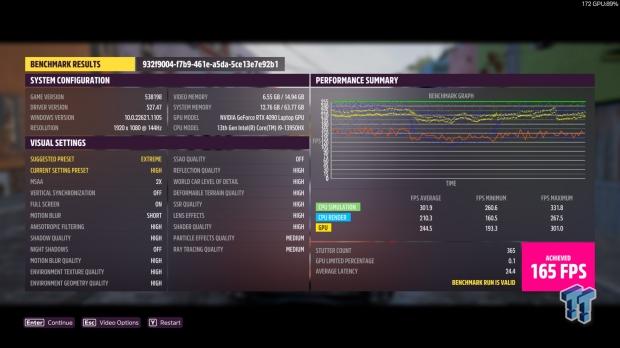 FH5 gave us 165 FPS at 1080p.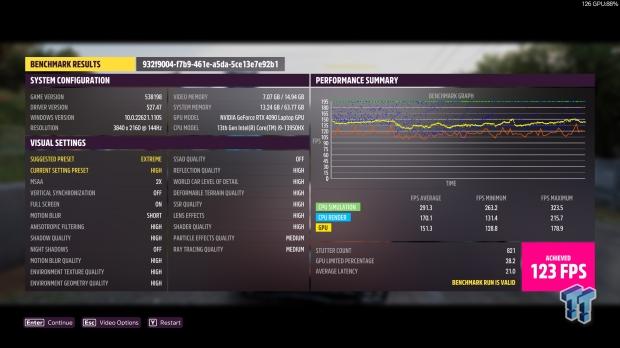 Over to 4K, still with FH5, we see 123 FPS.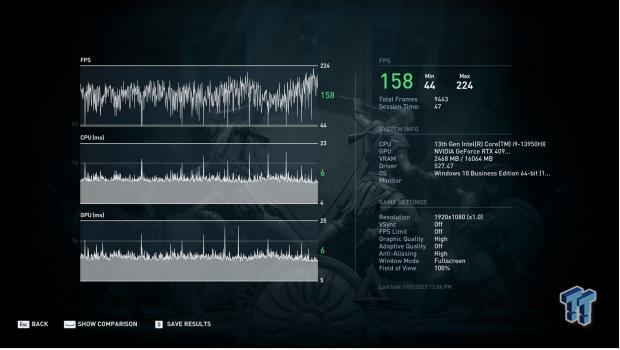 AC:Odyssey gave us an excellent 158 FPS at 1080p.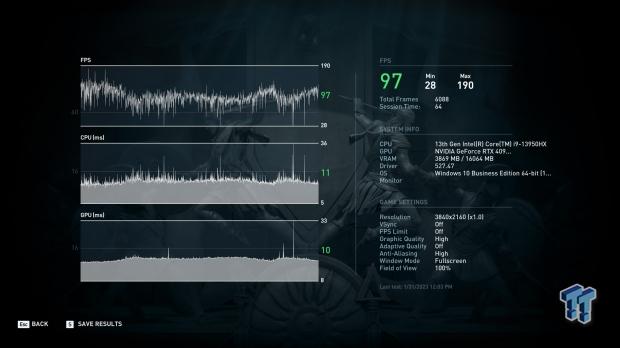 4K puts FPS at 97.
Battery Testing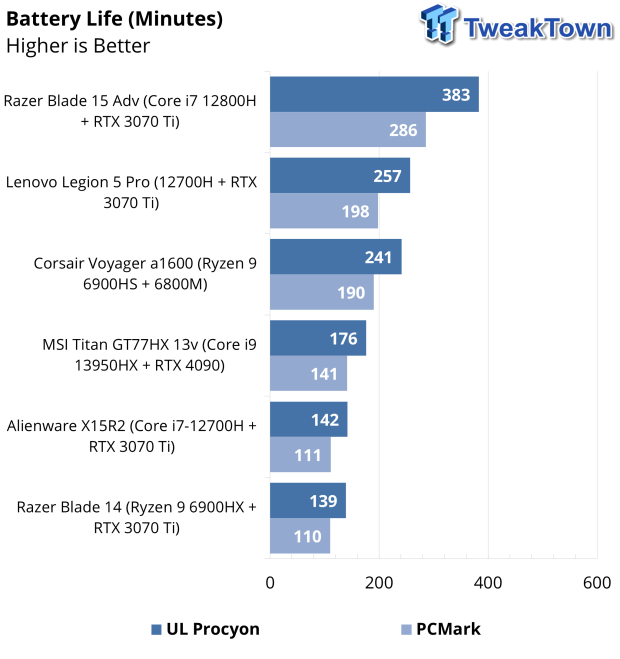 Battery life gave us just over 2.5 hours using the default power profile in PCMark. UL Procyon netted us a bit more with 176 minutes.
Clocks, Temperatures, and Final Thoughts
Clock Variation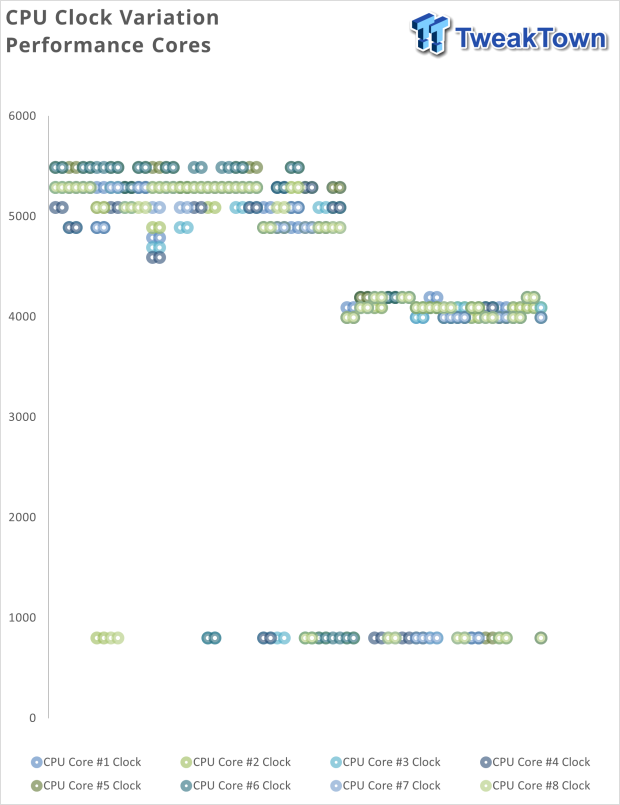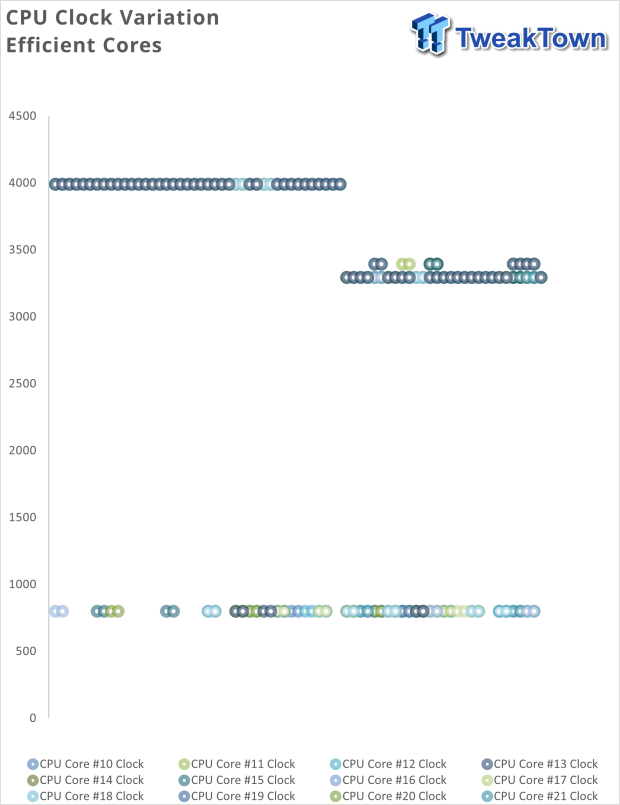 These charts use logged clock speed data while running the Timespy gaming workload. The first half of the chart shows the gaming scenario, where we see the 13950HX running between 5GHz and 5.5GHz for most of the workload.
The second half is the CPU-intensive portion, where we see the CPU SpeedStep at a steady 4-4.2GHz. On the E-cores, we see a mostly steady 4GHz starting the workload, the last half moving down to 3.4GHz.
Temperature Variation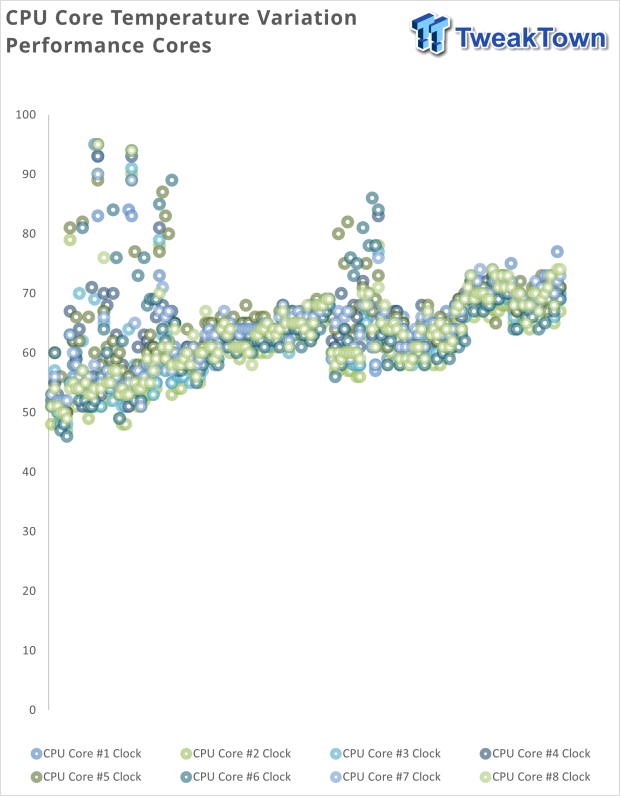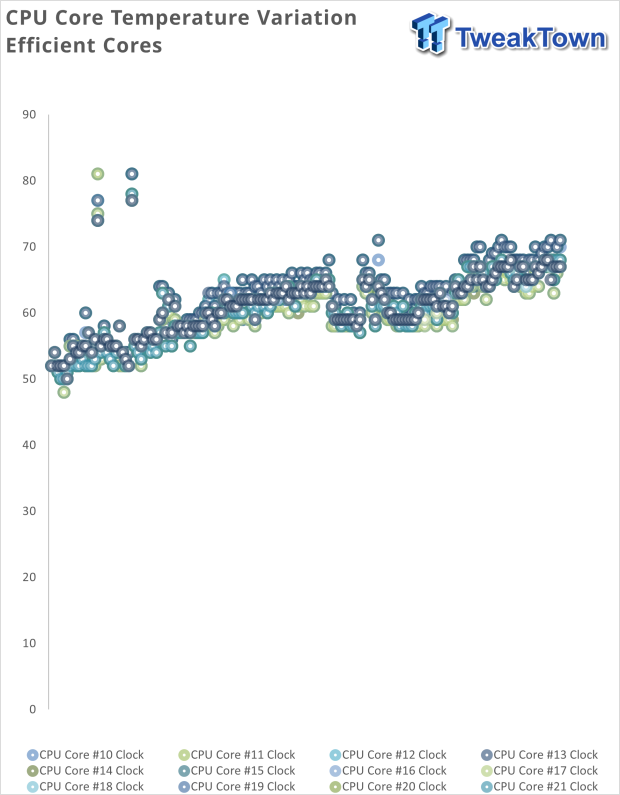 Using the same Timespy workload, we logged temperature data for the Titan GT77 HX. As you can see above, the P-cores hold steady below 70c for the entire workload, with a few cores getting slightly higher at times. The e-cores show a similar result.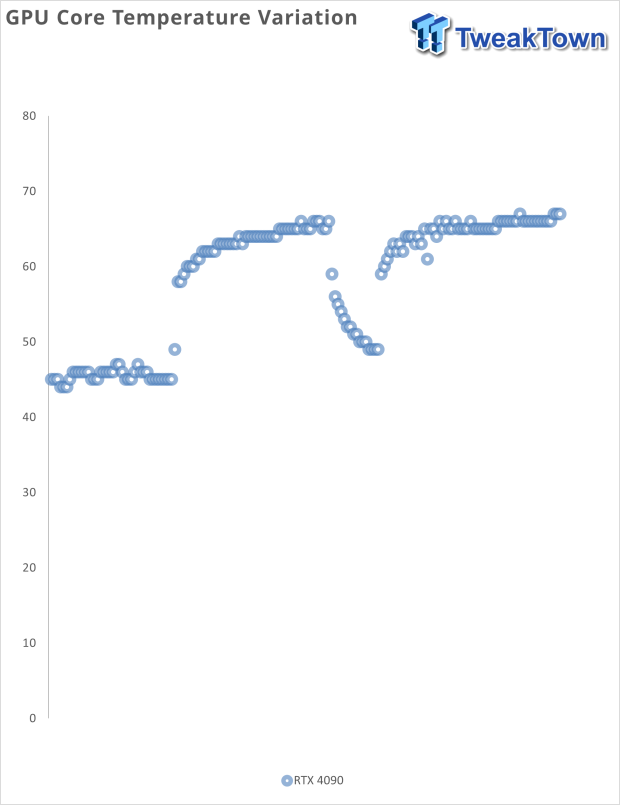 Lastly, I also logged the GPU temperature during the above workload. The RTX 4090 held easily under 70c for the entire duration.
Final Thoughts
For us, MSI is once again starting the year with one of the best gaming notebooks on the market, achieved by combining the current best available CPU in Intel's 13th Gen 13950HX and NVIDIA's GeForce RTX 4090 GPU, not to mention DDR5 memory and top-notch storage with the Samsung PM9A1. However, we wouldn't recommend the RAID setup our sample has deployed. Availability starts today, with many of you who pre-ordered on February 1st likely to receive your products today.
Build quality is good, with a solid chassis supporting the entire machine. Connectivity options are great, and the port layout is equally good. I like the mix of ports on either side of the chassis. Additional display support comes from the right I/O and includes a mini-DP and HDMI for options.
As for the attached panel, it's damn near as bright as the sun when viewing anything with a white background, and that's without HDR enabled. Color clarity and quality are excellent, and I would put it next to my C1 OLED any day of the week. Backlight bleed is very minimal, with just a slight white halo following the white cursor.
Performance with the GT77 HX offered a huge jump over 12th Gen and RTX 30. We gained 30-35 FPS in CyberPunk 2077 at 1080p with similar results in Forza Horizon 5. Productivity tasks didn't quite get that bump, but we saw desktop-class single-thread results in R23 with nT cracking the 30K barrier. Timespy too offered us a milestone, cracking 20K with a score of 21071 and Speed Way easily doubling last gen's performance.
Nitpicking a few things. First is the lackluster storage performance, which we could easily fix by getting rid of the RAID that was set up on our machine and installing a good Gen4 NVMe like the SN850X or Rocket 4 Plus. Next up, I don't care for the extremely high memory latency that could be fixed by offering consumers more control over memory timings in BIOS or the ability to enable XMP.
That out of the way, we wrap this with pricing, and while many other vendors do have similar builds, I reference Razer because they continually lead this category. Razer is offering two builds of the Blade 18 - the $3799 SKU and the $4499 SKU. Taking the top offering, we have an identical hardware configuration with the Core i9 13950HX and RTX 4090. Razer only provides 32GB of system memory as the top spec with 2TB NVMe storage, and they only use 1440p panels across the lineup. The port count is also lower with only one Thunderbolt 4 port, and the battery is 91wH.
If we compare this to the Titan GT77 HX, even if you were to choose the lower SKU from the lineup, which comes in $100 cheaper than the Blade 18, you would have double the memory at 64GB, the slightly larger battery, and the UHD mini-LED display panel.