Valve's Steam Deck is one of the most sought-after bits of PC gaming hardware, a portable handheld that's Steam that you can take on the go. In addition to being perfect for smaller indie titles and 2D gaming, the Steam Deck is powerful enough to play some of the most visually demanding games. And even though Valve offers two models with NVMe storage, one with 256GB and one with 512GB, when it comes to games - more storage is always needed.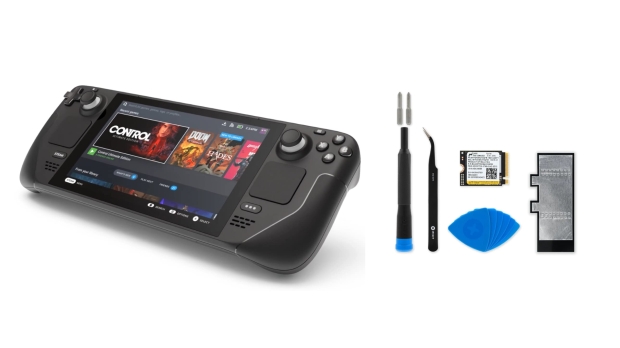 The main problem with upgrading the internal SSD storage of the Steam Deck (you can expand the storage with a microSD card) is that it uses the M.2 2230 SSD format, which is smaller than the more common M.2 2280 SSDs you can pick up everywhere. With high-capacity M.2 2230 SSD variants being hard to find, the good news is that we're starting to see them pop up in more places.
Recently we reported that Framework was offering a Western Digital SN740 NVMe - M.2 2230 for USD 299, and now it's iFixit's turn. The company offers 512GB, 1TB, and 2TB configurations of the Micron 2400 NVMe PCIe Gen4 2230 SSD and provides a unique 'Steam Deck SSD Upgrade Kit.' Which features "all the tools needed to complete the SSD replacement or upgrade" - an SSD foil cover, tweezers, screwdriver, and opening picks. This is very cool because opening up the Steam Deck and replacing the internal storage is not as easy as changing hardware in a regular desktop PC or laptop.
The 2TB model is currently out of stock, which isn't great news for those looking for 2TB storage. But it's also a sign that there's a lot of interest in these sorts of kits.