Earnings report cards for gaming's Big 3 are currently being tallied up but we've already spotted some interesting figures from top players Microsoft and Sony.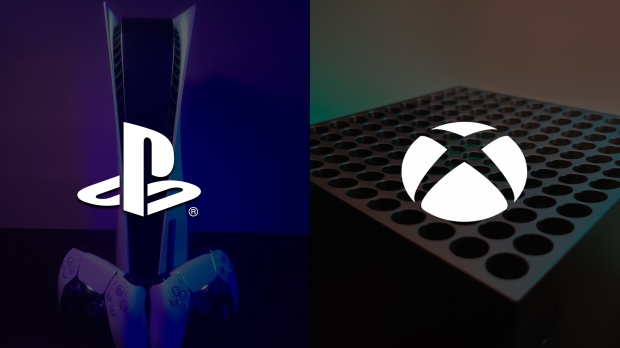 Note: The following figures are approximated, converted and rounded.
Both Microsoft and Sony recently announced their Holiday 2022 financials and gave us all the data required to make a full-year earnings analysis. In this article we'll be solely focused on the video game segment revenues and not total company numbers for the tech giants.
Our findings show that PlayStation is still leading the Big 3 in terms of revenues, which is to be expected, but the earnings discrepancy between PlayStation and Xbox has grown since last year. Let's take a closer look at the trends and their indicators.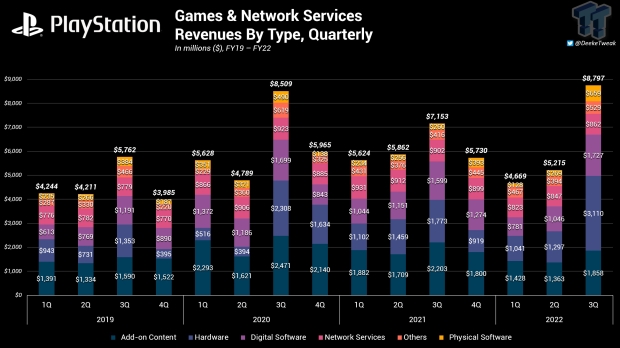 Based on earnings and conversion data provided in Sony's Fiscal Year 2022 financial reports, the PlayStation games division made $24.4 billion throughout 2022. Note that this data represents calendar year 2022 (Jan. - Dec.) and is not based on fiscal year dates (April - March of proceeding year).
PlayStation's annual earnings decreased by $200 million, as compared to the $24.6 billion it earned throughout 2021, likely driven by a combination of foreign exchange fluctuations and lower year-over-year revenues throughout January - September 2022.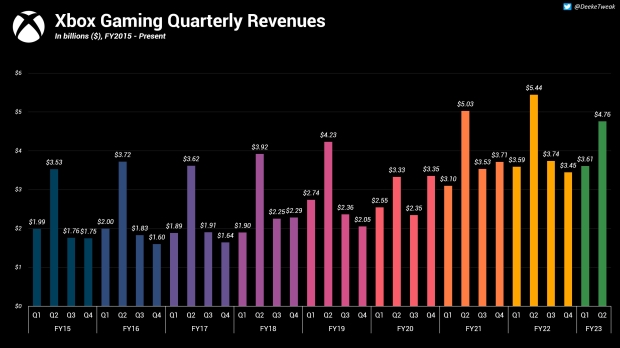 Microsoft's Xbox games division made $15.56 billion throughout 2022. It's no surprise that PlayStation is beating Xbox (and it should likewise beat Nintendo) but it's still interesting to investigate by how much.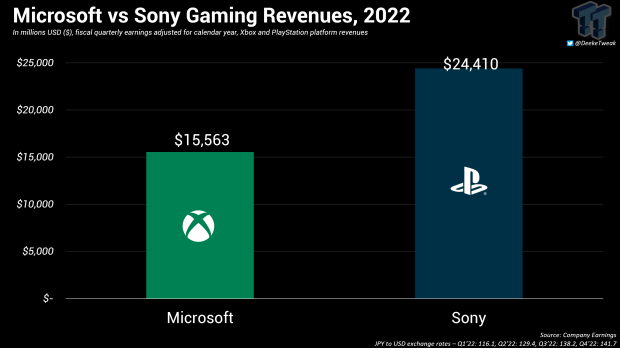 Read Also: Xbox is finally beating PlayStation, but only in one way
According to quick calculations, PlayStation beat Xbox by $8.85 billion in 2022. The discrepancy between PlayStation and Xbox earnings grew to $535 million throughout the year.
2021 - PlayStation beats Xbox by $8.32 billion

2022 - PlayStation beats Xbox by $8.85 billion

Discrepancy has increased by $535 million in 2022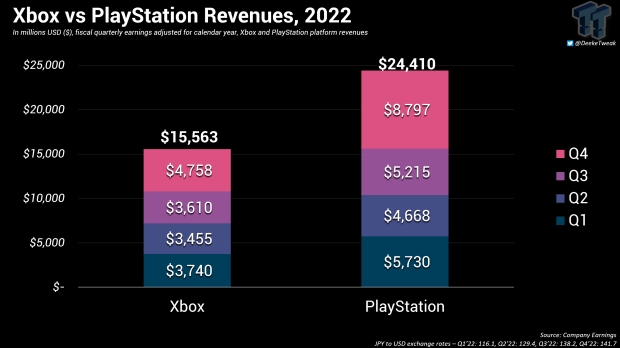 What does this tell us? A fair amount, actually. The figures highlight the strengths of each company.
Thanks to its lucrative combination of services like Game Pass mixed with full game sales, Xbox is able to generate billions of dollars in revenue despite its lack of first-party game releases. In short, Xbox's wide breadth of content and services allows the company to coast for a long time and release exclusives on a more sporadic and unpredictable basis. Hardware comes into play here too, however Microsoft says it has sold every Xbox console at a loss.
It's worth remembering that these figures do not include Xbox gaming profits. Microsoft does not share that kind of data. Sony however reported a 10.7% profit margin for PlayStation in 2022.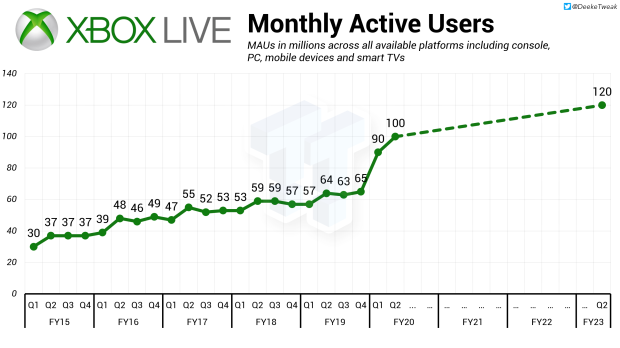 Xbox also just reported a record 120 million monthly active users which actually beats PlayStation's current 112 million MAUs. It's worth noting that we don't know exactly how Microsoft recognizes Xbox MAUs, and that Xbox technically includes PCs and other devices where Xbox games and services are available. Sony, on the other hand, recognizes PlayStation MAUs as those who are predominantly active on PlayStation hardware.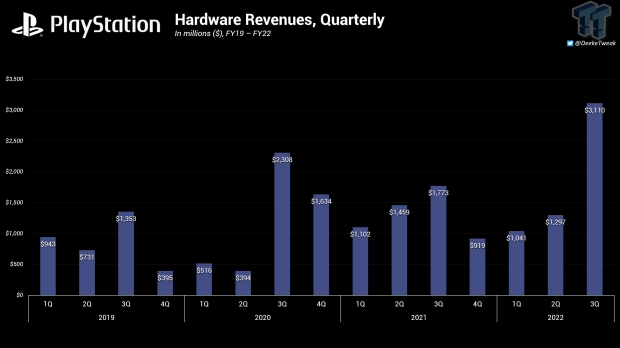 Sony is also currently flooding retailers with PlayStation 5s in an effort to recapture the majority share of a new console generation. Hardware sales increased by 75% during the Holiday 2022 period and drove HW revenues to $3.11 billion. Sony also managed to ship 7.1 million PS5s during the holidays. This aggressive expansion will continue as Sony plans to ship 6.2 million more units from January - March 2023.
Based on past console shipments, this target seems unrealistic, however Sony is trying to make up for unit sales that it missed out on during the 2020 - 2021 pandemic years when PS5 stock was unavailable.
Sony is also enjoying healthy boosts from its first-party games. God of War Ragnarok generated 11 million game sales in just a few months' time and helped round out the Holiday period.
Quick note: We'd highlight more details about Xbox if they were available. Microsoft is very selective on what gaming metrics are revealed to investors, analysts, and consumers. Sony simply reveals much more information about PlayStation.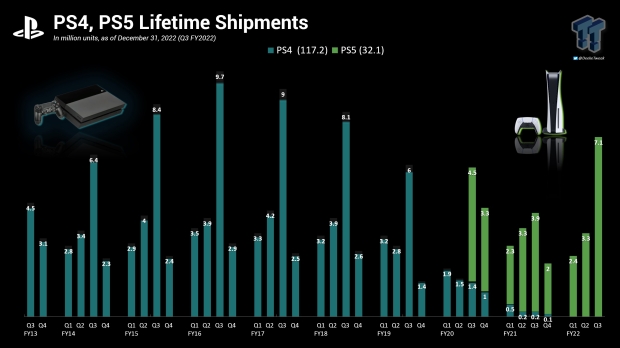 Both Sony and Microsoft benefitted from the release of Modern Warfare II, a new record-breaking Call of Duty that managed to generate $1 billion in full game sales in just 10 days' time.
Technically both PlayStation and Xbox saw earnings decrease throughout 2022. This is also to be expected as last year's figures were a result of pandemic spending. That record spending spree is over and now consumers typically have less disposable income due to rising living costs. A portion of entertainment spending has apparently yielded to more basic necessities like rent, food, and utilities.
Xbox made $16.28 billion in 2021, and $15.56 billion in 2022. PlayStation, on the other hand, made $24.6 billion in 2021 and $24.4 billion in 2022.
This data also gives more information to help reference and contextualize the current regulatory scrutiny of the Microsoft-Activision merger. We're currently awaiting earnings figures from Nintendo and Activision-Blizzard. Once we have these, we will be able to frame the Big 3's earnings and take a better look at the console market in 2022.
Activision's data can then be used to take a look at market share among these major players to further understand this section of the games industry.