Microsoft's latest performance metrics clearly illustrate that it has successfully expanded onto multiple platforms and devices.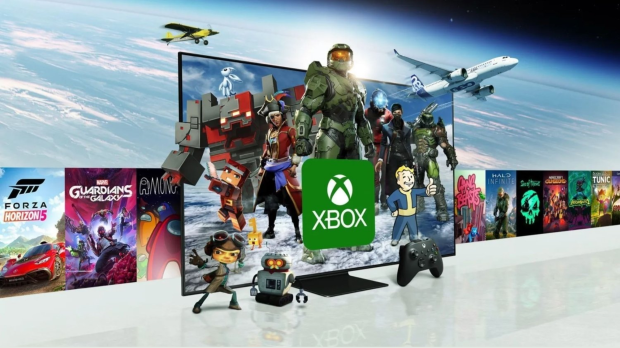 Xbox isn't just a console any more. Microsoft's gaming brand is now an ecosystem of services and content delivered over all kinds of devices including consoles, Windows PCs, mobile phones, tablets, laptops, and games can even be delivered directly to smart TVs via the cloud. Microsoft has a vision to grow Xbox's reach to every digital platform to transform everyday consumers into gamers.
Microsoft's latest Q2 FY2023 report has confirmed this plan is working well. Very well, in fact. In the earnings call, Microsoft CEO Satya Nadella revealed an incredibly important bit of data to investors regarding the Xbox brand. The Xbox ecosystem now has 120 million monthly active users, which means this many people are engaged with the Xbox ecosystem across the myriad devices where it is available. Xbox is finally beating PlayStation MAUs...but there's some critical context needed with this info.
This does not mean that 120 million people are subscribed to Xbox LIVE, or that Game Pass has 120 million subscribers.
Remember that Xbox LIVE is used on non-Microsoft platforms including Xbox games available on Steam as well as games like Minecraft on Nintendo Switch. PC also does not require users to pay for Xbox LIVE, and there are certain games that can be streamed via Xbox cloud gaming for free, including Fortnite.
"We saw new highs for Game Pass subscriptions, game streaming hours, and monthly active devices. And monthly active users surpassed a record 120 million during the quarter," Nadella said.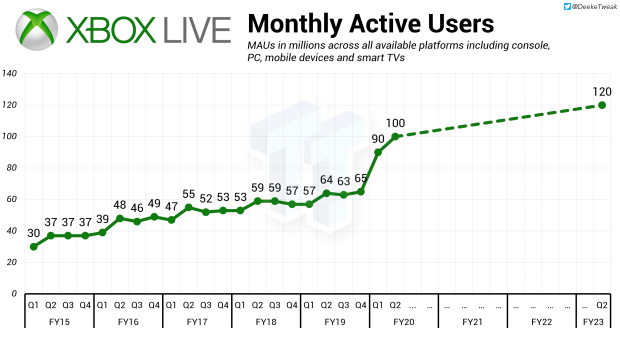 Xbox technically now has more MAUs, or monthly active users, than PlayStation. Sony's gaming platform had 102 million MAUs in Q2 2022, which ended September 30, 2022. We'll be able to compare Xbox vs PlayStation MAUs when Sony releases its Q3 report soon.
One key bit of context: PlayStation's MAUs are not the same as Xbox's. Sony's MAUs are weighted more heavily to PlayStation consoles and reflect a predominantly closed ecosystem. PlayStation games are only available on PC and consoles, and Sony's expansion onto PC should help inflate these numbers a bit. Based on the trends, however, it is unclear how PC user data is included in the graphs, if at all.
It's been a long time since Microsoft has revealed this kind of particular data.
Don't let Microsoft's huge $70 billion bid for Activision-Blizzard fool you. The company is hush-hush about video game performance metrics. For instance, Microsoft used to reveal unit sales data for Xbox consoles but stopped when the PS4 so vastly eclipsed the Xbox One. Since then we've had to piece together Xbox earnings little by little. There's no context or clarifications offered outside of the kinds of things that analysts or journalists can provide.
This critical bit of info underlines one key point: More consumers are at least trying games than they ever had before. There's a lot of unknowns still, but we can at least update some charts that show exponential growth for MAUs.
Three years ago, back in Q2 FY2020 (coinciding with the Holiday 2019 period), Xbox had 100 million monthly active users.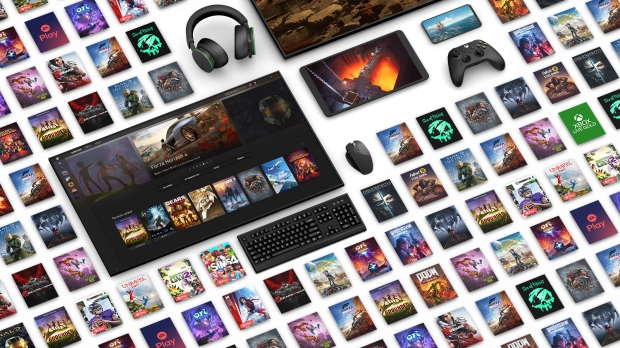 Nadella has confirmed that Xbox MAUs grew by 20 million, or 20%, in the last 3 years. These are incredible figures for the Xbox brand and show the expansion plans are working.
Sadly there's just one big question that we have: What happened in June 2019 to spike Xbox LIVE MAUs by 25 million in just a 3-month period? Xbox MAUs went from 65 million in June 2019 to 90 million in September 2019. It's still a mystery.
Microsoft's work is far from over, however. The company still has to find a way to monetize these users in a way that benefits is games business. Expansion is only the beginning. The main goal is to turn consumers into buyers and players while retaining them as subscribers at the same time.