Microsoft may be forced to permanently delist nearly 50 classic Xbox 360 games from the digital Xbox marketplace.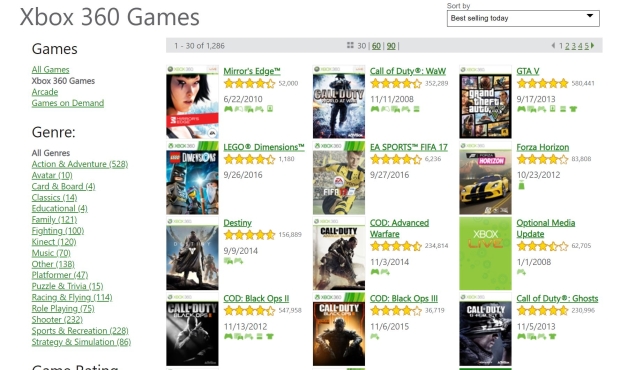 Microsoft has warned gamers that a significant number of Xbox 360 titles may soon be removed from its online storefront. The list of games was published on the Xbox support site and can be found in a drop-down menu that varies on region.
The list of affected games in the United States includes some very high-profile Xbox 360 games. Affected titles include Left 4 Dead, Left 4 Dead 2, and The Orange Box, the landmark RPG Lost Odyssey, the original Dark Souls, Mass Effect 2, Skate 2, Star Wars KOTOR 2, The Witcher 2, four Assassin's Creed games, Blue Dragon, and Call of Duty Advanced Warfare and Ghosts. There's also some Xbox LIVE Arcade games that may be delisted too including Daytona USA and Jet Set Radio.
There's no deadline on when the games will be removed. A number of these games are still available as of the time of publication.
Check below for the full list of Xbox 360 games that may or may not be removed from the marketplace. Definitely pick these games up if you want them...soon you may not have the chance.
Aegis Wing

Assassin's Creed III

Assassin's Creed IV

Assassin's Creed Brotherhood

Assassin's Creed Liberation HD

Blood of the Werewolf

Blue Dragon

Breakdown

Call of Duty: Advanced Warfare

Call of Duty: Ghosts

Castle Crashers

Cloning Clyde

Counter-Strike: GO

Dark Souls

Darksiders II

DAYTONA USA

Defense Grid

Eets: Chowdown

Far Cry 2

Final Fight: DblImpact

Iron Brigade

Jeremy McGrath's Offroad

Jet Set Radio

Left 4 Dead

Left 4 Dead 2

LIMBO

Lost Odyssey

Mass Effect 2

MONOPOLY DEAL

Mutant Blobs Attack

N+

The Orange Box

Outpost Kaloki X

Peggle 2

Phantom Breaker: Battle Grounds

Prince of Persia

The Raven Episode 1

R.U.S.E.

Sega Vintage Collection: Alex Kidd & Co.

Skate 2

South Park: The Stick of Truth

Spelunky

Splinter Cell Conviction

Star Wars Battlefront

Star Wars KOTOR 2

The Witcher 2