With AMD RDNA 3 "Navi 31" GPUs now out, specifically the Radeon RX 7900 XT and Radeon RX 7900 XTX, it looks like there could be room for a significant update for the tech via the implementation of 3D V-Cache. Stacking cache in this way has led to AMD's Ryzen 7 5800X3D and the new Zen 4-based Ryzen 7000 X3D CPUs being touted as ideal for gaming. With significant performance boosts found specifically in gaming-related tasks.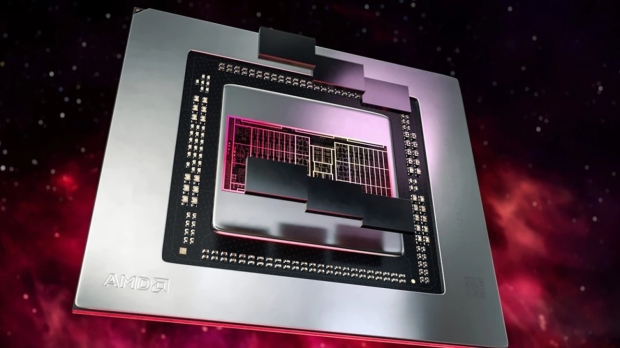 And with that, it's fair to expect that a Radeon RX 7000 GPU with 3D V-Cache could lead to similar results. Engineer Tom Wassick noticed the potential for an RDNA 3 upgrade after dissecting a Radeon RX 7900 XT, where he saw "keep-out zones" in the design that are similar to what's found on the Ryzen X3D CPUs.
"A linear array of 'spots' that look remarkably like the keep-out zones on X3D," Tom Wassick writes. "Could they be considering stacked MCD functionality?" With the groundbreaking multi-chip design in RDNA 3, it makes sense that AMD would also be looking into something like a 3D V-Cache to boost performance that isn't all about power and clock speeds.
This sort of upgrade would dramatically increase the amount of Infinity Cache on the AMD Radeon RX 7000 RDNA 3 GPUs, which could specifically benefit playing games in higher resolution - which is what these cards are for in the first place. AMD of course is still in the process of prepping additional mainstream RDNA 3 options, so we'll probably see the Radeon RX 7600 XT before we get any official word on a 'Navi 31' update with 3D V-Cache.