One of the most significant controversies surrounding the launch of the new NVIDIA GeForce RTX 4090 was the switch to a new 12VHPWR connector and how in some cases, the cables were melting and burning out.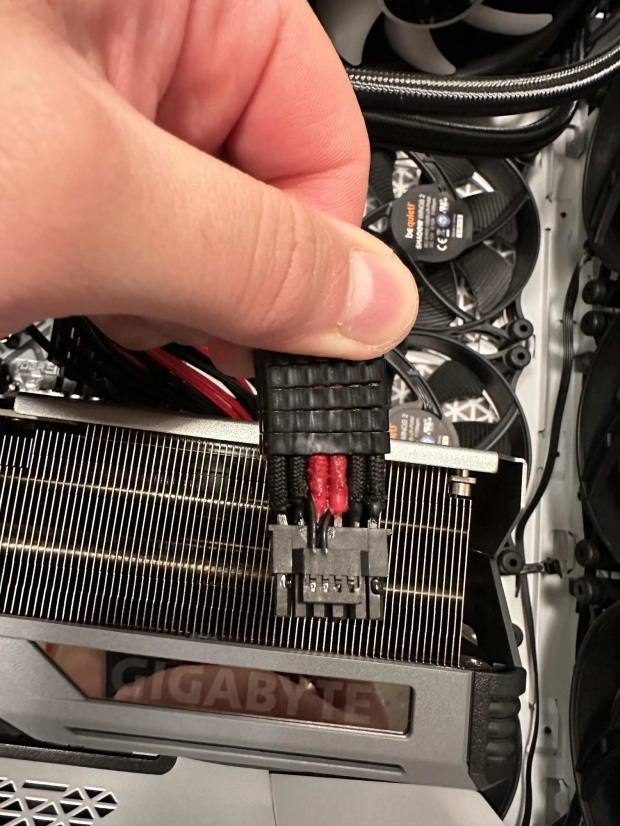 This sparked a series of investigations from NVIDIA, board partners, and even tech enthusiasts and the media. Ultimately, it was deemed that the new 12VHPWR cable standard can be fragile at the connection point on the GPU side if there are any bends and the cable itself isn't pushed in or firmly secured.
All cards in the NVIDIA GeForce RTX 40 series lineup come with a 12VHPWR connector, so the potential for them to burn up opened the door for alternative solutions. One came from CableMod, a company specializing in high-quality, durable cables. Its take on the 12VHPWR connector was one of the first to hit the scene, designed to resolve the clearance and bending issues with NVIDIA's cable. And as soon as the product went on sale, it immediately sold out.
As per a new thread on Reddit, it looks like even CableMod's cables can burn up if not properly connected. According to those with the cable, CableMod's 12VHPWR connector makes an audible click sound when it's properly seated. In the pictures posted by Redditor Humble-Brilliant, the end result looks similar to the several cases of burned 12VHPWR connectors.
The good news is that CableMod reached out immediately and confirmed that the GPU itself survived without any damage. As we're talking about a pricey GIGABYTE GeForce RTX 4090, we're not entirely sure that the damage would be covered by using a third-party connector. So CableMod offering to swap out the GPU in the event of damage is great to see.
In the end, this doubles as a reminder for prospective and existing GeForce RTX 40 Series owners, no matter what cable you use, make sure it's correctly seated.