Billion-dollar games titan Embracer Group isn't just buying up tons of game developers--it's also collecting old classics in a major effort in video games preservation.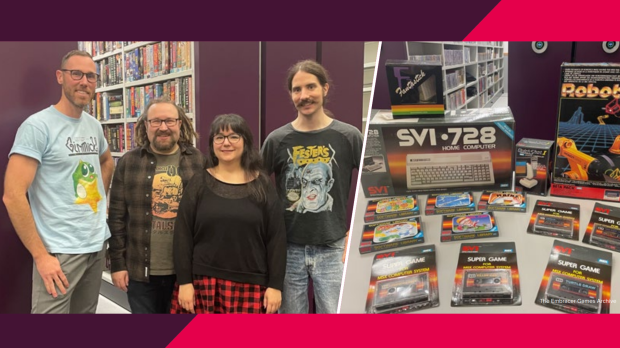 A bit ago, the Swedish Embracer Group started its Games Archive initiative. The goal is simple: Embracer wants to amass as many retro consoles, games, arcade cabinets, and other rare industry collectibles as possible. Embracer is mostly known for acquiring dozens of game developers and publishers across all segments and industries--from mobile to board games--but the Archive is entirely a passion project.
In a Yahoo Finance article, Embracer Group CEO Lars Wingefors reveals that the company has spent over $2 million acquiring a treasure trove of irreplaceable video games, consoles, promo banners, and even demo machines from all generations. Embracer's reports frequently mention the Archive and feature photos of various systems and old-school retro titles.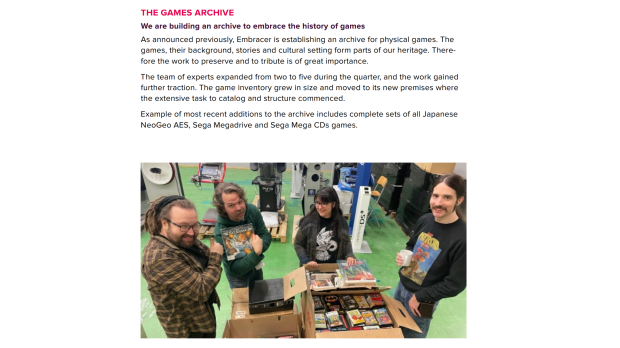 The Archive will continue to grow as Embracer buys up more collectibles in a bid for preservation. Right now the Archive is privately owned and operated by a group of retro enthusiasts, led by Swedish YouTuber David Bostrom, however Embracer has allowed many people to visit the Archive including students and developers.
GAMES ARCHIVE

The Embracer Games Archive preserves and tribute the games culture. It serves as a campfire and becomes an interesting, captivating place for Embracer visitors and business purposes. The Archive has started to be a well-visited place for studios, institutions as well as school classes serving the purpose of entertaining and educating about video game history.

"Our ambition from the beginning has been to have an archive that invites to exploration and to showcase games as a cultural movement, putting games in a larger historical context.

"Thus, we settled on the practice "preservation through use". We want to promote games as a form of cultural expression and as a part of history.

"We believe that it is of great importance to give not only future generations access to the vast repository of games, gaming systems and accessories but also people today. That way we are not only making history in the future but creating history today," says Chief Archivist Natalia Kovalainen.

"The games archive continues to grow, the latest noteworthy additions are a complete collection of a Japanese Game Gear collection and a Spectravideo SVI-728. Further, the archive team sets the framework on how to build up its database where all games will be cataloged, starting from the next calendar year."