Apple: "Something in the air"
and it's mighty thin.
Published Fri, Jan 18 2008 4:01 PM CST
|
Updated Tue, Nov 3 2020 12:38 PM CST
Apple's latest gizmo; the Macbook Air is said to be the "the world's thinnest notebook", 0.16" at its thinnest and 0.76" at its thickest.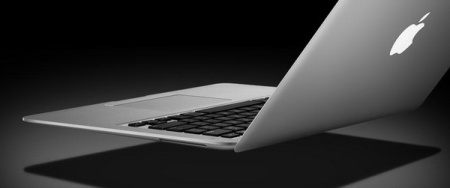 Steve Jobs managed to impress everyone by introducing the notebook at the MacWorld Show held earlier this week, sliding the ultrathin notebook out of a regular office envelope. Jobs focused on the new and innovative technology incorporated into the notebook, saying many times that Apple has heard the end-user and he feels that Apple has delivered something that the customer will love.
Inviting Intel's CEO Steve Otellini onstage, together they commented on the convergence of synergy and innovation that led to this groundbreaking product.
The thickest part of the Macbook Air is still thinner than the Sony VIO SZ's thinnest side.
The following features were focused on:
1) Magsafe Magnetic latch
2) 13.3" LED backlit, Instant-On Screen
3) iSight Camera for webcam and teleconferencing
4) Full Size keyboard (backlit automatically in lowlight)
5) Large Trackpad with Multitouch sensing, including pinch, pan, zoom and rotate finger sensing.
6) 802.11n WiFi capable
7) Bluetooth 2.1 EDR
8) Battery Life : 5 Hrs at full loading
9) 1.8" 80 GBB Hdd (or 60 GB SSD option)
10) 60% smaller package Core2Duo
11) 2 GB Ram standard
12) 1.6 GHz Core2Duo standard
13) Tiny footprint (0.16"-0.76" thickness)
Paul Otellini said that the Core2Duo core architecture had to be instated onto a miniscule real-estate 60% smaller than a standard Core2Duo, creating a massive dilemma for his engineers. However working hand in hand with Apple helped his engineers to see the end goal through.
The Macbook Air will sell for $1799, and will be available in February 2008.
For more info go
here
.