Transcend has 1GB 7" digital photo frame
T.photo 710 launches.

Published Thu, Dec 13 2007 4:19 AM CST
|
Updated Tue, Nov 3 2020 12:38 PM CST
Just in time for Christmas, Transcend made an announcement about their T.photo 710 which is a 7" digital photo frame with a generous 1GB of internal memory.
The Taiwanese company claims that most of their competitor products only have a few megabytes of storage included and costs and ease of use is improved with the 710 model by not requiring external storage through memory cards.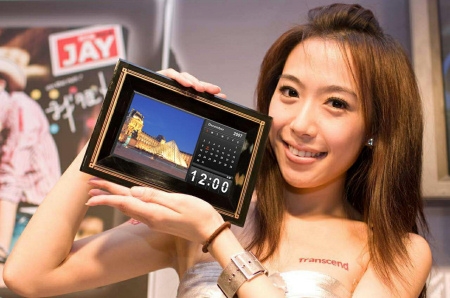 T.photo is fully USB 2.0 plug and play compliant, and no drivers are required. You are able to simply took the frame up to your PC via included USB cable and transfer as if it were normal external storage. It even has built in MP3 player, alarm clock and calendar with speakers.
This surely must go near the top of the list for geek gadget gifts this holiday season!
While most photo frames currently on the market only have a few megabytes of internal memory, the T.photo offers a full 1GB of storage capacity, giving users extra convenience and more functional ways to use their photo frame. With the holidays just around the corner, the T.photo makes a perfect gift for relatives, friends, or loved ones. Its 1GB of internal memory allows you to preload the frame with hundreds of pictures of yourself or your family and send it as a gift for a relative to enjoy. Additionally, each time you visit, you can update your friend or relative's T.photo with new photos for them to see, making T.photo a gift that truly keeps on giving.

In addition to its internal memory, the T.photo also has full support for all of today's most popular memory cards (some formats may require an adapter) Just pop out the memory card from your digital camera and plug it directly into the frame to instantly display all photos available on your card. The T.photo automatically finds all pictures available on any memory card or USB flash drive that you plug into it, regardless of which folders or your pictures are stored in. The T.photo also includes a useful Thumbnail mode to quickly find and display specific pictures on your card with zoom and rotate functions. All photos are shown in their original aspect ratio, which means the T.photo will preserve the shape of your photos so that heads, bodies, and objects will never appear warped or misshapen.