OCZ ramp DDR2 kits to 8GB
When 4GB just won't cut it....
Published Thu, Nov 29 2007 8:15 PM CST
|
Updated Tue, Nov 3 2020 12:38 PM CST
For those of you who just arn't satisfied with 4GB of RAM in your system, OCZ are catering to the real memory hungry folks with some new DDR2 8GB "Quad Kits" aimed towards Advanced Gaming Systems and Professional Workstations.
"To have eight gigabytes of memory available in the system may sound like overkill for the average user; however, in any mega-tasking environment the requirements for system memory can skyrocket and easily break the 4GB boundary, thus far considered as the penultimate amount of system memory," commented Dr. Michael Schuette, VP of Technology Development at OCZ Technology. "The new OCZ2P8008GQ kit is the first to bring eight gigabytes of memory also to Intel architecture-based systems to explore workloads which previously were a challenge within the personal computing space."
The new PC2-6400 8GB Platinum Quad Kit has rated timings of 5-4-4 and comes shipped with OCZ's platinum-mirrored XTC (Xtreme Thermal Convection) heatspreaders.
For further details you can find the
official announcement here
, and the
product page here
folks.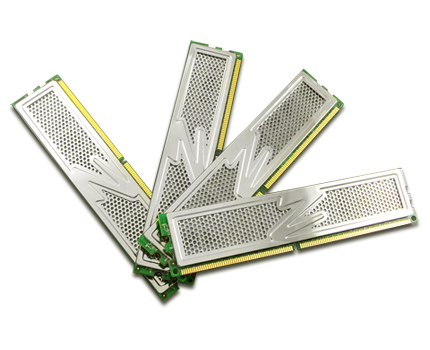 The PC2-6400 8GB Quad Kit is ideal for enthusiasts, professionals, and DIY system-builders using Windows Vista as their choice operating system that require the performance of high-speed memory. As the ultimate upgrade for hardcore gamers, the latest DirectX-10 PC titles require large amounts of memory to deliver the most stable system performance and maximize game play. The PC2-6400 8GB Platinum Edition is the ideal memory solution for the ultimate powerhouse PC, and provides unsurpassed stability and performance to unleash every multi-media possibility.