Gainward goes 8800 GT crazy
Working on several models.
Published Thu, Nov 8 2007 6:44 AM CST
|
Updated Tue, Nov 3 2020 12:38 PM CST
If the information posted on Expreview is correct, then Gainward is working on a range of in-house designs for the 8800 GT. They have pictures of two different actively cooled cards, although Gainward is apparently also working on a passively cooled card. Both of the models pictured features Gainwards own PCB and cooling designs.
The 512MB card features some rather large heatpipes sticking out of the card and it looks like the SLI connector might be blocked by this specific design. The little white connector is for S/PDIF input via a small cable and it's meant to be used in conjunction with an HDMI adapter.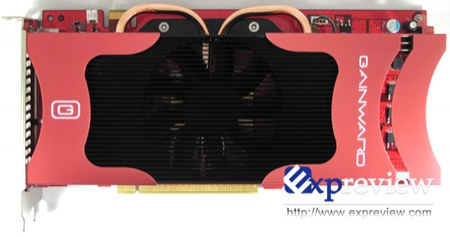 Gainward is also working on a 256MB card and it looks like this will be a shorter card than the 512MB version, but it's hard to tell form the pictures. Gainward has designed a 3+1 power regulation system for its 512MB cards, but we're not sure how much of a difference this will make over a three phase design, as graphics cards aren't as sensitive as motherboards when it comes to power fluctuations and ripple.
You can find some additional pictures
here