Shuttle SX38P2 Pro in time for Christmas
Available early December.
Published Wed, Oct 31 2007 3:37 AM CDT
|
Updated Tue, Nov 3 2020 12:38 PM CST
Shuttle has got slightly delayed with the new X38 based XPC Prima SX38P2 Pro due to some minor glitches as well as some performance tuning that needs to be fixed before they want to ship the barebone. We got to have a look at the latest production model yesterday, but we didn't shoot the case, due to some changed being made to it before it will ship. Besides, the front of the P2 chassis will look the same.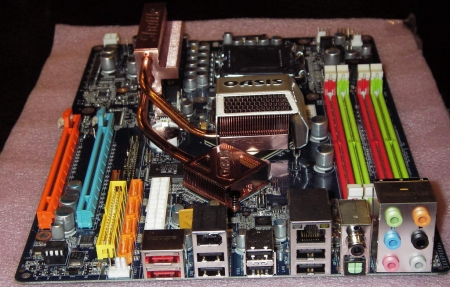 As you can see from the picture above, Shuttle has added support for CrossFire and this should be a nice system to fit a pair of RV670 cards in. Shuttle has also dropped PS/2 ports on this system, although there will be an accessory cable you can buy which will add PS/2 ports if you really want it. The chipset cooling is also quite different from the current crop of XPC's and it had to be changed due to the extra heat dissipated by the X38 chipset.
The SX38P2 Pro also has a bottom mounted mini card slot, which is a notebook PCI Express x1 connector which will allow for a wide range of accessories to be added through a slot in the bottom of the case. Shuttle is looking into offering combined Wi-Fi and Bluetooth cards, TV-tuner and some other possible options, although if you can get hold of these kinds of cards, the sky is really the limit and you could even use it with something like WiMAX. Around the back you'll find dual eSATA, six USB 2.0 ports, FireWire, Gigabit Ethernet and 7.1-channel analogue outputs as well as an optical and coaxial S/PDIF out.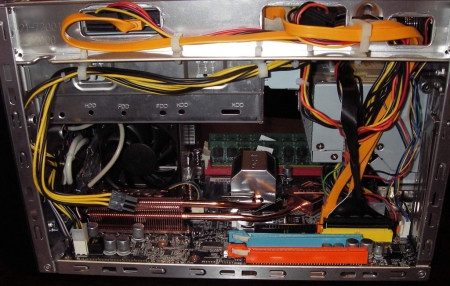 Shuttle also informed us that they've dropped their X38 DDR3 product and the company will instead focus on bringing out an X48 model which will have a host of new features such as dual Gigabit Ethernet, digital PWM and the ability to take on two dual width graphics cards. You might wonder how this will be accomplished, well, Shuttle is working on a new case design which will be about 1.5cm wider and one or two centimetres taller and deeper and the slots will be on the opposite side of the SX38P2 Pro.
This slightly larger chassis enables Shuttle to fit two larger graphics cards such at the 8800 GTX or 2900 XT. Although we won't see any of these new products until next year, but the SX38P2 Pro will be out sometime in early December.