Belkin & Razer team up for the new n52te
Slightly imrpoved SpeedPad.
Published Fri, Oct 5 2007 3:48 AM CDT
|
Updated Tue, Nov 3 2020 12:38 PM CST
Belkin has announced its new SpeedPad, the Nostromo n52te which has been co-designed with Razer, something that seems to be a popular thing to do these days. It seems like Razer has branched out from only working with Microsoft and the new SpeedPad truly looks like a gaming accessory now rather than some cheap piece of tat. The te bit in the model name stands for Tournament Edition, we're not quite sure what this reefers to, it might just be a marketing gimmick.
The features don't seem to have been updated to any larger degree, you still get the small 15-key programmable keypad with a wrist rest strapped on the end, but the thumb control looks to have been improved hugely. Gone is the ugly orange button and so is the four-way controller which looked like it was borrowed from a NES controller. In their place is a new shiny metal looking button and something that looks more like the analog stick from an Xbox 360 or a PS3.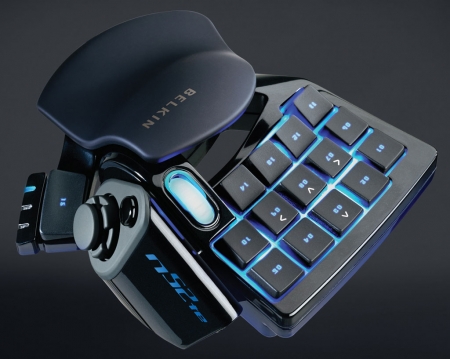 Click to enlarge
The keypad and scroll wheel are also backlit now and it comes with software from Razer which allows for profiles to be stored on the n52te thanks to a small amount of built in memory for this purpose. No actual release date was announced, but it will land some time next moth for US$69.99 or AU$99.99.
You have the chance to win one by entering the contest on the n52te
website