Battlefield 2042 Hazard Zone: 32-player PvPvE squad survival action
Battlefield 2042's new Hazard Zone takes massive All Out Warfare maps and puts a unique collect-and-extract spin on battle royale.

Published Thu, Oct 14 2021 4:35 PM CDT
|
Updated Tue, Nov 9 2021 5:34 AM CST
DICE today announced details on Battlefield 2042's new Hazard Zone, the third major gametype featured in Battlefield 2042.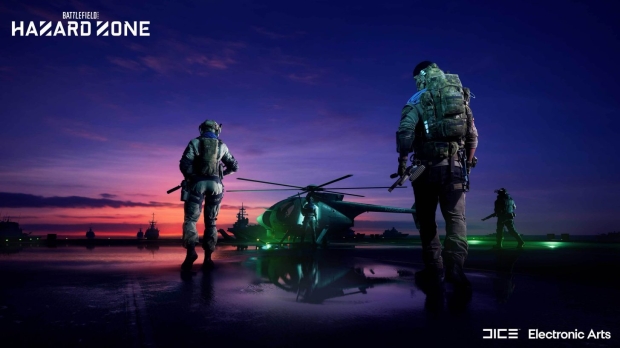 Battlefield 2042's Hazard Zone sounds pretty unique. It's essentially a squad-based battle royale with PvPvE elements where players aren't just killing one another, but trying to secure hard drives from pods that crash down from space. The goal is to secure as many drives as you can without dying and extract them safely. As DICE explains: "scavenge for valuable resources as foes and cataclysmic storms close in."
Hazard Zone is set in all seven All Out Warfare maps so there's tons of areas to find the orbital-drop drives. It's a 32-player game mode with squads of 4, so that's 8x squads of 4. Players explore the maps in squads of four specialists to grab drives, taking on AI enemies as well as other players. The AI is randomized across each match. Destructive map-wide weather effects are also closing in (not unlike Battlefield V's Firestorm) forcing players closer and closer together as the match goes on.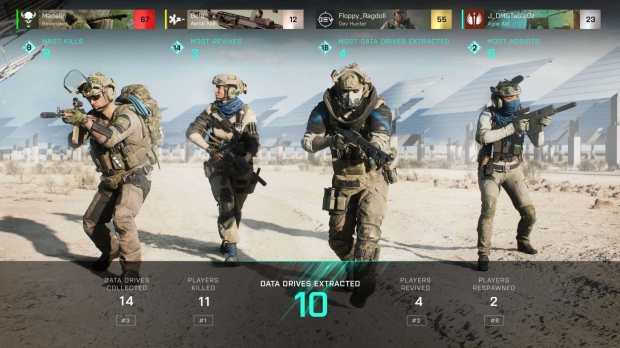 You can buy weapons, tactical upgrades, and gadgets with an in-game currency called Dark Market Credits (DMC), and even call in vehicles and ranger robot dogs to help even the odds via random laptops strewn across the maps called uplinks.
Once you die there's no easy way to respawn. Teammates can res you with redeploy uplinks. "Be careful: if you go down, your teammates can only bring you back under special circumstances."
There are 15 Tactical Upgrades available at launch, and here's a quick glimpse at some of them:

Extra Throwable - Carry +1 of your selected throwable Gadget.

Insider Information - Show the landing position of crashing capsules 30 seconds before they arrive.

Loadout Insurance - Reimburse 25% of upgrades and Loadout cost if you die.

Negotiated Bounty - +50% Dark Market Credits bounty when killing Opposing Forces

Quickdraw Holster - Swap between weapons 15% faster
There's two extraction phases: One early on, and one later in the match. The later extraction phase is where things get really chaotic. The storm is starting to take effect and the remaining data drives can be seen by all players.
Match rewards are based on quantity of drives that are captured. The more drives you get, the more XP is awarded and the more progress you make towards the battle pass. You also get bonus DMC credits to spend on future matches.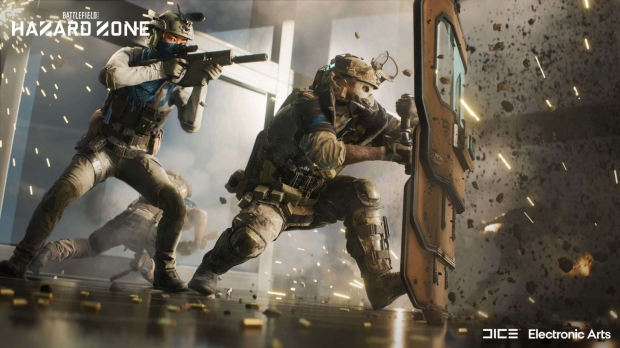 Battlefield 2042's new Hazard Zone will be available day one with the base game.
Here's a Q&A from the developers with more info:
How long does a match of Hazard Zone take to play?

A Hazard Zone match can take anywhere from around 5 to 20 minutes based on how you play, when you choose to extract, and if you're successful.

What's the difference between last-gen and next-gen versions of Hazard Zone?

Xbox Series X|S, PlayStation® 5 and PC users will be able to play with up to 32 players in a massive playspace, while Xbox One and PlayStation® 4 players will be able to play a version scaled for up to 24 players.

How many maps does Hazard Zone have?

You'll be able to experience Hazard Zone on all 7 of Battlefield 2042's maps.

Can I play Hazard Zone to progress my character within Battlefield 2042?

Yes! Your Hazard Zone progression is tied into the rest of Battlefield 2042. Any progress you make in Hazard Zone will also grant you XP for your overall player level, weapon unlocks, and so on.

Can there be multiple of the same Specialists in the same squad?

Squads in Hazard Zone are composed of four unique Specialists, so you and your teammates will need to pick Specialists and Loadouts that complement one another if you're to extract safely.

How is XP shared between you and your Squad?

Everyone present in your squad at end the of round will receive XP for the total amount of Data Drives your squad has extracted. There will also be a bonus for your personal performance during the match.

Are Occupying Forces always present in Hazard Zone?

Occupying Forces are an ever present and essential part of the Hazard Zone experience, and will pose a dangerous challenge in safely extracting with your recovered Data Drives.

How many Occupying Forces can we encounter in a match?

The Occupying Forces you'll find in Hazard Zone are unpredictable. They may be roaming around the map, pursuing you, or protecting valuable resources. How many soldiers you come across varies and will depend on your actions and luck, so explore with caution.

What happens when I die?

You'll be able to spectate your squad from the sidelines, hoping they can bring you back by finding a Redeploy Uplink in case no Squad Redeploy Call-in was bought before insertion.

Is it possible to redeploy multiple times in a Hazard Zone match?

If your entire squad bites the dust, the mission's a failure and you lose the match. But should one member still be alive and manage to trigger a Redeploy Call-in (found in the world or purchased with DMC before a match starts), they can bring the entire team back to life.

Does Hazard Zone have any pay-to-win elements?

In Hazard Zone you will use Dark Market Credits which can only be obtained through gameplay, and not via real-world currency. You can use them to purchase Tactical Upgrades, weapons and gadgets to give you the advantage over your enemies.
Related Tags