G51 5.1 upmixing speakers from Logitech
Turns stereo into surround.
Published Wed, Aug 22 2007 8:32 AM CDT
|
Updated Tue, Nov 3 2020 12:39 PM CST
Logitech has announced a new set of 5.1-channel speakers called the G51 which are targeting gamers. The cool feature here is that the G51's can turn a stereo source into 5.1 surround sound. Although don't expect this Matrix mode to be as good as the real deal, as audio up-mixing is never as good as the real deal. However, it will get you in-game music through all your speakers, something you don't always get.
Logitech is also using something they call Frequency Directed Dual Driver to create a 360 degree sound field that is meant to eliminate odd sounding surround sound created by poor speaker placement. The G51's are rated at 155W RMS, which is the real deal, so you could have the neighbours over if you're note careful.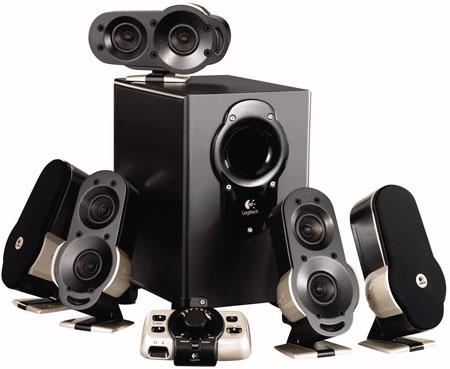 Logitech has also added a control "pod" which makes it easy to adjust the volume and mute the speakers. But the real kicker here is that Logitech has finally caught on and understood that gamers will be using a headset with their speakers at times and have added headset ports. You can even mute the microphone on the control pod which is extra nice. There's also separate volume controls for the rear, centre and subwoofer.
Logitech also supplies a clip for attaching the centre speaker onto an LCD screen which is a clever feature. The normal front and rear stands has rotating mounts, so the same mounts can be used for desk or wall mounting. The only bad thing we can think of is that there's no digital input, only 5.1-channel or stereo analog input.
Expect to pay US$199.99 for a set when they become available in October. You can find out more
here