Samsung goes MP3 crazy
3 new players on the way.
Published Fri, Aug 17 2007 6:27 AM CDT
|
Updated Tue, Nov 3 2020 12:39 PM CST
Samsung has announced three new MP3 players today, the YP-P2, the YP-S5 and the YP-T10. All three models will be officially unveiled at IFA in Berlin next month, but it has already pre-announced many of the features of the upcoming models.
The YP-P2 (pictured below) features a huge 3-inch 428x240 pixel touch screen and it looks like Samsung has borrowed a few design cues from Apple's iPhone. It will have 8GB of built in flash memory and it plays MP3 and WMA audio files as well as WMV, H.264 and ASF video files. IT's also got built in Bluetooth, integrated speaker and mic and an FM radio. Pretty neat, especially as it only measures 100 x 52 x 9.2 mm (HxWxD).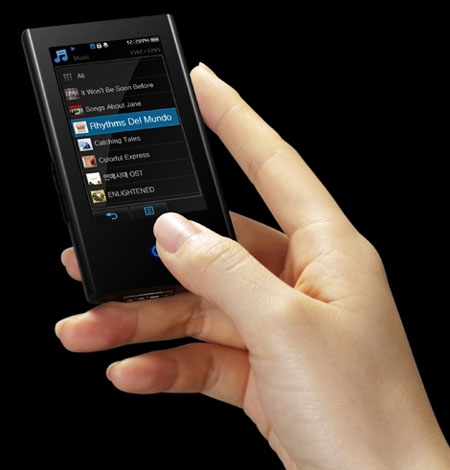 Next up we have the YP-T10, which is more a budget model in comparison, but it still features Bluetooth and is available in 2, 4 and 8GB versions. It will have a 2-inch, 30 hours battery life and it should be available in purple, red, lime, white and black.
Finally we have the YP-S5, which is an upgraded version of the YP-K5. As such it features a pair of fold out speakers, but it's quite a lot slimmer than the YP-K5 at 95.9 x 46.5 x 14.8 mm (HxWxD). It also features Bluetooth 2.0, an FM radio with the ability to record radio programs and a 1.8-inch 220x176 display. It will again be available in 2, 4 or 8GB.
A cool feature is that Samsung allows the Bluetooth functionally to make all these MP3 players to work as a Bluetooth headset for your mobile phone. There's also an option to dial numbers directly from the touch screen of the MP3 players as well.
You can check out a few more pictures of the YP-S5
here
although the site is in French.