Rainbow Six: Siege has received its new update that enables NVIDIA's amazing DLSS (Deep Learning Super Sampling) technology that boosts performance by up to 50% at 4K. Check it out in action:
NVIDIA can now say that all of their GeForce RTX GPUs can offer over 100FPS+ when gaming at 4K with DLSS and Rainbow Six: Siege, which is an impressive feat. All you need to do is make sure your Rainbow Six: Siege installation is fully updated, an NVIDIA GeForce RTX GPU installed into your PC, and then to enable DLSS.
Note: This is for the Vulkan version of the game, which you'll have to choose to boot into as you load into the game. DLSS is not available for the DirectX 11 version of the game.
Enabling DLSS and its "Performance Mode" in Rainbow Six: Siege sees the new flagship GeForce RTX 3080 Ti flying up to 281FPS average (up from its already crazy 209FPS average) at 4K. Even the previous-gen Turing-based flagship GeForce RTX 2080 Ti leaps from its already impressive 143FPS to 221FPS average at 4K with DLSS enabled.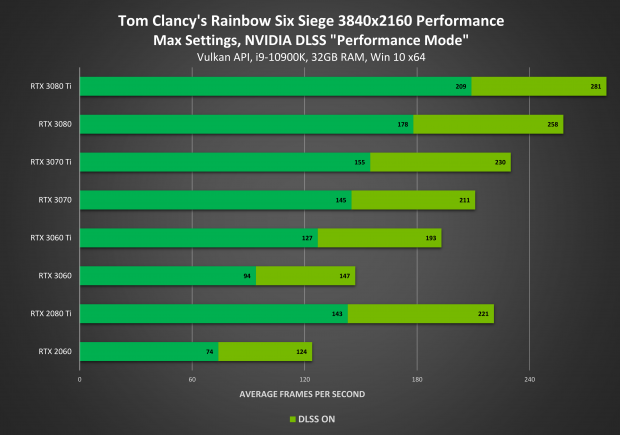 The lower-end GeForce RTX 2060 jumps from 74FPS average 4K to 124FPS average, meaning 4K 120FPS is possibly thanks only to DLSS in Rainbow Six: Siege, another impressive feather in NVIDIA's ever-growing DLSS-powered library of games.
Enabling NVIDIA DLSS in Rainbow Six Siege:
Download and install our latest Game Ready Driver from our website, or via GeForce Experience

Download the North Star Rainbow Six Siege update from the Ubisoft Connect client

Load the game, go to Options --> Graphics, and enable NVIDIA DLSS

Select the NVIDIA DLSS quality level. Quality Mode is recommended for 1920x1080 and 2560x1440, and Performance Mode for 3840x2160. If your resolution differs from the examples, pick the closest setting