Phison and Cigent team up on the first self-defending storage device
Phison and Cigent unveil the industry's first and only self-denfding storage devices, with cybersecurity built into the firmware.

Published Wed, May 19 2021 7:20 PM CDT
|
Updated Wed, Jun 16 2021 9:44 PM CDT
Phison and Cigent have just jointly announced they have created the industry's first and only range of self-defending storage devices that have cybersecurity built into the firmware itself. This built-in protection shields you from ransomware, data theft, and malicious insider theft.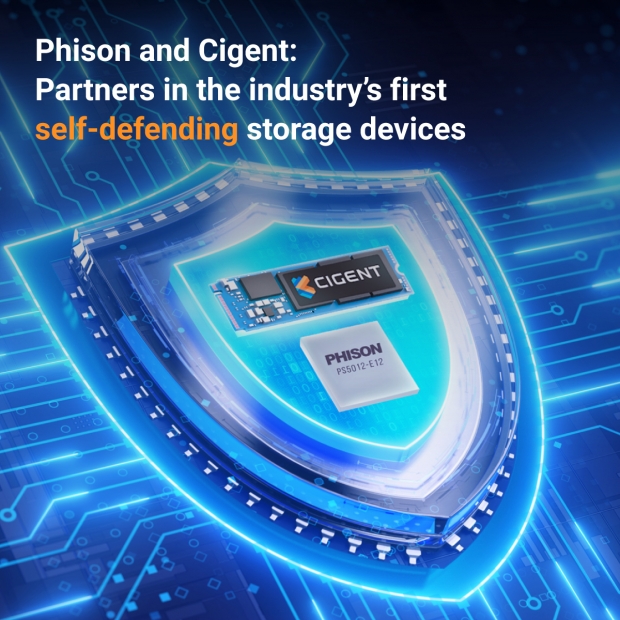 The new Phison Crypto-SSD will arrive in a range of TCG-enabled Self-Encrypting Drives that are designed to pass FIPS 140-3 Level 2 certification. Now if you didn't know what FIPS 140-3 Level 2 certification was, it is industry-best security that Phison can use in its arsenal of storage products. You can read more on that here.
Cigent has revealed its own Secure SSD drives that were originally developed for US government and military use, are now the world's first commercially available cyber-secure SSDs. The new Cigent K2 and Denali Secure SSDs include multi-patented firmware-based cybersecurity features built into Phison's own PCIe NVMe controller firmware.
What this does is allow the Secure SSD drives to have active protection as close as possible to the data, inside of the storage and under the software, BIOS and operating system. This is where you want your super-boosted security, where Cigent Secure SSDs can detect and stop ransomware attacks, automatically encrypt and hide sensitive files when the drive detects a threat and even has "safe rooms" that makes the data totally invisible to attackers.
President and GM of Phison Electronics US, Michael Wu, said: "As the world's first and only self-defending solid state storage devices, the Cigent Secure SSD family is a true breakthrough that challenges conventional thinking about data security".
He continued: "Combining Cigent's pioneering development of software and firmware-based security solutions with Phison's leading expertise in providing highly customized secure SSD platforms ensures end-users can trust that their data remains fully available and free from the effects of ransomware or other malicious intrusions".
CTO of Cigent, Greg Scasny, explained: "The Cigent Secure SSD product family was developed by Cigent's team of experts in data recovery and cybersecurity working in close cooperation with the cutting-edge storage experts at Phison. This combined team developed holistic data protection solutions with security built-in, making it virtually impossible for critical data and applications to be accessed from unauthorized sources".
He continued: "Software-only security is often easily bypassed, but our multi-patented, multi-layered self-defending storage is able to make critical data completely inaccessible and literally invisible to adversaries, giving customers peace of mind that their sensitive data and digital assets are safely stored and protected".
Related Tags