Logitech G9 is real, new G15 keyboard
The spy shots were for real.
Published Wed, Aug 1 2007 3:14 AM CDT
|
Updated Tue, Nov 3 2020 12:39 PM CST
Remember the
spy shots
of the Logitech G9 that we posted a couple of weeks ago? Well, it turns out they were the real deal and the new Logitech G9 mouse was announced today. It really looks just as weird as the ones on the pictures, but there's a good reason for it, as what wasn't shown on the spy shots, was the fact that it comes with two removable "jackets".
Logitech supplies what it calls a Wide Load and a Precision grip for the G9 to make it fit different hand size and different play styles. The Wide Load grip features a satin finish while the Precision grip features Logitech's DryGrip technology. Logitech is planning to release additional grips for the G9 in the future. The G9 features the highest resolution we've seen on a mouse at 3,200 dpi and it does of course feature laser technology. The sensitivity can be set between 200 and 3,200 dpi.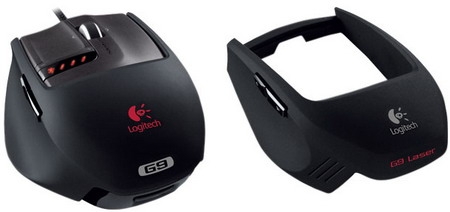 Another new feature of the G9 is built in memory for storing game profiles on and you can store up to five profiles, including keyboard macros, dpi settings and LED colour on it. This means that you can take your mouse with you and not have to worry about installing any software on a different computer and still be able to use your own profiles.
The G9 is the first gaming mouse from Logitech to feature the MicroGear scroll wheel, although you have to manually set the mode with a button at the bottom of the mouse. As with the G5, the G9 features an adjustable weight system and you can add up to 28g of extra weight. You can also change the colour of the built in LEDs and Logitech claims that you can choose from several hundreds of colours. The only real downer is the US$99.99 retail price and it doesn't exactly look that sexy, but we can live with the looks.
You can check out some more pictures and details
here
Logitech also launched an updated version of the G15 gaming keyboard, which now has built in support for several popular games such as World of Warcraft, Battlefield 2142 and the upcoming Quake Wars. It has also been given a new orange backlight and a game mode switch that disables the Windows key.
The display has also been changed and it's not an integrated part of the keyboard, rather than a flip-up unit. Logitech has removed some of the programmable keys to make the new G15 more compact, so now it only has six instead of 18 G keys, although each key has three modes. The retail price remains at US$99.99