We are experiencing the worst GPU shortage in history, HDD and SSD prices are expected to rise because of storage-related crypto mining, next-gen consoles are still impossible to find -- and now RAM prices are expected to jump by 18-23% in Q2 2021.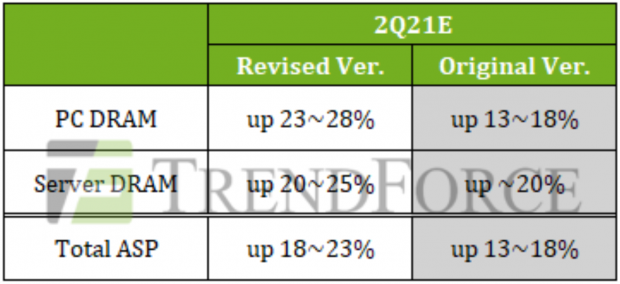 TrendForce is predicting that DRAM prices will increase 18-23% quarter-over-quarter in Q2 2021, with global chip shortages hurting DRAM supply, and now TrendForce is attributing further RAM price increases to a 7.9% boost in laptop manufacturing which is affecting DRAM demand.
TrendForce explains: "On the other hand, prices are likewise rising across various DRAM product categories in 2Q21, including DDR3/4 specialty DRAM, mobile DRAM, graphics DRAM, and in particular server DRAM, which is highly related to PC DRAM and is therefore also undergoing a higher price hike than previously expected".
"TrendForce is therefore revising up its forecast of overall DRAM price hike for 2Q21 from 13-18% QoQ to 18-23% QoQ instead. However, the actual increase in prices of various DRAM product categories will depend on the production capacities allocated to the respective products by DRAM suppliers".