Halo Infinite's new grappling hook is a game-changer that adds unprecedented mobility and verticality to PVP and campaign. It's a new multi-dimensional utility with lots of uses, and offers diverse creativity for chaos creation; pulling enemies towards you, yanking explosive barrels or even weapons to you, and uses it to scale high precipices. Even still, 343i is more excited about another unannounced bit of equipment.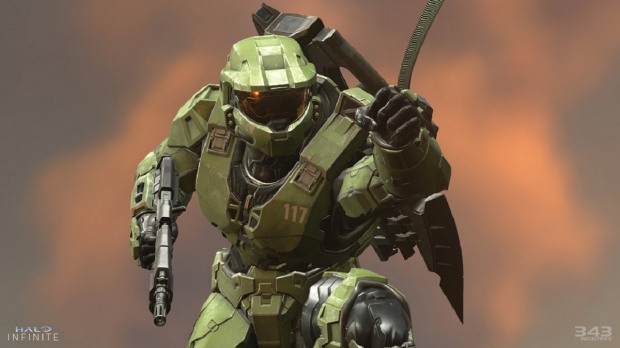 In a recent Halo Waypoint update, Halo Infinite sandbox developers tease a new mysterious equipment that can fling players across the map. From the sound of it, the equipment is probably an updated version of the grav-lift from Halo 3; the equipment is physics-based, it depends on timing, and it can send enemies flying.
"The Grappleshot is definitely a favorite of mine, but I'm equally excited about an equipment item we haven't shown yet. It's highly physics-based, has TONS of interactions across our sandbox, and will leave you laughing or yelling, "Did you see that?!" Proper timing is everything with this equipment, and if you position correctly, you could very well send your enemies flying!" said Sandbox Designer Elan Gleiber.
Read Also: Halo: Infinite new weapons & guns guide: Grappling hook, DMR+AR & more
The devs also talked about Infinite's big new star: The Grappleshot. Apparently this hookshot has some interesting dynamics for multiplayer that haven't been revealed yet. 343i has already said that equipment will be scaled differently for PVP versus campaign, which makes sense considering PVP will be free-to-play and the campaign is basically a big RPG.
"We have some really exciting equipment we haven't shown yet, but the Grappleshot is probably my favorite of the bunch that we have shown. Not only does it just feel fun to use, but there's additional functionality that hasn't been revealed yet that adds some more... offense-focused gameplay that I'm super excited to show off,"said Senior Designer of equipment Tim Temmmerman.
343i plans to reveal more Halo Infinite details every Thursday at the end of the month before the game releases in Fall 2021.