Old-school sidescroller Ghosts n' Goblins is coming back with a new release on the Nintendo Switch, complete with new weapons and an easy mode.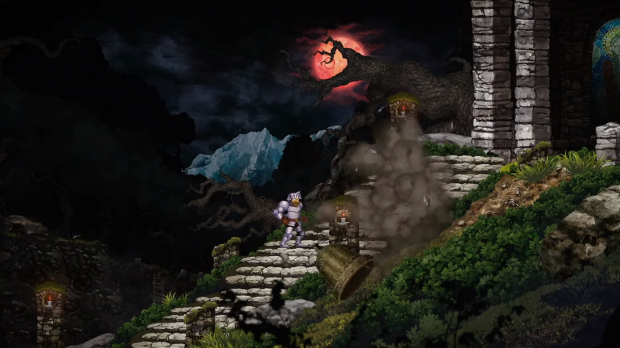 Ghosts n' Goblins Resurrection merges classic platforming action from the NES days and modern features together in one package. The game brings some nifty new features like a difficulty selector for the first time ever in the series, some upgraded weapons like the hammer and mace, and even magical spells.
Capcom also added in a new Page Mode to help newbies reduce rage bouts and keep their controllers intact. Gamers can now instantly respawn with infinite lives wherever they die--consider this a mix of cheat codes and save states.
Another big change is the Ghost n' Goblins visual style. The game looks much more storybook and picturesque, as if you're playing an interactive version of a fairy tale book. It's a very striking design that kind of reminds me of the old animated Monty Python segments from the 1970s.
This upgrade is interesting to say the least, and every time I scout Capcom's platinum game sales I always wonder why they haven't touched the franchise. It's great to see they're delving deeper in classic IPs now.
Ghost n' Goblins Resurrected releases in February 2021 on Switch for $30.
Check below for more info straight from Capcom:
The legendary platforming series rises again, as Ghosts 'n Goblins Resurrection marks the heroic return of the series, which debuted over 35 years ago. Paying homage to Ghosts 'n Goblins and Ghouls 'n Ghosts, the latest entry combines the franchise's action platforming gameplay with storybook-like graphics and challenging new obstacles.

The new entry will once again follow the valiant knight Arthur as he runs, jumps and battles his way through eerie stages set in the Demon Realm, a demonic fantasy world. Arthur must overcome countless ghoulish foes on his quest to rescue the princess from the treacherous grasp of the Demon Lord. Brave knights will need to proceed with extreme caution as terrifying dangers await, including familiar enemies like Zombie, Skeleton Murderer, Pigman and Red Arremer.

Whether a longtime Ghosts 'n Goblins fan or a newcomer, Ghosts 'n Goblins Resurrection players can decide how perilous Arthur's journey will be by selecting one of three different difficulties: Squire, Knight and Legend.

New to Ghosts 'n Goblins Resurrection is the Page mode, which allows untested apprentices to respawn on the spot with unlimited lives.

To progress through the Demon Realm, Arthur must utilize everything at his disposal, from tried-and-true weapons like the Lance and Dagger to all-new additions like the Hammer and Spiked Ball. Arthur's updated arsenal also includes various types of skills and magic, allowing players to bring game-changing spells like Firewall and Thunderstorm into combat. Arthur will need to master each of the weapon types and magic abilities to overcome his battle against evil and restore peace to the land.