MSI has launched a new overclockable notebook today, the Turbobook GX600 Extreme Edition. It has MSI's Turbo Drive Engine Technology that with a simple press of a button when the notebook is attached to a wall socket and the CPU and system bus will be overclocked by up to 20%. MSI also claims that it takes a mere 40 seconds to boot up the GX600 when in Turbo mode. The GX600 is based on the Intel PM965 chipset and will be offered with a range of Core 2 Duo processor options.
The graphics chipset comes from Nvidia and is an 8600M GT with 512MB of graphics memory. The system will also have 2GB of RAM, although this can be expanded to 4GB. A wide range of hard drives will be offered from 80 to 250GB. The optical drive will either be a Super Multi DVD or an HD DVD drive. Sadly the 15.4-inch display is limited to 1,280x800 resolution which feels a little bit too low on a powerful notebook like this.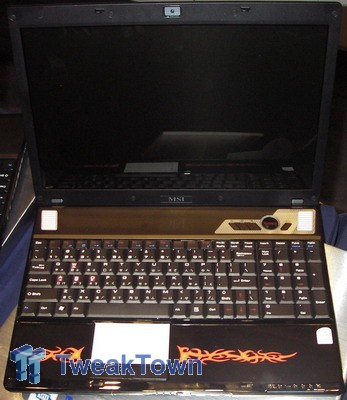 Other features include HDMI, a 1.3Mega pixel web camera, numeric keypad, highlighted W, A, S, D keys and 802.11 N wireless networking. All in all the GX600 has a lot going for it, but we're going to have to wait and see how expensive it is before we can draw any kind of conclusions.