No Man's Sky has gone so far. Where can it go from here? How about zooming around planet surfaces with your own armored core suit?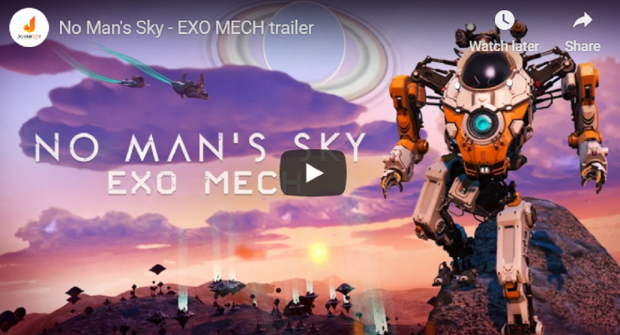 Hello Games shows no signs of stopping with No Man's Sky updates. The game has already tremendously evolved with eight major updates, and now the ninth is on the way. It's called EXO, and it lets you build your own custom mech exosuits to roam around the wilds.
No Man's Sky's new EXO update has been leaked by German retailer JoyBuggy, confirming hulking mechsuits are coming to the game. At the time of writing, the video has been made private, but we saw snippets of it before it was locked. Exact details of the EXO update aren't known, but you'll be able to build your mech and roam around with friends on various planets.
Snippets for EXO were found in the game's code so it's not exactly a total surprise.
Hello Games has yet to formally announce the update, and EXO will be the ninth expansion/DLC content released for No Man's Sky since 2016.
Foundation - This update adds the foundations of base building, and is a foundation of things to come.

Path Finder - This update introduces planetary vehicles, base sharing, PS4 Pro support, ship/weapon specialization, permadeath mode, and more.

Atlas Rises - Atlas Rises, brings a brand new and overhauled central storyline, portals, a new procedural mission system, trade improvements, system economies, joint exploration and more.

No Man's Sky Next - Introduces full multiplayer experience, near-unlimited base building, command of freighter armadas, a graphical overhaul, and more.

The Abyss - Explore the terrors of the deep in the Abyss update. Introducing aquatic environments with over 5 times more variety, varied creature behaviors, improved underwater visuals and more.

Visions - Discover a more varied, more diverse universe in the Visions update. Introducing a new planetary biome, more colorful worlds, new fauna and flora, archeaology, salvaging, and more.

No Man's Sky BEYOND - Radical new online multiplayer and much more...

Synthesis - Massive QoL update that tightens up features and makes community-requested changes like adding new inventory slots to ships and more

Living Ship - New biological ships, missions, and more

EXO - Custom mechsuits