Turn10, the same team that managed to hit native 4K 60FPS in Forza 7 with only 70% GPU usage on the Xbox One X, is currently optimizing the next Forza game for the next-gen Xbox. Expect absolute insanity.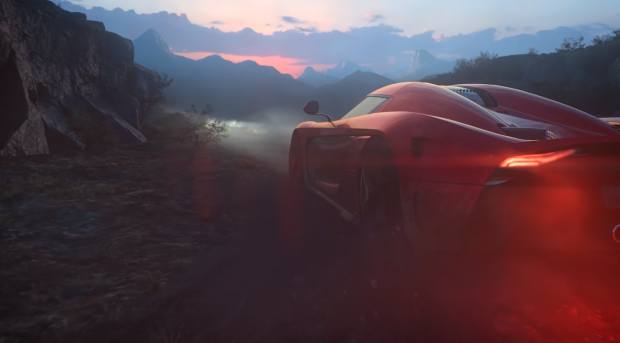 It's no surprise that Turn10 is making a new Forza game. Not only was it shown in the Xbox Series X announcement, but big marquee Xbox console launches usually get their own Forza game to sell crazy high-def graphics. What is a surprise is all the new systems that're being baked into the "vastly different" sequel.
In a recent Mixer stream, Turn10 creative director Chris Esaki confirms the game is already playable on the Xbox Series X and has some nifty fine-tuned enhancements this time around. While we didn't get exact info on how the new Forza game will tap the Xbox Series X's 12TFLOP GPU or super-fast VRAM-buffering SSD, Esaki did highlight new pressure systems that add a new dimension to gameplay.
"The overall experience of the product is so vastly different and amazing that these things are so low level, but I think people will be interested to hear it," Esaki said.
"It's been a hard road to get to where we are today. The studio got a first chance at actually playing this new experience all day long. We had a great time with it. We experienced our new tire model, our new tire pressure model.
"We have a new way that heat interacts with tire pressure and we actually dynamically track temperatures, we have dynamic rubbering-in on the track, we have a new atmospheric pressure system that accurately affects things, like air density affecting air dynamics and power as well as the tire pressure.
"We also have an entirely new suspension system with new modeling. These are just a ton of things under the hood here, and I'm missing about 15 other things that are all under the hood."
Read Also: Xbox Series X size comparison vs Xbox One, PS4 Pro, Switch
Esaki says new info will drop in 2020, and rightly so. The new Forza game will be a launch title for the Xbox Series X and should push the console well past its limits. Expect to see native 4K 60FPS and maybe even some 120FPS with upscaling, not to mention super-quick loading times thanks to the customized NVMe SSD.
Turn10 has worked serious magic with the Xbox One X in the past and Forza 8 should be no different this time. The team was also likely instrumental in helping shape the Xbox Series X's hardware and software capabilities.
Microsoft's Xbox Series X will release holiday 2020, and Forza Motorsport 8 should be a launch game for the system.
Check below for confirmed specs and details, and a huge content listing of everything we've heard about Xbox Series X so far:
Xbox Series X confirmed details (Formerly Project Scarlett):
8-core, 16-thread Zen 2 CPU

Navi GPU on RDNA architecture

Highly customized 7nm SoC from AMD

GDDR6 memory

2x Xbox One X's 6TFLOPs of GPU perf

4x CPU power of Xbox One generation

Can deliver up to 40x more performance than Xbox One in specific use cases

Adaptive sync supported

Super-fast SSD that can be used as VRAM

Supports 8K resolution (likely media playback)

120FPS gaming

Variable refresh rate (adaptive sync/FreeSync)

Variable Rate Shading

Raytracing confirmed with dedicated raytracing cores

Backward compatible with thousands of Xbox, Xbox 360, and Xbox One games

New controller with a dedicated share button

Compatible with Xbox One accessories
Lockhart (Unconfirmed lower-end Xbox Series hardware)
1440p 60FPS

No disc drive

Super-fast SSD that can be used as VRAM

7nm AMD SoC w/ scaled-down 8-core, 16 thread Zen 2 CPU at 3.5GHZ and Navi GPU

Lower GDDR6 memory pool (Possibly 12GB)

~6-8 TFLOPs of power?

Aims to rival PS4 Pro/Replace Xbox One S

Full backward compatibility with all Xbox One games

Cheaper MSRP
Anaconda/Xbox Series X/Project Scarlett
4K 60FPS

Disc drive with 4K UHD playback

Super-fast SSD that can be used as VRAM

7nm AMD SoC with 8-core, 16 thread Zen 2 CPU at 3.5GHz and Navi GPU

16GB GDDR6 RAM

12 TFLOPs of power

2x GPU power as Xbox One X/aims to replace Xbox One X

Full backward compatibility with all Xbox One games

More expensive MSRP
Xbox Series X coverage: