Steam's Black Friday sale is almost too good to be true
Steam massively discounts some of PC gaming's best games.
Published
6 minute read time
Looking for cheap PC games? Steam has you covered.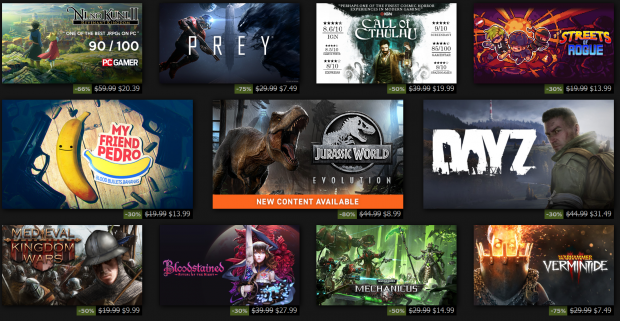 Steam's new Autumn sale (it's basically a Black Friday sale) is pretty damn good, offering steep discounts on some of PC gaming's best titles. Highlights include Portal 2 for just $0.99, Prey for $7.49, RAGE 2 for $19.79, Far Cry 5 for $14.99, Destiny 2 Shadowkeep for $20.99, Dishonored 2 for $9.99 (the first one is only $2.99!), Far Cry Primal for $5.99...and so, so much more.
Valve has an amazing setup for Steam sales now, and you can easily search visually or via a big list of specials. There's no weird hidden games this time around. Titles are even separated into genres to help narrow down the deals.
Here's a huge list of most of everything that's on sale.
Arma 3 - $10.19

Arma X - $9.99

Arma 2 - $2.59

Assassin's Creed: Odyssey - $26.99

Assassin's Creed: Origins - $19.79

Assassin's Creed Bundle - $30.92

Assassin's Creed: Syndicate - $11.99

Assassin's Creed: Rogue - $6.59

Assassin's Creed: Unity - 8.99

Assassin's Creed IV Black Flag - $6.79

Assassin's Creed II - $6.79

Assassin's Creed: Revelations - $7.99

Batman: Arkham Collection - $14.99

Batman Arkham Knight Premium Edition - $9.99

Batman Arkham VR - $5.99

Arkham Knight - $4.99

Arkham Origins - $4.99

Arkham City - $4.99

Arkham Asylum - $4.99

Lego Batman - $4.99

Lego Batman Trilogy Pack - $12.49

Lebgo Batman 2 - $4.99

Lego Batman 3 - $4.99

Borderlands: The Handsome Collection (massive bundle that includes DLC and games) - $13.21

Borderlands 2 GOTY - $8.79

Borderlands 2 - $4.99

Borderlands The Pre Sequel + Season Pass - $20.99

Borderlands The Pre Sequel - $11.99

Borderlands GOTY - $20.99

BioShock: The Collection - $14.99

BioShock Infinite + Season Pass - $14.99

BioShock Remastered - $4.99

BioShock 2 Remastered - $4.99

Bloodstained - $27.99

Call of Duty Franchise Collection (40 games + DLC) - $487.55

Activision Collection (53 games) - $399.21

Call of Duty WWII - $23.99

Black Ops III - $29.99

World At War - $9.99

Infinite Warfare - $19.79

Advanced Warfare - $14.99

CoD: GHosts - $19.79

Black Ops II - $19.79

Moder Warfare 3 - $19.59

Modern Warfare 2 - $14.99

CoD 4: Modern Warfare - $9.99

Call of Duty 2 - $7.99

Call of Duty - $7.99

Civilization 6 - $14.99

Civ 6 deluxe - $19.99

Civilization Anthology - $33.70

Civilization V: Complete Edition - $34.77

Beyond Earth - $9.99

Civilization IV - $7.49

Civilization III - $1.49

Code Vein - $41.99

Company of Heroes Franchise Edition - $17.49

Company of Heroes 2 - $4.99

Company of Heroes - Legacy Edition - $3.99

Copmany of Heroes: Opposing Fronts - $3.99

Company of Heroes: Tales of Valor - $4.99

Dark Souls III - $14.99

Dark Souls III Season Pass - $12.49

DayZ - $31.49

Dead Island Definitive Edition (Retro Revenge, Dead Island 1 + Riptide) - $11.10

Dead Island Riptide - $4.99

Dead Island - $4.99

Devil May Cry 5 - $19.79

Devil May Cry 5 Digital Deluxe - $32.94

DmC: Devil May Cry - $7.49

Devil May Cry 4 Special Edition - $9.99

Dishonored - $2.99

Dishonored 2 - $9.99

Dishonored Definitive Edition - $6.99

Divinity: Original Sin 2 - $24.74

Divinity Anthology - $2.99

Divine Divinity - $0.59

Beyond Divinity - $0.59

Divinity Dragon Commander - $3.99

Divinity II Developer's Cut - $1.99

Doom 2016 - $5.99

Doom VFR - $8.99

Doom 3 BFG - $5.99

Doom II - $1.49

Doom Classic Complete - $4.49

Don't Starve Together - $5.99

Don't Starve - $2.49

Don't Starve - Shipwrecked - $2.49

Don't Starve- Reign of Giants - $1.24

Dragonball FighterZ - $14.99

DBZ Fighterz Pass - $17.49

DB Xenoverse 2 - $12.49

DB Xenoverse - $9.99

Dungeons Bundle - $34.21

Dungeons 3 - $7.99

Dungeons 2 - $3.99

Dungeons - $2.99

Dungeons The Dark Lord - $4.99

Elder Scrolls V Skyrim Special Edition - $19.99

Elder Scrolls Online (base game) - $9.99

Elder Scrolls Online Elsweyr (includes base game) - $19.79

Elder Scrolls Skyrim VR - $17.99

Elder Scrolls IV Oblivion - $5.99

Elder Scrolls III Morrowind GOTY edition - $4.49

Europa Universalis IV - $9.99

Europa Universalis III Complete - $3.74

Europa Universalis Rome - $2.49

Fallout 4 - $8.99

Fallout 4 VR - $17.99

Far Cry New Dawn - $15.99

Far Cry 5 - $14.99

Far Cry Primal - $5.99

Far Cry 4 - $11.99

Far Cry Blood Dragon - $5.99

Far Cry 3 - $7.99

Far Cry 2 + DLC = $3.99

Far Cry - $3.99

Farming Simulator 19 - $19.99

Farming Simulator 17 - $8.99

Farming Simulator 15 - $9.99

Farming Simulator 2013 - $7.49

Farming Simulator 11 - $4.99

Final Fantasy XI Ultimate Collection Seekers Edition - $10.19

Greedfall - $39.99

Hitman reboot GOTY - $11.75

Hitman Aboslution - $3.99

Hitman Blood Money - $1.99

Hitman Contracts - $1.79

Hitman 2 - $1.79

Jurassic World Evolution - $8.99

Just Cause 3 - $2.99

Just Cause 2 - $1.49

Just Cause - $0.97

Kerbal Space Program - $9.99

Life is Strange 2 complete season - $19.67

Life is Strange: Before the Storm deluxe - $4.94

Life is Strange complete season - $3.99

Max Payne 3 - $6.99

Max Payne 3 Complete Edition - $10.49

Max Payne 2 - $3.49

Max Payne - $3.49

Max Payne Comple Edition (includes all games) - $16.48

Metal Gear Solid V the Phantom Pain - $11.99

Metal Gear Solid V: Ground Zeroes - $11.99

Metal Gear Rising Revengeance - $7.49

Mortal Kombat 11 - $29.99

Mortal Kombat XL (MKX, Season Pass) - $8.99

Mortal Kombat X - $6.79

Mortal Kombat Komplete Edition - $4.99

Portal 2 - $0.99

Rainbox Six Siege - $7.99

Ghost Recon Wildlands - $29.99

Rainbow Six Bundle (5 games) - $19.39

Rainbow Six Vegas - $3.39

Rainbow Six Vegas 2 - $3.39

Rainbow Six Lockdown - $3.39

Rainbow Six 3 Gold - $3.39

Splinter Cell Blacklist - $10.19

Splinter Cell Chaos Theory - $3.39

Splinter Cell Double Agent - $3.39

Splinter Cell - $3.39

Ghost Recon Future Soldier - $6.79

Ghost Recon Island Thunder $1.69

Desert Siege - $1.69

Ghost Recon - $3.39

Resident Evil 2 Remastered - $19.79

Resident Evil 7 - $14.99

Resident Evil 2 Revelations - $0.77

Resident Evil Revelations - $6.89

Resident Evil 6 - $7.99

Resident Evil 5 - $4.99

Resident Evil 4 - $4.99

Resident Evil HD Remaster - $7.99

Resident Evil 0 Remaster - $7.99

RUST - $34.99

Saints Row Ultimate Franchise Pack - $33.46

Agents of Mayhem $5.99

Saints Row IV - $3.49

Saints Row III - $2.49

Saints Row II - $2.49

Sekior: Shadows Die Twice - $38.99

Shadows Awakening - $9.99

Shadows Heretic Kingdoms - $13.99

Shadow Warrior 2 - $9.99

Shadow Warrior - $9.99

Shadow Warrior Collection - $20.22

Shadow Warrior Classic Redux - $2.49

Sniper Ghost Warrior 3 - $5.99

Shiper Ghost Warrior Franchise - $12.30

Sniper Ghost Warrior 2 - $1.99

Sniper Ghost Warrior - $1.59

Soul Calibur VI - $17.99

Star Wars The Complete Collection (tons of games) - $82.40

X-Wing Special Edition - $3.49

Tie Fighter - $3.49

X-Wing vs Tie Fighter - $3.49

X-Wing Alliance - $3.49

Battlefront II - $3.49

KOTOR II - $3.49

KOTOR - $3.49

The Force Unleashed II - $6.99

The Force Unleashed - $6.99

Lego Star Wars Complete Saga - $6.99

Lego The Force Awakens - $7.49

Repulic Commando - $3.49

Jedi Knight: Jedi Academy - $3.49

Jedi Knight II: Jedi Outcast - $3.49

Jedi Knight - $2.09

Dark Forces - $2.09

Jedi Knight: Mysteries of the Sith - $1.04

Galactic Battlegrounds Saga - $2.09

Shadows of the Empire - $2.09

Star Wars Rebellion - $2.09

Star Wars Starfighter - $2.09

The Clone Wars Republic Heroes - $6.99

Star Wars Rebel Assault I+II - $3.49

Rogue Squadron 3D - $3.49

Street Fighter V - $7.99

Street Fighter x Tekken - $5.99

Ultimate Marvel vs Capcom 3 - $7.49

Marvel vs Capcom Infinite - $9.99

Tropico 6 - $34.99

Tropico 5 - $6.99

Tropico 4 - $3.74

Tropico 3 - $2.99

Tropico Reloaded - $1.74

The Witcher 3 - $11.99

The Witcher 3 GOTY - $14.99

The Witcher 3 season pass - $9.99

Witcher 2 -$2.99

Witcher 1 - $1.49

Thronebreaker - $14.99

Wolfenstein: Youngblood - $19.99

Wolfenstein Cyberpilot VR Only - $7.99

Wolfenstein II: The New Colossus - $17.99

Wolfenstein The New Order + The Old Blood - $8.99

Wolfenstein The New Order - $5.99

Wolfenstein The Old Blood - $5.99

Wolf Pack (includes 3 classic games) - $2.99

Return to Castle Wolfenstein - $1.49

Spear of Destiny - $0.89

Wolfenstein 3-D - $1.49

Tomb Raider Collection (56 games + DLC) - $39.59

Rise of the Tomb Raider - $8.99

Tomb Raider reboot - $2.99

Tomb Raider VI: The Agel fo Darkness - $0.97

Tomb Raider V: Chronicles - $0.97

Tomb Raider IV: The Last Revelation - $0.97

Tomb Raider III - $0.97

Tomb Raider II - $0.97

Tomb Raider - $0.97

Xcom 2 - $14.99

Xcom Enemy Uknown + The Bureau - $12.49

The Bureau - $3.99

Xcom Enemy Unknown - $7.49
Related Tags