This transforming football-like drone can be ballistically-launched
Caltech and NASA have designed a drone that can be launched from a moving vehicle.
Published
0 minutes & 44 seconds read time
Researchers from both Caltech and NASA have developed a new type of drone that can be fired from a moving cannon.
The drone is called the Streamlined Quick Unfolding Investigation Drone, or SQUID for short. SQUID has been developed by Caltech and NASA's Jet Propulsion Laboratory and has the ability to fold down into almost a football-like shape. Most impressively is the once SQUID is in its smallest form factor, it can be placed inside of a tube and then launched into the sky.
The multirotor design initiates once the drone is in mid-air, granting its stability and flight. The drone doesn't have to be stationary for it to be shot out of the cannon. The above video demonstrates that SQUID can be shot out of a moving vehicle traveling at 50mph and still transition into stable flight. SQUID is designed for emergency response teams and space exploration missions. An image of SQUID's design has been provided in the entirety of this article.
The drones dimensions measure in at 8-cm diameter, a weight of 530 grams, and is 27-cm long.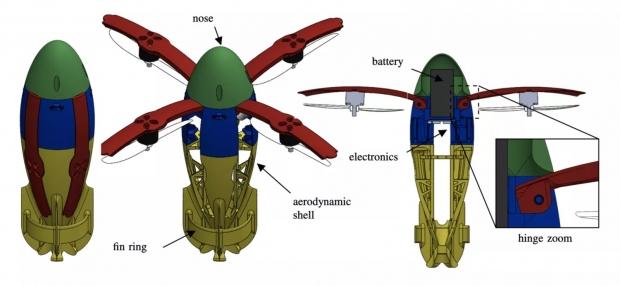 Related Tags