Airplane Mode is a game about a boring six hour plane ride
It's basically Desert Bus, but for the friendly skies.
Published Nov 10, 2019 12:32 PM CST
|
Updated Tue, Nov 3 2020 11:46 AM CST
1 minute & 52 seconds read time
Remember Desert Bus, that joke game made by Penn and Teller where you drive a commuter bus from Arizona to Las Vegas for eight droll and ultra-monotonous hours? Now we have the modern equivalent.
AMC Games' debut title is something any frequent flyer can appreciate. It's called Airplane Mode, and it's a simulator that recreates the thrills and excitement of a six-hour plane ride in economy seating. No Wi-Fi? Check. Constant droning hum of the craft? Check. Crying, sneezing, coughing, and other human noises? Check. The only thing's missing is the tight cramped spaces, leg cramps, tight backs, and having to pee every 10 minutes.
Players (well I use that term lightly, you're really not playing) will sit through the entire flight in real-time. Luckily the devs have given you some tools to whittle away the hours. You can do Sudoku, crosswords, read a book in real-time, and watch some royalty-free programming from the 1930s like Georges Melies' classic Voyage to the Moon.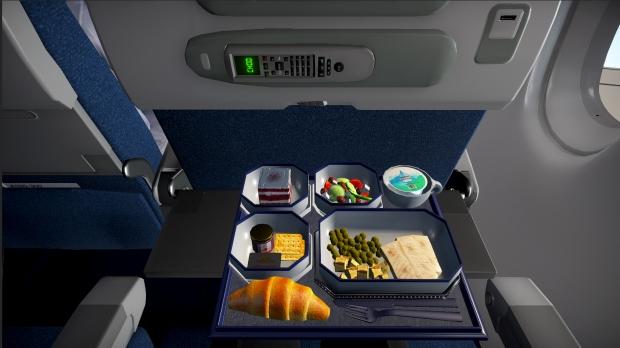 As someone who literally flew from Florida to Germany just a few days ago, this game really speaks to me. In airplanes we're all left to our own devices, quite literally in this high-tech age, and this "game" encapsulates the tedious ultra-boring trans-Atlantic flights quite well.
Airplane Mode is due out sometime in 2020. Check below for more info:
This is a game where you play as a window seat passenger for the real-time duration of a long-haul commercial flight across the Atlantic.

Airplane Mode's gameplay explores the airline travel experience down to every last detail-from the design of your seat and the seatback in front of you, to the contents of your carry-on bag and smartphone hard drive, to the behaviors of cabin crew and other passengers. The circumstances of your flight will change every time you play. Simply put, Airplane Mode is the most realistic flight simulation ever created. Sit back, relax, and enjoy.

Featuring:

Taxi, take-off, and landing.

Fairly accurate satellite imagery of your flight path.

Snacks, premium beverages, and meal service (incl. fish option).

Carry-on bag with a book, headphones, pen, and charging cable.

Overhead reading light and complimentary aircraft information card.

Inflight safety video produced by IFC's in-house team of expert air hosts.

Randomized events on every playthrough, such as turbulence, bad Wi-Fi, and delays.

Authentic ambient noise-whose baby is that???

Inflight entertainment system featuring a flight tracker and hit movies of the 1930s.

Our award-winning magazine, Stratospheres, filled with articles, crosswords, and Sudoku.
Related Tags